Football's ability to entertain and its inherent sense of drama has successfully made the transition from the pitch to the silver screen many times. Here are the top 10 films about football…
Every four years this global sport is collectively embraced as FIFA's World Cup sees the top footballing nations go head to head. Then, as the summer ends, football's greatest stars head off back to their clubs to make or break the hearts of their devoted local fans. Some will leave the World Cup having made dreams come true, but most, despite their courage and determination, will go home disappointed and empty handed.
"…Football might not have featured in film as much as other sports, particularly American favourites such as baseball, American football and basketball, but it has global appeal and is played by 250 million players in more than 200 countries making it the world's most popular spectator sport…"
But there's a joy in taking part, the reason why we love sport in the first place. Football, or soccer as it is better known in the USA, has become one of the world's greatest, and most supported, spectator sports for good reason. For while winning, whether it be a championship, a cup or a continental trophy, is the ultimate goal, the journey getting there is an adventure worth living over and over again. It's the very reason why being a football fan is so exhilarating.
In the Top 10 Films about Football I take a look at how cinema has celebrated the various aspects of the game. Unsurprisingly, given its popularity in the UK, British film, which has often found drama, comedy and character study in football with the game either taking centre stage or framing the story as a backdrop, features heavily here.
In this selection of films we see how the movies have celebrated the players themselves, the fans, the managers and coaches; how careers have been made and ended, how a love of the game has brought people together and forced them apart, how hearts have been broken and put back together, how dreams have been made and lost.
Discover More on Top 10 Films:
Top 10 Inspirational Sports Films
In brief…my football story…
I've been a football fan since early childhood. I remember asking my Dad what team he supported when I was about five years old. He said – "Manchester United". I've supported them ever since.
My first live match was 21st December 1991 away at United's bitter rivals Leeds where the game ended in a 1-1 draw following a typically heated battle. Since then I've experienced countless highs as United have won the Premier League title more times than any other team. These achievements complement two unforgettable nights in Europe when they won the Champions League in 1999 and 2008.
There are two stand out games that I'll always remember fondly. Both occurred in 1999 when United won the "treble", an almost impossible achievement where a single club wins the championship, the knock out Cup, and the European Championship in the same year.
The first game featured a majestic Ryan Giggs goal against Arsenal in the F.A. Cup semi-final. United had their backs against the wall having been reduced to ten men and Arsenal looked odds-on to win a game that was tied at 1-1. Step forward Giggs – Utd's skilful winger – who single-handedly took on a strong Arsenal defence to score and send United to the final.
My second best memory supporting Manchester United occurred during two minutes of injury at the end of the Champions League Final against German side Bayern Munich. Munich led 1-0 and the game had entered its final minutes. Firstly, United equalised and it looked like we were heading for extra time. But, with a spirit that never dies instilled in them by inspirational manager Sir Alex Ferguson, United streamed forward once again. From a corner kick Ole Gunner Solskjaer struck the ball into the back of the net with the last kick of the game to hand Manchester United the coveted crown of European Champions. I don't think I came down from cloud 9 for about a week!
Discover More on Top 10 Films:
Top 10 British Sports Films
10. Bend It Like Beckham (Chadha, 2002)
Golden Balls, otherwise known as David beckham, had to get a place on this list somewhere and spot number 10 it is. Bend It Like Beckham sees contemporary football's most famous star get his name in lights as football mad Jess joins a girls team despite her parents forbidding her. This sweet-natured comedy-drama mixes a number of themes – cultural identity, sexual and gender liberation, friendship and growing up – into a pleasing and entertaining end product.
9. Goal! (Cannon, 2005)
Featuring a host of cameos from real footballers thanks to the film having the full cooperation of FIFA, Goal is director Danny Cannon's rags to riches feel-good tale that follows an idealistic footballer's dream of becoming a professional. There's some great football action as the fleet-of-foot fish-out-of-water Santiago Muñez (played by Kuno Becker) sees his stylish game come face-to-face with the tough-talking, tough-tackling English Premier League.
8. Fever Pitch (Evans, 1997)
David Evans directs Nick Hornby's own adaptation of his novel as London-based English football team Arsenal's attempts to win the championship impact dedicated fan Paul Ashworth's (Colin Firth) romantic relationship with schoolteacher Sarah (Ruth Gemmell). Fever Pitch, which was remade in the USA with football replaced by baseball, is a sweet comedy that will appeal to fans of the sport as well as those wanting their hearts warmed.
7. The Class of '92 (Turner/Turner, 2013)
This is an excellent documentary film about six professional footballers who rose to prominence under the tutelage of celebrated manager Sir Alex Ferguson at Manchester United football club. The five English players and one Welsh, who each came through the football club's youth system to play at the highest level for the team and their country, include the very well know names of David Beckham, Ryan Giggs, Paul Scholes and Gary Neville. All feature in the documentary to discuss their career highlights, the trials and tribulations of playing for one of the world's most famous football clubs, and the experience of working under one of the sport's most decorated managers.
6. Cass (Baird, 2008)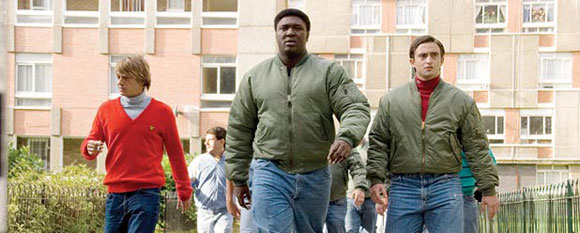 In a top 10 list of football films that features fans, managers and players, the circle would not be complete, especially given the shadowy past of English football supporters, if it did not contain a nod to the football hooligan. Hooliganism across the world has plagued football for many years. While British supporters have a much better reputation nowadays, football hooliganism in the UK grew in prominence during the late 1970s and 1980s. Known as the "English Disease", hooliganism in the country became an institution as large gangs, known as "firms", were set up to run and take part in organised and unorganised fights with opposing team's firms. Hooligans also committed violent crime inside and outside football grounds.
The UK's reputation for this football affliction grew in the 1980s when the government decided it had to take a heavy-handed approach to stamping it out leading to some ugly clashes between football hooligans and police. Tragedy would occur when, during the European Cup final between Italy's Juventus and England's Liverpool, 39 people were killed and 600 injured after violent clashes broke out. This saw English football clubs banned from European competition for five years. Since then, hooliganism in the UK, and by English fans abroad, has thankfully been on the decrease.
Based on the true life story of Cass Pennant, Jon. S. Baird's terrific crime-drama takes place during the height of football hooliganism in the UK. What makes the story far more interesting is Cass' back-story. After his mother emigrated from Jamaica to the UK she abandoned Cass as a six-week-old baby and he was taken in by an orphanage. Adopted by an elderly white family in Kent, Cass was racially bullied by his peers and the local community. Having to stick up for himself in the face of regular violence, he developed a steely attitude and tough physical presence. Eventually finding a sense of friendship and camaraderie with the local West Ham football hooligan firm, he ascends the ranks to lead the gang through the 1980s.
The film boasts a terrific performance by Nonso Anozie as the adult Cass, as director Baird takes us through his early childhood, his young adult life during the height of football hooliganism, and his later years when he tries to distance himself from his past misdemeanours. It's a powerful character study that works terrifically well lifting the lid on the allure of football hooliganism, and its shocking and, at times, tragic consequences. Indeed, Cass was one of the first high profile hooligans to be imprisoned for his violent activities. Yet, in addition, the struggle Cass has to face growing up in a society unable, and often unwilling, to accept him makes his admiration for football hooliganism, where he finds acceptance and worth, all the more resonant and sympathetic.
5. Shaolin Soccer (Chow, 2001)
Stephen Chow introduces us not just to football, but Shaolin football in Honk Kong action film Shaolin Soccer. This is a brand of the game that comes to life when a former Shaolin monk enlists the help of his five brothers to apply their superhuman martial arts skills to football and in doing so bring the art of Shaolin kung fu, with its spiritual and practical benefits, to a wider audience. There's a kinetic energy to the football sequences in this comedic fantasy, aided of course by the film's exciting mixture of martial arts agility and football skill. And Chow's camera rarely stops moving as he captures the frenetic pace of the game and Team Shaolin's battle for glory with tongue staying firmly in cheek.
4. Escape to Victory (Huston, 1981)
Escape to Victory – the film where the footballers can't act and the actors can't play football but what a fun ride it is. John Huston's Escape to Victory tells the story of a group of allied prisoners of war who plot to flee their captors during an exhibition football match between themselves and a German side. The silly set-up is made all the more exciting by the all-star cast. This includes Michael Caine and Max Von Sydow who lend weight to the drama, while professional footballers such as Brazilian legend Pele and English hero Bobby Moore (who captained England to World Cup glory in 1966) provide authenticity to the match play. Helped by the energy of a partisan crowd, the film ups the excitement level as the allied team have to contend with a bias referee and some meaty tackles while they nervously prepare for their daring escape.
3. The Damned United (Hooper, 2009)
I take a look at the football manager in Tom Hooper's The Damned United. Michael Sheen, an actor adept at capturing the nuances of real life figures this time brings former Nottingham Forest manager Brian Clough to life for his ill-fated 44 days in charge of Leeds United. Clough had long since held a bitter rivalry with Leeds' former manager Don Revie and therefore quickly found discontentment amongst the players at his appointment. The result isn't pretty as Leeds end up bottom of the league after only a few matches. The Damned United, by focusing on failure, stands out from other sports movies that build predictably towards success. Sheen's strong performance as the larger-than-life Brian Clough is great to see but the film's stand out feature is its celebration of football rivalry, one of the big reasons why the game is so adored.
Read my full review of The Damned United
2. Looking For Eric (Loach, 2009)
If The Damned United was about football managers, Looking For Eric at number 2 on my list is about football fans. A down-on-his-luck football fanatic and Manchester United fan starts seeing visions of his hero Eric Cantona who begins to give him advice about his life. This helps him reconnect with his ex-wife while strengthening his relationship with his unruly stepson. But when gangsters begin threatening his family he calls on the help of his fellow football fans to fight back. The film is a bittersweet celebration of our football heroes and why they come to play such a central role in our lives. Eric Cantona, playing himself, is great as the philosophical mentor and the film has a delightful balance of drama and humour.
1. Kes (Loach, 1969)
Kes sees timid, football-shy 15-year-old Billy Casper, unable to play the "I've forgotten my kit, Sir" excuse, forced to go in goal during a P.E. lesson with his perennially angry teacher Mr Sugden, played with caustic brilliance by Brian Glover. The teacher is captain, referee, and, unfortunately for the kids, judge and jury as the game in Ken Loach's film becomes more about his terror tactics and love of football legend Bobby Charlton than teaching the pupils anything about sport, teamwork or fitness.
Amid the strong South Yorkshire accents, this working class struggle focuses upon Billy's battle with bullies at home and at school as he tries to find his way in life, often amusing himself with petty crime. He does however find friendship from an unlikely source when he begins training a kestrel, showing a keen interest in the art of falconry. Yet, while his outlook at school does improve, his ability on the football pitch remains rather, shall we say, limited. In the film's standout scene, Mr Sugden orchestrates a match between his pupils in which he captains one of the sides.
Kes is a film with a great football scene rather than a great football film, but it still has to be in first place. It's a timeless British classic about alienation, growing up and companionship, all things captured so beautifully in its football sequence. There's an obvious sense of nostalgia about the match, not only in its depiction of a northern English school in the late 1960s but the role football plays in our leisure activity, the way we interact with others, and how it informs our lives as we grow up, particularly for young boys.
For Mr Sugden, it's maturity versus immaturity, the ruler versus the ruled, the teacher against the pupil. For him, the game is a brief chance to live out the footballing dreams of his own youth. His presence as teacher allows him to make his own rules (as seen when he gives himself a penalty only to miss it and claim the goalkeeper was making unfair movements prior to the kick) ensuring he takes full advantage of his powerful position as teacher. He also utilises his significant bulk to overpower his pre-teen pupils, furthering his advantage. Loach interestingly takes the disconnect between teacher and pupil from the corporal punishment room that is the classroom and onto the playing field as Mr Sugden bullies and belittles the children into playing out his own football fantasy. Yet, there's an undeniable love of the game that shines through Glover's otherwise acerbic character. It makes his heavy-handed approach and casual, dismissive putdowns infinitely re-watchable and perversely funny.
But there's some great asides, especially Billy Casper who is completely disinterested in the game and spends much of it talking to his friend about how cold they are ("my feet are like blocks of ice") or climbing on the frame of the goal like a circus performer. Most people will be able to relate to the forgotten kit excuse as well as the result as the teacher trawls through dirty lost property to find some oversized replacements.
Perhaps most pleasingly, Loach ensures the "little guys" have the last laugh. With Billy Casper in goal there really isn't much to stop an attack from the opposing side. So when one of the better players on team "Spurs" runs through Mr Sugden's team "Manchester United" and scores the winning goal, the teacher finds himself on the losing side as the children (from both teams) run back to the changing rooms cheering a moral victory as well as a sporting one.
Over to you: what are your top 10 films about football?
Discover More on Top 10 Films:
Top 10 Inspirational Sports Films
Top 10 British Sports Films