Sometimes we need a pick-me-up, something to turn that frown upside down. So we seek out happy films for that feelgood feeling. But which ones really do make you happy?
Movies are one of our favourite forms of entertainment, delighting us through action and adventure, laughs, heroes triumphing over villains, lovable characters overcoming adversity, and guys getting girls (and vice-versa). They also give us a happy ever after. These traits form the foundation of the best happy films.
What makes a great happy film? We all have our reasons for feeling down just as we know the things that usually pick us up. So what makes us happy is different depending on who we are, our individual circumstance, the reasons behind our unhappiness. One movie does not fit all.
But unhappiness does have common ground. We might have had a bad day at work, we might have had an argument with a loved one or friend, we may have had bad news or suffered an injury or become ill. We may be battling with our own self-confidence, we may be nervous about an upcoming event, or we might have built up a number of worries into a seemingly unfixable mess.
Happy films help us de-stress by aiding our escape from our problems for an hour or two. Happy films are also great at reinvigorating the mind by fuelling the imagination and sparking those emotions such as laughter that lessen the burden of sadness. Indeed, the best happy films aren't short-term fixes to unhappiness but can leave you feeling re-energised ready to tackle whatever is bothering you.
Here's a selection of movies that boast that feelgood feeling…
Some Like It Hot (Wilder, 1959)
Not all happy films have to be funny. But it does help. Undoubtedly, Billy Wilder's comedy Some Like It Hot is one of the funniest, its charming allure made even more satisfying given the film's ageless qualities. While Jack Lemmon and Tony Curtis win your heart, Marilyn Monroe captivates with a one-of-a-kind screen presence. If ever a film lets you escape into its world for an hour or two, Some Like It Hot is that film. It's also blessed with the funniest movie ending ever – a scene that will not fail to put a smile on your face.
Pretty Woman (Marshall, 1990)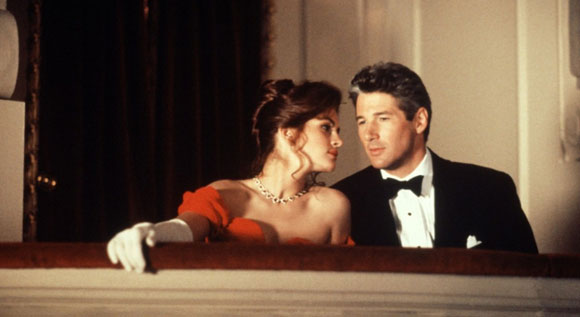 A good Hollywood romance is sure to turn a frown upside down, especially when it features Richard Gere scaling an apartment block with flowers gripped between teeth in order to confirm his undying love for Julia Roberts. The film features so many scenes built to make you happy it's a prime candidate for any feelgood movie list.
Ruthless People (Zucker/Abrahams, 1986)
If happy films are entertaining, funny, lovable and re-watchable then Ruthless People is the perfect happy film. This madcap comedy is a delight from start to finish as Airplane creators Zucker and Abrahams rein in the slapstick for situational comedy. They are aided by some great performances from a terrific cast – especially Bette Midler and Danny DeVito.
Planes, Trains And Automobiles (Hughes, 1987)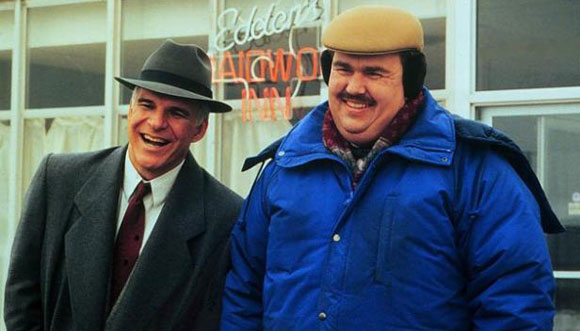 The buddy road trip genre was made for the happy film model and John Hughes' Planes, Trains and Automobiles doesn't disappoint. Steve Martin and John Candy deliver career-best performances in a film that warms the heart and tickles the funny bone. With an ending that layers sentiment on top of sentiment, the film makes sure you know you're witnessing a happy conclusion, but it's such a fun journey that a few mushy tears for the final reel don't detract from what is a thoroughly enjoyable experience.
The Full Monty (Cattaneo, 1997)
There's nothing quite like a spontaneous dance sequence in film to lift the spirits and raise a smile. The Full Monty features a terrific example when a bunch of out of work steelworkers begin moving to the beats of Donna Summer's Hot Stuff. Of course, the film also features an iconic happy ending when the men, who have decided to follow in the footsteps of the Chippendales, deliver their performance to a room full of excited women.
Dirty Rotten Scoundrels (Oz, 1988)
One of those happy films that makes you feel good thanks to the sparkling energy of its leads played here by Steve Martin and Michael Caine. Director Frank Oz (the voice of Yoda in the Star Wars movies) is a career "happy film-maker" with The Muppets Take Manhattan, Little Shop of Horrors, What about Bob, Housesitter, In and Out and Bowfinger all a part of his filmography.
The Italian Job, The Goonies & Jumpin' Jack Flash (Collinson, Donner, Marshall, 1969, 1985, 1986)
The entire heist sequence in The Italian Job following the exploits of three Mini Coopers as they escape a gridlocked Turin to the tune of Get A Bloomin Move On is an absolute delight. Similarly, Whoopi Goldberg and her oversized toothbrush bopping to the Rolling Stones' classic track Jumpin' Jack Flash in the crime-comedy of the same name is just as much fun. And who doesn't love the adventures of The Goonies in the timeless classic from director Richard Donner!
Saturday Night Fever (Badham, 1977)
Saturday Night Fever is all about escapism. So it's fitting that it's a film that helps you to feel good. The dance sequences are wonderfully choreographed and performed while the Bee Gees' disco tunes will undoubtedly help lift your mood.
His Girl Friday (Hawks, 1940)
A screwball comedy in the best sense of the word, Howard Hawks witty, fast-paced His Girl Friday sees Cary Grant at the top of his game as Walter Burns, the tough nut editor of The Morning Post. Considered by critics as one of the greatest comedies ever made, Hawks' films is best known for its accelerated dialogue. Although it has lost some of its appeal among modern audiences, this is one studio era film to discover for the first time.
Saving Mr Banks (Hancock, 2013)
This is the film that inspired me to say "film gives us the happy endings life sometimes cannot". John Lee Hancock's wonderfully inspiring Saving Mr. Banks follows the exploits of Mary Poppins creator P.L. Travers as she comes to Hollywood to work with Walt Disney in adapting her magical character for the silver screen. It's a funny, heartwarming film with two delightful performances from Tom Hanks and Emma Thompson.
Clue (Lynn, 1985)
Another filmmaker – this time Jonathan Lynn – whose career is peppered with making happy films, Clue is a brilliantly orchestrated and hugely entertaining cinematic interpretation of the classic board game. Lynn has a talent for working with an ensemble cast and makes Clue tick through a script that sparkles and performances that emit an anarchic energy underlined by Tim Curry's chaotic turn as butler Wadworth.
The Shawshank Redemption (Darabont, 1994)
In a list of most sentimental films, The Shawshank Redemption would be probably top it. It's the go-to happy film for so many people as it features a classic tale of adversity being eventually overcome. Based on a Stephen King story, Frank Darabont's prison drama has many moments of warmth, friendship and courage that underline its ability to lift the viewer's spirits.
Let It Ride (Pytka, 1989)
When you're unhappy you expect to have a bad day. Let It Ride reminds you that a good day could be just around the corner. As happy, feelgood films go, Let It Ride ticks all the boxes as a down-on-his-luck nice guy wins one bet after another during a day at the races, each time putting all his winnings on the next bet. He goes from a penniless cab driver to a millionaire in one day whilst also winning back his wife.
Clockwise (Morahan, 1986)
John Cleese is brilliant in this post-Monty Python era film about an overtly punctual school headmaster who conducts his life based on strict regimen and perfect time-keeping but finds his entire day, en route to a headmaster's conference, disrupted by one mishap after another. It's a terrific farce and one that's made more delightful by Cleese's spirited performance.
Little Miss Sunshine (Dayton/Faris, 2006)
Road movies seem to be a great starting point for happy films. It is after all a journey – both metaphorically and physically – that the audience and the characters take, discovering humanity and their own identities along the way. Little Miss Sunshine is a vibrant, hopeful, and funny film with some wonderful characters and performances.
The Goodbye Girl (Ross, 1977)
One of the great romantic-comedies, Richard Dreyfuss and Marsha Mason star as the unlikely couple in Herbert Ross' film based on Neil Simon's screenplay. Dreyfuss and Mason are perfectly cast in a film that benefits from one of Simon's most accomplished scripts. Funny, bittersweet, and lovable, the film also features an amusing and dynamically written power struggle between Dreyfuss' struggling actor Elliot Garfield and Mason's young daughter Lucy played by ten-year-old Quinn Cummings.
Mamma Mia (Lloyd, 2008)
Mamma Mia is great fun even if you're not a huge fan of ABBA. There's an energy and a zest for life, love and happiness that makes this lovable, amusing musical a heart-warmer. Of course, if you like the songs, you'll love it even more!
Sing (Jennings, 2016)
A crowd-pleasing sing-a-long animation comedy from the makers of Despicable Me, Sing features a number of pop hits to get kids and adults tapping their feet while the against-all-odds drama and Pop Idol/X Factor sensibilities make it an easily digestible, hugely entertaining contemporary film.
Cinema Paradiso (Tornatore, 1988)
For fans of film, Cinema Paradiso is the ideal feelgood movie. It is a richly detailed tale of friendship, largely set in Sicily. Told mainly in flashback we learn of Salvatore's younger, formative years and the bond he made with cinema projectionist Alfredo. There is also a love for cinema that permeates through the film. Anyone who has fallen for the allure of the moving image can't escape the film's adoration for cinema.
The Last Detail (Ashby, 1973)
There's a dark, cynical edge to Hal Ashby's The Last Detail that points aggrieved fingers at the infrastructures supposedly in place to protect us but in the midst of that there's a celebration of individualism and the human spirit that, through the icy chills of the film's winter setting, warms the heart. Ashby's films are criminally overlooked (the best known being Harold and Maude) but The Last Detail might just be his best work. Jack Nicholson is on great form as a sailor tasked with escorting Randy Quaid's Meadows to a naval prison. Meadows is a young, virginal navy recruit with little life experience. Alongside Nicholson and Mule (Otis Young), Meadows discovers a little anarchy, but grows up along the journey.
Sullivan's Travels (Sturges, 1941)
This literal and metaphorical journey is one of misadventure and self-discovery for fictional Hollywood director John Sullivan (Joel McCrea) who decides he's sick of making shallow but commercial films and now wants to make something that speaks to people on their level. It's an amusing film that moves along at a quick pace towards the inevitable but well-constructed happy ending. Veronica Lake is the leading lady, an actress as beautiful and talented as the most well-known Hollywood female stars of her generation but who sadly never achieved the same success as the Hepburns and Bergmans.
Home Alone (Columbus, 1990)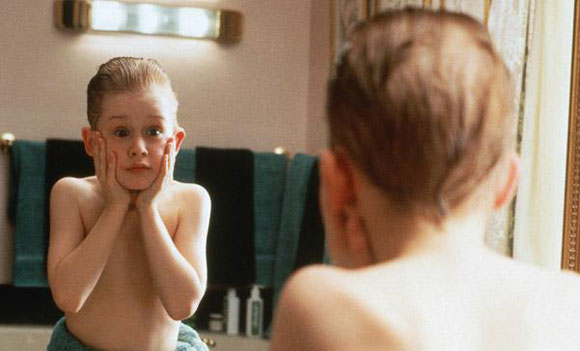 We all like stories that see the little guy triumph over the bigger bully. This is taken literally in Home Alone as pint-sized pre-teen Macauley Culkin has to fend off a pair of hapless home invaders from robbing his house. The family-friendly inventiveness of the kid's defence techniques (playing a gangster movie at select points to suggest there are adults in the house when the robbers come calling, for instance) are as wonderfully entertaining as they are effective in repelling the threat. Home Alone is one of several great happy films written and/or directed by John Hughes.
Dirty Dancing (Ardolino, 1987)
Dirty Dancing has its share of tragedy, melancholy and sobering drama but it's the ideal set-up for one of cinema's great happy endings. It's a terrific love story between Johnny, a hard-up, world-weary dance instructor (Patrick Swayze) and Baby, a naïve, mollycoddled middle class teenager who falls for his good looks and seductive dance moves. Dirty Dancing's celebrated finale features their romance, which has a tinge of Romeo and Juliet about it, flourish to the tune of I've Had The Time of My Life by Bill Medley and Jennifer Warnes. An entire auditorium ends up dancing in sync as Baby jumps into the arms of Johnny, accomplishing a difficult "lift" she was previously unable to do. Cue tummy butterflies, an unpreventable smile, and a genuine sense of joy.
The World's Fastest Indian (Donaldson, 2005)
Anthony Hopkins delivers one of his finest performances as Burt Munro, a mild-mannered New Zealander who sets off for America in the late 1950s to set the world land speed record on his trusty Indian Scout motorcycle. It's a beautifully, life-enriching tale, with Munro meeting an assortment of larger-than-life characters on his journey to Utah's Bonneville Salt Flats, the setting for his record attempt.
E.T.: The Extra-Terrestrial (Spielberg, 1982)
You only need to think of the iconic image of that BMX bicycle silhouetted against a full moon to know Steven Spielberg's E.T. is a great feelgood film. By the end you'll be weeping with happy tears and going right back to the start for another magical journey.
Life Is Beautiful (Benigni, 1997)
The holocaust is not ordinarily a source of happiness but ask the wonderfully imaginative writer-director-actor Roberto Benigni and he would show you Life Is Beautiful to prove that assumption wrong. This is a film that captures and celebrates the human spirit. Amidst the horrible events that took place during the Second World War, Benigni illustrates that the vitality of life cannot be easily extinguished, making us laugh and pulling at our heartstrings in the midst of the destructiveness of war. Less about the Nazis, concentration camps and mass murder, Life Is Beautiful upholds an endearing optimism that the future will be brighter for our children than it was for us.
It's A Wonderful Life (Capra, 1946)
Happy films don't get more iconic than It's A Wonderful Life, Frank Capra's beautiful illustration of the value of life and the importance of making the most of it. The film is Hollywood's antidote to low serotonin levels. James Stewart is wonderful, exhibiting that everyman charm and tender voice in a moving, life-affirming film. It also boasts one of the happiest endings in cinema history.
Groundhog Day (Ramis, 1993)
One of the funniest comedies of the 1990s, Groundhog Day has quickly established itself among audiences as one of the great happy films and the go-to movie for a quick-fix cheer-up. Bill Murray is brilliant as grumpy weatherman Phil Connors who has to live out the same day over and over again. The film never tells you why or how the day is repeated but that's not the point. As Connors begins to see the error of his ways he begins to have a helpful influence on the lives of those he meets on a continuous basis each day. The film is It's a Wonderful Life meets Scrooge and it's guaranteed to make you feel good!
Over to you: what are your fave feelgood happy films?