What is the best Stallone movie – Rambo or Rocky? In this top 10 we put those two classics (and their franchises) aside for a moment and look at the best of the rest…
Sylvester Stallone is a legend. His story is well known. He wrote Rocky in three days, was offered $100,000 for the script on the condition that he give up all the rights and not star in it. He refused and the studio finally gave in but cut the budget down to a million dollars instead of the 6 million they were originally willing to invest in it. The film went on to make more than 200 million dollars world wide, was nominated for 10 Oscars, won three including best picture and the rest is history. Then, he defied all odds and in 1982, he made First Blood where John Rambo was born. In 1985, Rambo First Blood 2 was so popular that it was ubiquitous, even making it into speeches by Ronald Reagan.
Here we look at Stallone's ten best films outside of Rocky and Rambo. I am leaving these two off because they would easily be number one and two, instead, let's take a look at some of his other career highlights.
10. Nighthawks (Malmuth, 1981)
A gritty police drama that came out between Rocky II and First Blood, this was a change of pace for Stallone. Rutger Hauer, Billy Dee Williams and Lyndsay Wagner gave the film some different flavour to it. This is the first film in which Stallone plays a cop. He also openly criticized the films biggest stunt calling it unrealistic.
9. Cobra (Cosmatos, 1986)
Marion Cobretti is a member of the Zombie Squad. He is assigned to cases that normal cops want no part of. Stallone adds some humour to an otherwise dark character. And he has some terrific and memorable lines. Most famous of course is "You're the disease, I'm the cure." Notable about the film is the veteran cast. Both Reni Santoni and Andrew Robinson were in Dirty Harry together.
8. Get Carter (Kay, 2000)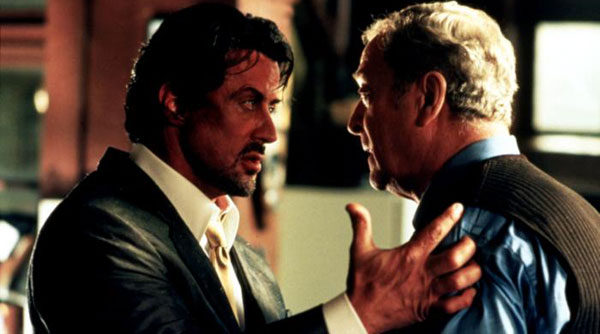 This is the remake of the Michael Caine film of the same name. An interesting story of loyalty started with Mickey Rourke in this film. Rourke was down on his luck in the year 2000. He was not getting roles and he was basically struggling to even eat and pay rent. Stallone wanted him in this movie and when the producers balked at Rourke's asking price (which was next to nothing) Stallone took the money from his own pay, gave it to Rourke and he did the movie. Years later when Stallone was casting for Expendables, straight off blistering performance in The Wrestler, Rourke did the film as a favour to Stallone because of his generosity on Get Carter.
7. Oscar (Landis, 1991)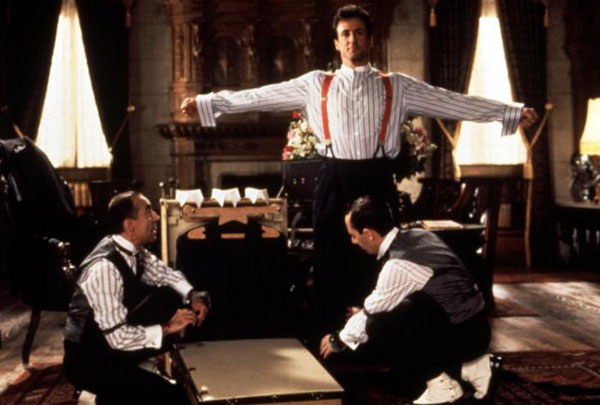 Stallone's box office disaster Oscar, is actually one of the funnier films of the decade in my opinion. He plays a mobster who made a promise to his dying father that he would get out of the "business". Blessed with another strong cast that includes Marisa Tomei and Chazz Palminteri, this was a swift and abrupt change of pace. Audiences stayed away but it has developed a bit of a following over the years.
6. Over The Top (Golan, 1987)
Ok, even I admit that this is a cheesy film but that doesn't mean it is not enjoyable. Stallone plays an arm wrestler who eventually knocks Terry Funk through a wall, tells Robert Loggia to take his money and shove and beats world arm wrestling champ Rick Zumwalt, even though he is outweighed by about 100 pounds. Ignore all of that and just enjoy the film for what it is. Kenny Loggins is even on the soundtrack.
5. Demolition Man (Brambilla, 1993)
Cryogenically frozen and then thawed out decades later when he has to capture Simon Phoenix, played by Wesley Snipes, this is perhaps Stallone's most recognizable film outside of the big three. Blessed with a fantastic cast that includes Sandra Bullock, Benjamin Bratt, Bob Gunton, Dennis Leary and even a quick appearance by Jack Black, this is perhaps one of the better action films of the 90's.
4. Cliffhanger (Harlin, 1993)
Demolition Man may be considered one of the best action films of the 90's but in my opinion, next to Terminator 2, THIS IS THE BEST ACTION FILM OF THE 90'S. It is truly breathtaking. If you have any predilection to vertigo, this is definitely a film to stay away from. Stallone and Michael Rooker play veteran mountain climbers who have to outwit some murderous thieves. Directed by Renny Harlin, this stunts in this are truly pulse pounding. The setting is real, the mountains are real and the air exchange is real. Stallone looks like he has negative body fat for the role.
3. Tango and Cash (Konchalovsky/Magnoli, 1989)
Stallone's first real foray into action/comedy. And his first film where he actually shares the screen with another "star". In this, Stallone and Kurt Russel are two diametric police officers. Stallone is the snappy dresser and the by the book guy and Russell is the slob who bends the rules. It works really well as they have some great scenes together, especially when Russell goes off in the courtroom after Stallone has said his saccharine speech about the law and upholding it. Also, look for a small role by Ron Howard's brother. Quite funny.
2. The Expendables (Stallone, 2010)
Stallone is directly responsible for three different franchises that span 5 decades and 13 movies. To have one massive franchise is amazing, to have three is simply incredible. With the Expendables, he tapped into a market that was all but forgotten, that being a throw back to the macho, one liner, 80's kind of action where men were chiseled and full of brawn. He felt that a lot of the action heroes today were a little effeminate and he wanted to give us something retro. The Expendables has an all star cast from today and yesterday and with the third one coming out in 2014, the total box office for the three films will likely exceed 800 million dollars.
1. Copland (Mangold, 1997)
[ad#Google text Ad – square no border]
Stallone gained 40 pounds to add to the realism of the police officer. He was also paid the SAG minimum. This was an all star cast that included the likes of Robert DeNiro, Ray Liotta and Harvey Keitel just to name a few. This is a film that many thought would garner Stallone his second best actor nomination. It didn't but it doesn't take away from the subdued brilliance of his interpretation of Freddy Heflin. This film easily has his best performance outside of the original Rocky. His range in this film goes from tender, to shameful to verbose and strong willed. He really nailed the character and it's a shame he was not recognized by the academy for this realistic and fantastic performance.
Written and compiled by Dan Grant.