Top 10 Films is on holiday. Through the following ten movies we head to the English countryside, the Greek islands, the south of France, Crete and the Australian outback. What could go wrong?
Why is it that the best films featuring Brits on holiday, whether we are enjoying the delights of the English countryside or getting sunburnt in hot climates, feature something going terribly wrong? Most of the time. Whether it's Withnail's uncle crashing the party in Withnail and I, noisy neighbours in Nuts In May, or a crazed dismemberer in Wolf Creek, holidays from hell seem to follow Brits around in the movies.
What is that saying about looking on the bright side of life? In the top 10 films about Brits on Holiday, you just have to laugh in order to get through them. Thankfully, most of these films play their pitfalls and drawbacks for amusement making for holidays to be remembered rather than forgotten. Well…for the audience at least.
More on Top 10 Films you might like: Top 10 Films To Make You Reconsider Vacations | British Cinema's Back Alleys and Byways: A Top 10 | Top 10 Films Inspired by British TV Comedy | Top 10 British Comedy since 1980 | Top 10 British Cult Classics
10. Holiday On The Buses (Izzard, 1973)

Holiday on the Buses is the third spin-off movie inspired by the popular British TV comedy series On The Buses. It follows the exploits of a bunch of bus drivers, led by Reg Varney, who aren't particularly good at their jobs. After Varney's Stan causes three of the company's buses to be wrecked, he loses his job and ends up at a British holiday camp driving the public transport. Likened to other British situation comedies of the period like John Cleese's Fawlty Towers, the film hits and misses with its laughs generated from events conspiring against the protagonists. Still, with so many gags, enough will surely work to merit a viewing.
9. Mr Bean's Holiday (Bendelack, 2007)

Britain's clumsiest citizen Mr Bean unsurprisingly ends up on a disastrous holiday in France after he wins a trip to Cannes. Rowan Atkinson again delivers his best impression of a bumbling idiot as Mr Bean goes from one pitfall to another. It is a comedy of extreme error, and while the film's scattershot humour hits and misses, there's fun to be had for fans of the character.
8. Summer Holiday (Yates, 1963)

We're all going on a summer holiday, no more working for a week or two! Yes, these are the lyrics to the theme song sung by star Cliff Richard. If you know the film, you'll know the song. No doubt you're humming it to yourself. This annoying habit will afflict the rest of your day I'm afraid. Damn you Cliff! But it is all part of the charm of 1963's musical Summer Holiday as Richard's Don, along with friends, converts a London bus into a holiday caravan and heads off across Europe for fun in the sun. The film was a smash hit in the UK, tapping into the cultural vibe of the period, swinging its way into the sixties with some of the decade's most popular songs like The Next Time, Bachelor Boy and Foot Tapper.
7. Carry On Camping (Thomas, 1969)

The 17th Carry On film, "Camping" first appeared in 1969 as Sid James and the familiar gang head off to an English holiday camp known as Paradise. James's character Sid Boggle and his friend Bernie Lugg (Bernard Bresslaw) had hoped to lure their girlfriends there, believing it to be a nudist camp. But soon "paradise" reveals its true colours – not only is it a non-nude camp, it's simply a damp, dirty field with limited facilities. Hilarity ensues when Sid and Bernie grow tired of their girlfriend's lack of intimacy and set their sights on a group of holidaying girls led by Barbara Windsor under the guidance of Kenneth Williams' Dr Soaper.
6. Wolf Creek (McLean, 2005)

This is the film to put you off two things. Firstly, it will turn any aspirations you have to go backpacking into mush. Secondly, it'll advise you that if you do ignore the warning signs about backpacking, wandering off in the middle-of-nowhere in Australia's deserted outback is a bad idea. Especially if you don't have Mick "Crocodile" Dundee to protect you with his really big knife. In Wolf Creek, a trio of young, fresh-faced and appreciably good looking people become the prey of a psycho who has witnessed Texas Chainsaw Massacre far too many times. Expect limbs to be chopped off, blood to be splashed and splattered, and the absence of any happy ending.
Discover More: What are the best British horror movies?
5. The Inbetweeners Movie (Palmer, 2011)

Inspired by the popular British TV comedy series, The Inbetweeners Movie anglicises the coming-of-age genre as a group of teenagers head to Crete for fun, frolics and maybe a little bit of sex. Fans of the series will enjoy this bookend to the TV show, while new viewers will find Britain's answer to American Pie hits all the right notes.
4. Shirley Valentine (Gilbert, 1989)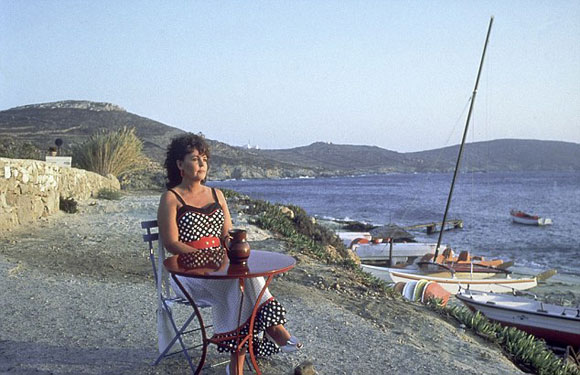 Pauline Collins delivers a wonderful performance as a bored housewife from Liverpool who, uncharacteristically, leaves her uncaring family behind and heads off to Mykonos in Greece with her friend Jane (played by the brilliant Alison Steadman). Based on a one-character play by Willy Russell (who also wrote the equally nuanced and funny Educating Rita), Shirley Valentine is a smartly conceived and amusing tale of a woman finding adventure and romance later in life.
3. Sightseers (Wheatley, 2012)

Kill List director Ben Wheatley brings his unique, subversive touch to the Brits on Holiday genre as an odd, socially obscure couple take their caravan on a tour of northern England's tourist hotspots like the Crich Tramway Museum, Blue John Cavern, the Ribblehead Viaduct, and the Keswick Pencil Museum. Mixing oddball humour with serial killing and a green agenda, Sightseers is Natural Born Killers meets Nuts In May.
Discover More: Kill List | Sightseers | British Horror Cinema
2. Nuts In May (Leigh, 1976)

Mike Leigh delights with Nuts In May, which was originally broadcast on BBC television as part of its long-running Play for Today series in 1976. Alison Steadman and Roger Sloman star as a well-meaning couple who decide to go on a camping holiday. Steadman's innocent, childlike wonder contrasts Sloman's headmaster-like precision, his almost paternal nurturing creating a unique dynamic between this odd, but equally loving, pairing. Leigh finds humour in the contrasting personalities of those on the campsite, as their fellow campers, each with their own agendas and ways of having fun, disrupt the couple's idyll.
1. Withnail And I (Robinson, 1987)

The quintessential Brits on Holiday film has to be Bruce Robinson's seminal classic and cult favourite Withnail and I. Inspired by Robinson's own troubles as an out-of-work actor, his Camden Town squalor fuelled by booze, the film follows two unemployed Londoners living in similar "poverty" as they head off to the countryside for a much needed holiday. Mixing comedy with tragedy, Withnail and I provides a caustic, unapologetic and inherently truthful window on to this fringe element of London's changing cultural and societal make-up. It distinguishes itself thanks to Robinson's sparkling dialogue and some fine performances, particularly Ralph Brown's spaced-out drug dealer and Richard E. Grant's perennially drunk Withnail.
Discover More: Top 10 Buddy Films since 1980 | Top 10 Male Adventures In Self Discovery | Top 10 Quirky Films
Written and compiled by Dan Stephens.
More on Top 10 Films you might like: Top 10 Films To Make You Reconsider Vacations | British Cinema's Back Alleys and Byways: A Top 10 | Top 10 Films Inspired by British TV Comedy | Top 10 British Comedy since 1980 | Top 10 British Cult Classics
For all the latest top 10s, reviews and competitions follow Top 10 Films on Twitter!
Your turn – what are your favourite "Brits on Holiday" films?
Discover More on Top10Films.co.uk:
Search our collection of Top 10 lists sorted by type:
THEME | ACTOR | DIRECTOR | TIME PERIOD | GENRE | COUNTRY | SPECIAL INTEREST | FUNNY
See the A – Z of films featured on Top 10 Films / Check out our film review database