He's worked with Olivier, Shirley MacLaine, Sean Connery, Ben Kingsley; he's worked on Get Carter, The Italian Job, Zulu and The Dark Knight – he is the incredibly talented Michael Caine…
Here's one for the pub quiz enthusiasts among you: what Academy award-winning actor, who has appeared in Hannah and Her Sisters, The Ipcress File and Batman Begins, was born Maurice Joseph Micklewhite? The fact you've found this page on Top 10 Films tells me you know the answer already! Michael Caine's birth name has to be up there with Allen Stewart Konigsberg and Norma Jeane Mortenson as the most recognisable pre-famous names to become Hollywood royalty. For those wracking their brains about Konigsberg and Norma Jeane, it's Woody Allen and Marilyn Monroe!
Caine has been one of my favourite actors for a long time – probably ever since I saw him for the first time in Frank Oz's Dirty Rotten Scoundrels. The charismatic actor from South London has enjoyed a long and diverse career, continuously re-establishing himself as the years have gone on. At the beginning, a product of swinging 1960s London, he was the suave and sophisticated anti-hero seen in films such as Gambit, The Ipcress File and Alfie. Adding a rugged aspect to his game he then made late 1960s and 1970s independent British films such as The Italian Job, Get Carter and Sleuth, maintaining a slightly off-kilter, sinister element to each of his characters that beautifully muddied the line between hero and villain. Then Hollywood came calling, restyling once again with a Los Angeles tan and perfectly manicured blonde hair for John Huston's The Man Who Would Be King, Irwin Allen's sequel to The Poseidon Adventure, and Brian De Palma's Dressed To Kill.
Fact File:
– Michael Caine has two Academy Awards for Best Supporting Actor – these were for Woody Allen's Hannah and her Sisters, and Lasse Hallstrom's The Cider House Rules.
– He has been nominated for an Oscar six times
– He won BAFTA and Golden Globe Best Actor awards for Educating Rita
– He was knighted in 2000 making him a "Sir"
Despite inconsistency in the 1980s and 1990s, the now seasoned actor produced some of his finest performances in such films as Educating Rita, Hannah and her Sisters (for which he won the Academy Award for Best Supporting Actor), and Dirty Rotten Scoundrels. While he would rather forget Jaws 4: The Revenge, some of his lesser seen movies from the period are well-worth checking out such as fun cold war spy thriller The Fourth Protocol and role-reversed Sherlock Holmes movie Without A Clue.
The mid-1990s were a period of stagnation for Caine, he had practically retired from acting, but he re-tooled again, utilising his seasoned maturity to find roles that brought out the best of him as an older actor. This brought yet another Academy Award win for The Cider House Rules, while his turns in Little Voice and The Quiet American were also widely praised. Sending himself up in Austin Powers film Goldmember showed his sense of humour, as did a fun turn in Miss Congeniality.
Now enjoying his later years as one of director Christopher Nolan's most dependable assets having featured in The Prestige, Inception and all Nolan's Batman films, Caine has established himself as one of the finest British actors of all time.
10. Deathtrap (Lumet, 1982)
Caine is an absolute delight in this smartly constructed film version of Ira Levin's play. The dependable Sidney Lumet directs proceedings which take place almost exclusively in the Long Island home of Caine's struggling playwright Sidney Bruhl. Having received the manuscript of a play called Deathtrap from one of his young writing students, Bruhl decides to invite its creator to his home under the pretence of refining it. However, the increasingly desperate Bruhl's plan is to kill the man and pass the play off as his home with the help of his ailing wife. Taught, at times funny, and satisfyingly full of plot twists, Deathtrap, which also stars Christopher Reeve and Dyan Cannon, is an entertaining ride similar in style to Caine's 1972 film Sleuth.
9. Zulu (Endfield, 1964)
The film that introduced the world to Michael Caine on a grand stage, Zulu tells the story of the Battle at Rorke's Drift. It was here that 150 British soldiers defended an outpost during the Anglo-Zulu War in South Africa from several thousand Zulu fighters.
8. Harry Brown (Barber, 2009)
Michael Caine recalls some of that Get Carter take-no-prisoners spirit in this tale of urban decay, lawlessness and retribution. The film features one of Caine's best performances, made even more essential because it comes more than 50 years after he made his first one. The actor hasn't lost his touch, indeed, he only seems to get better. This is essential viewing and one of the best British movies of the 2000s.
You can read more about Harry Brown in my full review here
7. Dirty Rotten Scoundrels (Oz, 1988)
Caine and Steve Martin excel in this riotous comedy about two conmen who prey on rich women for financial gain. When Martin's small-time crook Freddy Benson arrives on Laurence Jamieson's (Michael Caine) patch in the French Riviera, the American is in awe of his British counterpart's ability to extract significant amounts of money from the women he cons. Eventually persuading Jamieson to teach him the tricks of the trade in return for leaving his turf, the two men come to blows over American heiress Janet Colgate (Glenne Headly). What ensues is a battle between the pair to gain the most money from Colgate. The film is a triumph thanks to Caine and Martin's terrific chemistry and charisma.

Dirty Rotten Scoundrels is one of my favourite films and features in a number of my top 10 lists including Top 10 Steve Martin Films & the Top 10 Comedy Double Acts of the 1980s. It also featured in my article about directors Frank Oz and Ivan Reitman & was one of my top 10 Pick-Me-Up Movies.
6. Sleuth (Mankiewicz, 1972)
Best remembered for the two-handed face-off between a couple of cinema's greatest heavyweights – the incomparable veteran Laurence Oliver and the young, dynamic upstart Michael Caine – Joseph Mankiewicz's Sleuth is all about watching skilled actors plying their trade to perfection. Based on Anthony Shaffer's Tony-awarding play, this mystery-thriller remains glued to its two leads as the roles of protagonist and antagonist blur to keep you on the edge of your seat. It's dense, deeply layered and intelligent but at the same time, simple, straight-forwardly staged and pointed. Fittingly, Olivier and Caine were nominated for Academy Awards for their performances.
5. The Ipcress File (Furie, 1965)
The anti-Bond movie by the makers of said franchise. The Ipcress File was intended to show spies in a slightly off-colour, off-kilter world when compared to James Bond. Certainly, director Sidney J. Furie's bizarre camera angles aesthetically sidesteps the gloss of 007, while his avoidance of exotic locations furthers magnifies the disparity. In fact, Michael Caine's Harry Palmer has only the grey skies of London to enjoy, his spy-skills put to the test in sparse, malnourished warehouses. Take out the action sequences, the sun-kissed beaches, the shark-infested moats and laser beams, the grandiose villains with names like Goldfinger and Mr Big, and a steel-toothed henchman named Jaws and what are you left with? A lot as a matter of fact. The Icpress File is a taught, downbeat spy-thriller with Caine sporting a brawler's mentality and a robotic preciseness to the way he does business and pleasure. It is engaging in a different way to Bond, particularly because Harry Palmer is fallible and his survival is far from assured like 007.
4. Educating Rita (Gilbert, 1983)
Caine is brilliant as perennially inebriated university professor Frank Bryant who begins teaching ditzy but bright Liverpudlian girl Rita (Julie Waters) literature for her Open University course. There's the instant imbalance of personalities that spark some wonderful scenes lifted from Willy Russell's stage play as the mismatched pair work out their differences amid readings of D H Lawrence, TS Elliot and Shakespeare. The film is made all the more memorable thanks to two terrific performances from Caine and Waters – both were nominated in their respective categories for acting at the 56th Academy Awards but, criminally, neither won.
3. Dressed To Kill (De Palma, 1980)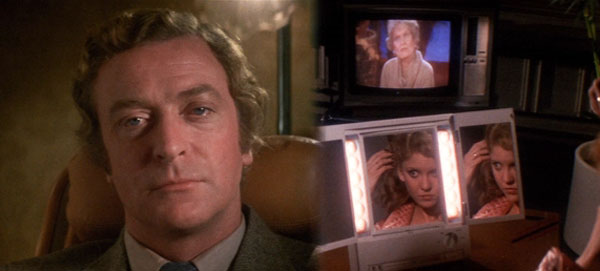 Brian De Palma's stylish Hitchcockian thriller sees Caine play a New York City psychiatrist whose transgender patient begins stalking call girl Liz Blake (Nancy Allen). This twisty (and twisted) drama sees De Palma at his most inspired, his kinetic camera inspiring some truly great visuals to complement the suitably fast-paced and enthralling murder-mystery. Caine is perfectly cast in a role that allows him to break outside of his usual comfort zone.
Dressed To Kill is my favourite Brian De Palma film – you can find out why in my full review here. I also had the privilege of interviewing actor-director Keith Gordon who starred in Dressed To Kill alongside Michael Caine – you can read what he said about the actor here.
2. The Italian Job (Collinson, 1969)
This delightful British caper is fun from start to finish. Caine is lovable rogue Charlie Croker who concocts a plan to steal $4 million in gold bullion using Mini Coopers in Turin, Italy. The ballet of motion to the tune of "Get a Bloomin' Move On" ('The Self Preservation Society') which sees the Mini Coopers make their getaway both on-road and off-road is a treat to behold again and again and again.
1. Get Carter (Hodges, 1971)
Surely the undisputed king of Michael Caine movies is this 1971 debut effort from director Mike Hodges. Caine invested a lot of energy into the film, firstly acting as its co-producer, then drawing on his own experiences of the criminal underworld to develop on-screen character Jack Carter which was adapted from Ted Lewis' 1969 novel Jack's Return Home. This gritty revenge drama is invigorated by director Hodges' experience in documentary film, providing a down-and-dirty aesthetic that adds further realism to the sadistic, and at times very graphic, violence. This is framed be Caine's deceptively tough Jack Carter, a nasty piece of work the audience ultimately roots for, whose detective-like pragmatism is driven by an icy determination to get to the bottom of his brother's mysterious death no matter the cost. The straightforwardness of Carter's brutality is at once deeply affecting and memorably downbeat while the ultimate tragedy of the whole affair adds gravitas to proceedings. As Carter finds out more about his brother's life, the mystery unfolds before the audience as it does for the vengeful sibling, making for a beautifully composed character-driven drama that grips from minute one and builds to an unforgettable conclusion.
Over to you: what are your top Michael Caine films?