Saturday Night Live founding member Dan Aykroyd rose to prominence as a great comedy writer & actor during the late 1970s and 1980s. Here are his 10 greatest movies.
Eric Idle, who guest hosted Saturday Night Live back in the 1970s, paid Dan Aykroyd the sort of compliment that would make other comics purr with admiration. Aykroyd, a founding member of the Saturday Night Live team alongside other greats such as John Belushi, Gilda Radner and Chevy Chase, became an audience favourite thanks to his madcap style and knack of impersonating celebrities such as Jimmy Carter, Richard Nixon and Vincent Price. It was on the show that he created characters that would go onto become box office hits in theatres such as the Coneheads family and, of course, the Blues Brothers alongside his close friend Belushi. Following an appearance on the show by Monty Python star Idle, the great British comedian said Aykroyd's ability to both write and perform characters so flawlessly meant he was the only Saturday Night Live cast member capable of being a Python.
The success of the show's early years meant the cast became household names and pursued other opportunities. The major attraction for Aykroyd was film with his first notable appearance being Sergeant Frank Tree in Steven Spielberg flop 1941. That didn't deter him, writing a feature length story for the Blues Brothers that would become the much loved John Landis film of 1980. He followed this in 1981 by working with Belushi again in the sporadically fun but misjudged Neighbors.

Eric Idle said Aykroyd's ability to both write and perform characters so flawlessly meant he was the only Saturday Night Live cast member capable of being a member of the great Monty Python team.
However, in the two proceeding years – 1983 to 1984 – Aykroyd enjoyed the best period of his life in the movies. He starred in Doctor Detroit, Trading Places, Twilight Zone: The Movie, Ghostbusters and even found time for a blink-and-you'll-miss-him appearance in Indiana Jones and the Temple of Doom. The talented comedian from Ontario, Canada also co-scripted Ghostbusters, which is widely considered his greatest work. Also during this time he made the infamous "lost" film Nothing Lasts Forever, which has never been released in America due to unspecified "legal difficulties", and also appeared in director John Landis' films Into The Night (alongside Jeff Goldblum) and Spies Like Us (alongside Chevy Chase).
Since then Aykroyd has enjoyed more misses than hits at the box office but he did star in audience favourites such as My Girl, Grosse Pointe Blank, Sneakers, Driving Miss Daisy (of which he earned an Oscar nomination for Best Supporting Actor) and, of course, Ghostbusters II. Here are my favourite movies…
10. My Girl (Zieff, 1991)
Remembered for its portrayal of two young leads (Macaulay Culkin and Anna Chlumsky), Aykroyd plays the funeral director father of "My Girl" Vada whose disconnected relationship with her father is underlined by her own sense of guilt over her mother's death. This warm drama both melts and breaks the heart.
9. Driving Miss Daisy (Beresford, 1989)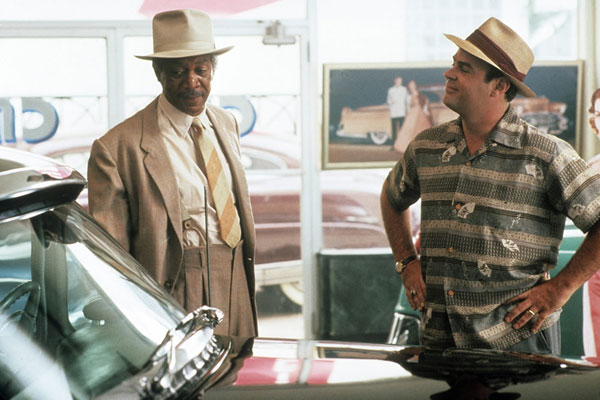 Aykroyd would earn an Oscar nomination for his appearance in Bruce Beresford's Driving Miss Daisy. The film, also starring Morgan Freeman and Jessica Tandy, would win four Academy Awards including Best Picture and Best Actress.
8. Twilight Zone: The Movie (Landis, 1983)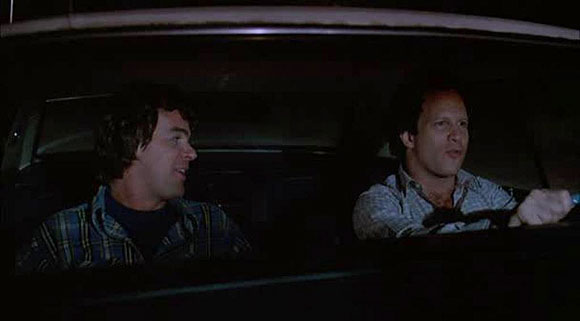 Twilight Zone, The Movie, Dan Aykroyd[/caption]Aykroyd's role in Twilight Zone: The Movie might be small but blimey is it significant. In one of the great jump-out-of-your seat moments, Aykroyd features in the film's prologue as a passenger of a car driving at night. Along with the driver he talks about which Twilight Zone episodes he finds the scariest before the infamous line: "Do you want to see something really scary?".
7. Sneakers (Robinson, 1992)
Another small part for Aykroyd but Phil Alden Robinson's film is so enjoyable it had to appear on this list. Aykroyd plays a conspiracy theorist and electronics technician within Robert Redford's team of security specialists who earn a living breaking into secured areas such as bank vaults to analyse weaknesses. When they are approached by the National Security Agency to carry out a covert yet dangerous mission, things take a turn for the worse. This fast-paced mystery-thriller provides some wonderful cat and mouse entertainment from an exceptional cast which includes River Phoenix, David Strathairn, Ben Kingsley and Sidney Poitier.
6. Ghostbusters II (Reitman, 1989)
It isn't often that a sequel will make a top 10 list unless of course it's a list of best sequels. While Ghostbusters II doesn't quite reach the delights of the original film, a fictional continuation of the wonderful characters created Harold Ramis and Aykroyd can only be welcomed. Indeed, part 2 delivers more of the same, but when you have characters as lovable as Bill Murray's Peter Venkman the attraction is simply the company you're in. A mixture of family friendly paranormal horror and a healthy dose of comedy make Ghostbusters II one of the better sequels of the 1980s.
5. Dragnet (Mankiewicz, 1987)
This part parody, part homage to the Jack Webb-fronted television series of the same name sees Aykroyd star opposite Tom Hanks as two mismatched cops on the trail of a strange cult known as P.A.G.A.N (People Against Goodness And Normalcy). Aykroyd again pens the screenplay (this time alongside Alan Zweibel and director Tom Mankiewicz) highlighting his skills in front or and behind the camera. The film is uneven and not everything works but it is great to see two comedy stars of the 1980s partner up.
4. Grosse Pointe Blank (Armitage, 1997)
A small part for Aykroyd in George Armitage's ace hit-man comedy Grosse Pointe Blank sees the former Saturday Night Live star play a veteran contract killer who comes to loggerheads with a down-on-his-luck assassin played by John Cusack.
3. The Blues Brothers (Landis, 1980)
Written by Dan Aykroyd and John Landis from characters Aykroyd created for Saturday Night Live, The Blues Brothers is widely acknowledged as one of the best comedies of the 1980s. This potpourri of blues music and performance, road-movie and buddy comedy is made even more delicious by the double-act of Aykroyd and close friend John Belushi.
2. Trading Places (Landis, 1983)
Another great 1980s pairing sees Saturday Night Live founding member Aykroyd team-up with SNL new-kid-on-the-block Eddie Murphy for a role-reversal comedy that remains one of the best films of the decade. Aykroyd plays Louis Winthorpe, a successful, educated and affluent commodities broker, who ends up homeless and penniless after his bosses make a bet to turn a poor street hustler (Murphy's Bill Ray Valentine) into a flourishing member of their brokerage. Fish-out-of-water hilarity ensues before the pawns within the bet realise they are the butt-end of the joke and plan revenge.
1. Ghostbusters (Reitman, 1984)
[ad#Google text Ad – square no border]
Written by Aykroyd alongside fellow star Harold Ramis, Ghostbusters is the Canadian comedian's greatest movie. Everyone knows the story of this 1980s classic as a group of paranormal researchers set up a ghost-hunting business in New York. What starts out as a risky move financed by family inheritance turns into a lucrative business as all manner of ghost and ghouls descend on the city. As the calls for ghost-busting increase, so does the Ghostbusters' stock and they are catapulted into the public consciousness, becoming minor celebrities. When the city is faced by the deadly threat of Gozer, the team, with their proton packs and khaki uniforms, become New York's saviour.
The film provides a marvellous balance between creepy supernatural horror of the family-friendly variety and laugh-out-loud comedy. That's thanks to some excellent special-effects, much of which is done in-camera. Eggs breaking by themselves and frying on a kitchen surface is a stand out moment, as is the scene when a character is attacked in her home by a monster whose arms break out of the sofa she's sitting on. There's also the ensemble cast of characters which includes Harold Ramis as the Ghostbusters' chief analyst, bespectacled Annie Potts as their receptionist, and Rick Moranis as nice-but-dim Louis Tully. Bill Murray is the obvious standout as smooth-talking, street-smart "Ghostbuster" Peter Venkman who spends much of the film trying to court ghost victim Sigourney Weaver including after she becomes possessed. Aykroyd's standout moment is one cut from most daytime television screenings when an attractive female ghost visits him in bed, unzips his trousers and proceeds to give a whole new meaning to the term "wet dream".
Ghostbusters is Dan Aykroyd's best cinematic creation primarily because the unique premise produced such a cohesive, warm and funny movie that, thanks to rewarding repeat viewings, has stood the test of time despite its need for some primitive computer-generated effects. The story jumps off the screen thanks to Aykroyd and Ramis' larger-than-life characters, their obvious interest in the paranormal, and their innate ability to write comic dialogue that instantly inspires a laugh. There's nothing to dislike in the film – it's a lovingly produced original comedy with characters you'd want as your friends and enough thrills to bring you to the edge of your seat while the laughs still keep on coming.
More Heroes of the 1980s: John Candy | Chevy Chase | Harrison Ford | Michael J. Fox | Whoopi Goldberg | Tom Hanks | Steve Martin | Eddie Murphy
More lists you might like on Top 10 Films about 1980s Hollywood movies: Sequels | Action Heroes | Childhood Adventure Films | Comedy Characters | Comedy Double Acts | Sci-Fi for Children
Over to you: what is your favourite Dan Aykroyd movie?