From Peter Venkman in Ghostbusters to Axel Foley in Beverly Hills Cop to The Blues Brothers and the band mates of This Is Spinal Tap, the 1980s produced some of the great comedy characters.
As part of Heroes of the 1980s I'm going to look back at some of my favourite comedy characters from the decade. There are so many to choose from, like for instance Marty Mcfly in Robert Zemeckis' brilliant Back To The Future, Doc Brown from the same movie, Michael Caine's suave con man in Frank Oz's delightful Dirty Rotten Scoundrels, John Cleese's Archie Leech in A Fish Called Wanda, Chevy Chase as Fletch, and Richard E. Grant's drunk in Withnail and I.
Such memorable characters and yet none of these appear in our top 10. Why – because the 1980s, for me at least, still has some of the greatest comedy films ever made and therefore some of the genre's most iconic characters. While it was tough cutting the shortlist down to just ten, I think you'll agree the following characters and performances deserve to be remembered.
10. Betelgeuse (Michael Keaton, Bettlejuice, 1989)

Michael Keaton's darkly comic performance as everyone's least favourite bio-exorcist Betelgeuse takes the limelight in director Tim Burton's lavishly detailed and superbly written supernatural-comedy.
9. C.D. Bales (Roxanne, Steve Martin, 1987)

Steve Martin writes and stars in romantic comedy Roxanne about a well-meaning fire service chief in a small Pacific Northwest town who falls in love with the new girl in town (played by Daryl Hannah). C.D., whose witty sarcasm acts as a key line of defence against those who dare to mention the size of his nose, is one of Martin's best creations.
8. Del Griffith (Planes, Trains and Automobiles, John Candy, 1987)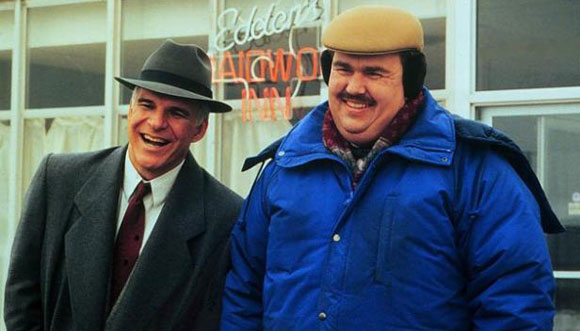 The lovable John Candy reached the pinnacle of his film career as Del Griffith in John Hughes' heartwarming road trip for two down-on-their-luck Chicago-town'ers who experience every mode of land transport as they try to get home for Thanksgiving.
7. Jack Goodman (Griffin Dunne, An American Werewolf In London, 1981)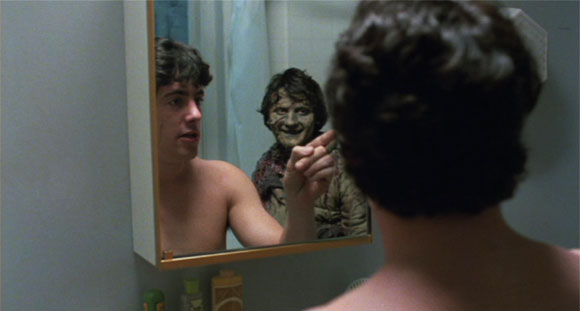 Griffin Dunne, perhaps an unsung hero of the 1980s, has rarely been better as he stars as a recently murdered victim of a werewolf in John Landis' incredibly effective horror-comedy An American Werewolf In London. The actor, who turns up to offer advice to his friend who survived the werewolf attack that killed him, shows up in gradually deteriorating states of decomposition throughout the film. Suitably, his performance is as unnerving as it is highly amusing.
6. Rupert Pupkin (Robert De Niro, The King of Comedy, 1983)

One of Martin Scorsese's best films and the perfect accompaniment to one of the director's other 1980s black comedies After Hours, Robert De Niro sheds the glum, tough-nut posturing of The Godfather Part II to play Rupert Pupkin. The celebrity-obsessed momma's boy, who spends his time doing stand up to a six-foot tall cardboard poster of a stage audience laughing hysterically, is an attention-grabbing mix of Max Cady from Cape Fear and his lighter roles seen in Analyze This and Meet The Parents.
5. Peter Venkman (Bill Murray, Ghostbusters, 1984)

Bill Murray has produced some marvellous character during his long and varied career but few have been as memorable or as pristinely realised as the sardonic Peter Venkman in Ghostbusters.
4. Jake and Elwood Blues (John Belushi/Dan Aykroyd, The Blues Brothers, 1980)

Two for the price of one as two great comedians – Dan Aykroyd and John Belushi – team up in John Landis The Blues Brothers.
3. Nigel Tufnell/David St. Hubbins (Christopher Guest/Michael McKean, This Is Spinal Tap, 1984)

Their album Shark Sandwich might have been unfairly panned by critics who gave it a new title that changed a couple of letters in "shark" but these two lovable rock stars are a great comedy double-act.
2. Axel Foley (Eddie Murphy, Beverly Hills Cop, 1984)

He might be a bit unconventional, or even unprofessional, but the rogue cop from Detroit is as good as they come. Eddie Murphy heads for California and becomes the Beverly Hills Cop in this exciting, high concept action-thriller.
1. Clark W. Griswold (Chevy Chase, National Lampoon's Vacation, 1983)

Who else could top this list? It has to be mild-mannered family man Clark W. Griswold as personified by Chevy Chase during the height of his film career. Clark only wants the best for his family, whether that's taking them on a road trip across America, winning a television show in order to tour Europe or having the perfectly family Christmas. Yet, no matter how hard he tries, something always goes wrong.
For all the latest top 10s, reviews and competitions follow Top 10 Films on Twitter!
Your turn – What are your favourite comedy characters from the 1980s?
Also worth checking out Guyism.com's Top 1980s characters we'd most like to hang out with
Discover More on Top10Films.co.uk:
Search our collection of Top 10 lists sorted by type:
THEME | ACTOR | DIRECTOR | TIME PERIOD | GENRE | COUNTRY | SPECIAL INTEREST | FUNNY
See the A – Z of films featured on Top 10 Films / Check out our film review database