From Ghostbusters, Caddyshack and Groundhog Day to more subtly dramatic roles like Lost In Translation and Mad Dog And Glory, Bill Murray is one of Hollywood's most talented comedic performers.
Bill Murray's career has spanned more than five decades. He got his start early in the 70s when he was one of the first members of Saturday Night Live. He didn't last very long on SNL because his talent saw him transition to the big screen quite quickly. His career took off shortly after and he never really looked back. Here's the ten best performances of his career.
10. Wild Things (McNaughton, 1998)
Bill Murray only has about 20 minutes of screen time in this one but every second he is on screen, he chews it up. Here he plays a slimy (is there another kind) injury lawyer named Ken Bowden, who will take on any case in the hopes of a fast buck. Murray's turn as Bowden, the only lawyer who will defend Matt Dillon against his rape charges is typical Murray – wild, chaotic and a great deal of fun. He gets to muck it up for the audience doing things like rubbing himself with money and playing it up for the camera. There's an end credits scene with Murray that sheds further light on the plot. It's great seeing Murray as the lead in any movie, but getting him in a supporting role can work out really well. It did for this film.
9. The Jungle Book (Favreau, 2016)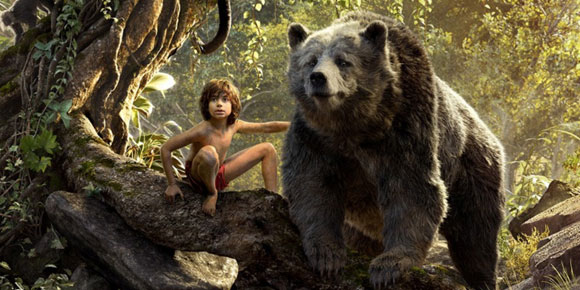 Later in Bill Murray's career, he started doing a lot of voice work. In Jon Favreau's version of The Jungle Book, he is the best part of the movie. He voices Baloo the Bear. He's the only actor besides Neil Sethi who is in almost every scene. Here he plays an older, lethargic and lazy bear who just wants his honey. This seems right up Murray's alley as he has made a career out of playing the lovable slacker. The Jungle Book has some terrific voice performances, including Christopher Walken and Scarlett Johansson but none of them could trump Murray's. He's a true gift to the film.
8. Zombieland (Fleischer, 2009)
Bill Murray has a reputation of being difficult and sometimes downright aloof. Although his talent is unquestioned, even his close friends sometimes don't even like to work with him. When he turned up as himself playing a survivor in the zombie apocalypse, it shocked pretty much everyone. Zombieland stars Woody Harrelson and Emma Stone and they are in the middle of a zombie epidemic. Harrelson tells her and the rest of his friends that he knows a safe place in Hollywood to find refuge in. He takes them to Murray's massive Beverly Hills mansion and this is where Murray shows up dressed as a zombie. He comes across as incredibly humble here, a role he is not known for. He treats the friends to viewings of his movies, they play Ghostbusters and generally riff a bit on his character. It's one of Murray's most fun roles.
7. Mad Dog And Glory (McNaughton, 1993)
The brilliance of this film is that it casts against type. Robert De Niro plays a meek man who saves the life of a violent Mafia king, played by Bill Murray. Murray is a deep yet fierce mobster type. He runs a tight racket and has no fear of the law. This is exceedingly out of character for an actor who made much of his career out of comedy. Even his stand-up in the film is more of an homage to his dark character than an allusion to his comic ability. He does it so well I believe him. Murray actually scares me in this film. It's a true testament of his ability as an actor. We all know and love him because of his sarcasm and wit but here he just plain frightens us. It's a terrific performance.
6. Caddyshack (Ramis, 1980)
Pure slapstick. Nothing more and nothing less. Bill Murray is the heart of this movie. He has what some consider the definitive Murray performance with his character, Carl Spackler, the Assistant Greenskeeper at Bushwood. Murray brings Carl, the socially and intellectually challenged man-with-a-plan, to life with subtle nuance and the flare of a comedic genius. A lot of what he did in this film was improvised, including much of his two most memorable and hilarious scenes, one in which he's describing his encounter with the Dalai Lama, and the other being his soliloquy of the "Cinderella Boy" on the course at Atlanta. This is truly inspired, funny stuff. And there's a harmless shiftiness about Carl, who is about as deep as a puddle of water, and Murray plays it all beautifully. In a film with other comedic giants like Chevy Chase and Rodney Dangerfield, you come away with a smile because of Murray and his goofy interpretation of Carl Spackler.
Discover More: Bill Murray's Top 10 Sarcastic Remarks
5. Lost In Translation (Sofia Coppola, 2003)
Murray has always given terrific performances but because they are done in comedy, he's never received the Oscar recognition he deserved. That changed in 2003 when Sofia Coppola wrote a role specifically for him. Here he plays an American actor in Tokyo filming a whiskey commercial that will pay him two million dollars. He's a cynic and kind of bored with life. And then he meets a young newlywed named Charlotte, played by Scarlet Johansson. This is where his world changes. There's nothing sexual about this relationship but they fill a void in each other's lives. Murray is magnetic here. He does all his usual sarcastic, cynical stuff but he also conveys a warmth and vulnerability. This is a performance I hadn't seen in Bill before this film and although he lost out to Sean Penn (for his electric performance in Mystic River) for best actor, he should have won. And that final scene between the two is stuff of legend. If you haven't seen this one, you are missing out on one of Murray's truly great performances.
4. Scrooged (Donner, 1988)
Here Bill Murray plays a selfish, arrogant and boorish TV executive named Frank Cross. Cross is so swept up in himself, that he gives bath towels to everyone (even his only brother) on Christmas. He asks his loyal secretary to stay late at work, despite the fact that she has to take her mute son to the doctor. ("I care!" Frank says, when she confronts him about it.) He fires an underling named Elliot for questioning him about his un-Christmas-like promo ads. He shuns Claire, the only woman who's ever cared about him when she tries to provide comfort for the homeless. Cross is fabulously rich and successful but a hollow man on the inside. Murray does what Murray does best and that is all played for laughs. There's an iconic scene he shares with Carol Kane as she beats the Ebeneezer right out of him. Scrooged is a wonderful retelling of the Dickens classic and the highlight of the film is Murray doing what he does best.
3. Groundhog Day (Ramis, 1993)
This one might be my favourite Murray performance. Groundhog Day uses all of Murray's many talents as we get to see the Caddyshack version of Murray as well as the Lost in Translation Murray. When director Harold Ramis tried explaining a scene to Murray, he would just look at Ramis and ask, "Good Phil or Bad Phil?" Ramis and Murray had been friends for about 20 years at this point and sadly this is the film that ruined their friendship but not before they created magic together. Here, Murray plays a (what else?) cynical and egotistical weather man who is such a horrible person he has to live Groundhog Day over and over again in the same small town that he hates, until he gets his life turned around. Murray's transition from complete jerk to an altruistic being is something to see. Recently there's been a few films that have revisited this theme (Before I Fall and Happy Death Day). Both are good films but neither can capture what Bill brought to the screen.
2. Stripes (Reitman, 1981)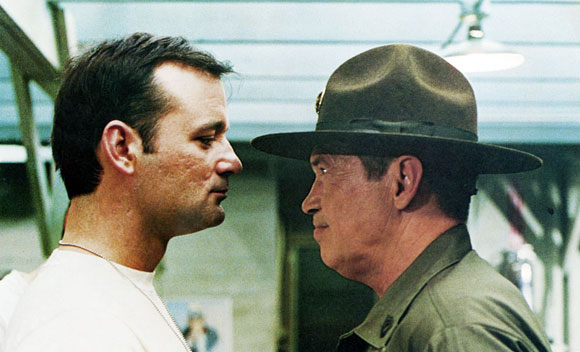 This is the film that put Bill Murray on the A-list. Columbia Pictures first envisioned this as a "Cheech and Chong go the army" kind of film but with director Ivan Reitman and best friend Harold Ramis on board, it went from a stoner comedy to more of a laugh a minute slapstick with Murray doing what only Murray can. The comic actor is famous for his deadpan delivery and this is where it all began. Here he plays John Winger, a man approaching 30, who in a matter of hours has quit his job, had his car repossessed, his girlfriend walk out on him and been told to leave his apartment. He figures the best thing to do is join the army. Once he does, his attitude in the military is no different than it is in life. Murray has us laughing at the absurdity of the whole thing. The character's introduction scene is stuff of legend – "A platoon without a leader is like a foot without a big toe." Also joining Murray in this one are John Candy and Judge Reinhold.
1. Ghostbusters (Reitman, 1984)
The Magnus Opus of the trifecta (Bill Murray, Harold Ramis and Ivan Reitman). Ghostbusters has such a fascinating behind the scenes story. Murray's role was originally written by Dan Aykroyd for John Belushi but he passed away before filming could commence. Murray came in as his replacement and according to the DVD commentary, almost all of Murray's role was improvised. There was a working script but Murray had so many of his own ideas that worked for the character. So director Reitman just let him run with everything. The famous "He slimed me" line was made up on the spot and it became one of the most famous lines in film history. Ghostbusters has so many incredible Murray scenes. One of the funnier moments is Murray's priceless reaction to Dana Barrett's possession. Ghostbusters is as funny as it is because Murray is allowed to cut loose. A few other lines that still get me laughing (more than 30 years later) are: "Yes your honour, this man has no dick"; "Human sacrifice, dogs and cats living together… mass hysteria!"; and of course after catching their first ghost in the fancy hotel, Venkman exclaims, "We came. We saw. We kicked its ass!" Murray turns a very good film into one of the best comedies of all time. His genius has never been more noticeable than it is in Ghostbusters.
Written & Compiled by Dan Grant
Your turn? What are your favourite Bill Murray films? Agree with this list? Disagree? Let us know…
Discover More: Top 10 John Candy Films | Top 10 Dan Aykroyd Films | Bill Murray's Top 10 Sarcastic Remarks | Top 10 Christmas Films of the 1980s (featuring Scrooged)