Despite having a body of work which collectively is both critically and commercially hit and miss, there's no denying William Friedkin is one of the most eclectic Hollywood directors of his generation. Mark Fraser – with the help of the man's 2013 memoir The Friedkin Connection – looks back at 10 of his more compelling works.
10. The Boys In The Band (1970)
This is listed as William Friedkin's fourth feature movie, after which he soon hit the big time with The French Connection (see below). Based on a play by Mart Crowley and set in New York, most of the action takes place in the Upper East Side apartment of Michael (Kenneth Nelson), who is hosting a gay birthday party for Harold (Leonard Frey).
Complications start to arise, though, when his old (and heterosexual) college pal Alan (Peter White) suddenly turns up in a state of distress, after which the night begins to slowly disintegrate. Friedkin tackles this tight ensemble piece – involving nine key characters – with deftness and economy while eliciting solid performances from all of his actors.
9. The Birthday Party (1968)
Between 1973 and 1975 the American Film Theatre (AFT) produced, on shoestring budgets, 14 screen adaptations of known and not-so-well-known plays, with a number of them being directed by the likes of John Frankenheimer, Lindsay Anderson, Joseph Losey and Tony Richardson. English playwright Harold Pinter, who wrote the source material for Friedkin's second feature The Birthday Party, made his directorial debut in this series, being at the helm for the production of Simon Gray's Butley.
Looking back, it's unlikely any of the above-mentioned established names could have done a better job at interpreting the Englishman's words than Friedkin. Ergo, The Birthday Party would have made a fine addition to the AFT's 1970s collection. In his book, the filmmaker says this is a work of which he is proud: "The cast played it to perfection. With the exception of an occasional over-the-top directorial flourish, I think I captured Pinter's world."
Interestingly, there a few moments in the narrative when the scenes transition from colour to black and white and then back to colour – a cinematic trick that started to gain serious traction over 20 years later on the back of movies from the likes of Oliver Stone.
8. Cruising (1980)
According to his memoir, Friedkin suspected from the outset this project was going to be controversial and possibly offend everyone. Nevertheless, he saw it as "just an exotic background for a murder mystery". In this case the backdrop is New York's gay sadomasochism scene; but just how exotic it is probably depends on one's definition of the word.
The director, though, was right about one thing – this movie isn't everyone's cup of tea. Nevertheless, as an unorthodox detective story with a looming sense of dread, it is strangely effective, thanks in part to the presence of Al Pacino as the undercover cop who is trying to track down a serial killer.
7. Bug (2007)
As seen with entries nine and 10, Friedkin has something of a dab hand when it comes to dealing with small ensemble casts in confined locations. Arguably his most claustrophobic work is Bug, a five character one-set play in which an ex-military drifter (Michael Shannon) and a waitress fretting over her unseen missing son (Ashley Judd) disappear down a dangerously delusional and paranoid rabbit hole in the latter's New Orleans motel room. The original screenplay is by Oklahoma-born playwright Tracy Letts, with whom the director would collaborate again five years later on the even darker Killer Joe (see below).
6. The Hunted (2003)
To date this is Friedkin's last actioner, and it's not a bad one at that, thanks primarily to the performances of its two leads (Tommy Lee Jones and Benicio Del Toro), who take part in some extremely well-choreographed fight and chase scenes.
Throughout his career the director has shown he has a knack for bringing out the best in his cinematographers, and his collaboration with Caleb Deschanel on this movie is no exception – once the story reaches Oregon it truly becomes a handsome looking piece of work.
5. Killer Joe (2012)
There's no denying that had Killer Joe been made by any other filmmaker, it would have been higher on his or her top 10 list. The fact it does come in at number five shows just how good the below four entries are.
Repellent, morally corrupt, viciously mean and uncomfortable perhaps, but it is also one hell of a black comedy which features a tour de force performance by Matthew McConaughey as the titular character.
Indeed, the whole damn cast is pretty good. "It will be a long time, I think, before anyone makes another film as provocative and controversial, as 'in your face' as Killer Joe," Friedkin says in his book. Needless to say, when it comes to intelligent cinema, he just might have a point.
4. To Live And Die In LA (1985)
During the mid-1980s, Friedkin returned to the criminal territory he had so successfully flourished in a decade-and-a-half earlier with The French Connection. This time, however, the plot was far more complicated, the risk-taking detectives undeniably crooked and the obligatory car chase bigger and better.
Furthermore, the environment had changed radically, with the cold and crowded New York City urban streetscape being replaced by the sometimes industrial environs of a sunnier Los Angeles. In addition, To Live in Die in LA does not deal with heroin smuggling, but instead focuses on counterfeiting.
As a result, despite the fact both films concern themselves with a pair of lawmen who will do anything to catch their crook, these movies end up being quite different beasts. On top of all this excitement, it was good to see the director in form again after (with, oddly, the modest exception of Cruising) losing touch with the box office following the initial failure of Sorcerer some eight years earlier (see below).
3. The Exorcist (1973)
Of his 20 features (if one includes 1997's telemovie 12 Angry Men), The Exorcist is the one Friedkin seems the most keen to spill ink on – devoting four (out of 20) chapters to it in his memoir. The fourth one, while brief, makes an interesting point about the film, that being its longevity. After a 25 year disagreement with William Peter Blatty – whose best-selling novel of the same name was adapted for the screen by the author – in 1999 the pair decided to re-release the movie with some additional footage (about 12 minutes) that the writer (who was also the film's producer) had originally wanted left in, but was deemed unnecessary by the director. Upon seeing the eventual recut for the first time, though, Friedkin conceded Blatty had been right the whole time.
Happily, the cinema-going public agreed, breathing new box office life into a work which has remained one of the most successful motion pictures of all time. According to the director, the pair were sitting in a Starbucks next to the Fox Bruin Theatre in Los Angeles during September 2000, watching as a line of patrons – which extended around the block – was waiting to get in to see the rejigged film. "There was a buzz in the crowd of largely young people, many of them the sons and daughters of those who'd lined up … in December 1973," Friedkin recalled. As fate would have it, The Exorcist's immediate success went to his head, setting him on the path to Sorcerer – an ambitious work which effectively threw his career into a tailspin.
2. The French Connection (1971)
Following the release of this film Friedkin found himself, at least for seven or so years, in the pantheon of 1970s Hollywood filmmakers. Aside from the fact it won the year's Oscar for Best Picture, he received the Academy Award for Best Director, while his leading man, Gene Hackman, walked away with the Best Actor gong (it was also given gold statuettes for its editing and screenplay).
Perhaps just as importantly, it was a financial success, costing US$1.8 million to make, but pulling in US$26.3 million domestically and another $US12 million from the international market during its initial run. (Plus its television rights were eventually sold for a further $US2 million.)
1. Sorcerer (1977)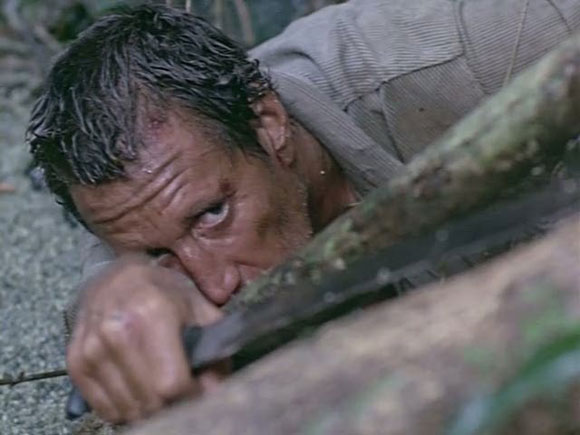 Riding on the cash-strapped coat tails of The Exorcist, Friedkin saw fit to spend around US $21-$23 million on his next venture, that being a rehash of Georges Arnaud's 1950 novel La Salaire de la peur (The Wages of Fear), which had already been successfully made as a film by Frenchman Henri-Georges Clouzot during the first half of the 1950s.
While Sorcerer, in its day, turned out to be one of the most expensive Hollywood movies ever produced, it bombed when first released in 1977. The reason? Well, with the exception of a perceptive few, most people totally misunderstood it.
Fortunately it has been revived by the revisionist crowd in recent years, and rightly so. Although not as tense as Clouzot's 1953 black and white opus, it is just as gritty and existentially bleak in its outlook. To enhance the movie's overbearing sense of grimness, Friedkin and his screenwriter Walon Green made the four leads a gangster, an embezzler, a terrorist and an assassin, ensuring there wouldn't be a lot of audience love for the guys everybody should really have been rooting for.
Written and compiled by Mark Fraser
Over to you: what are your top 10 William Friedkin films?
Discover more writing on film by Mark Fraser
"Salvador" Is More Revolt Than Revolution | "The Deer Hunter" Remains An Adult Fairy Tale | "The Train" Still One Hell Of A Ride | "Barry McKenzie Holds His Own" Maintains Its Irreverent Grip | Umberto Lenzi's "Eaten Alive" Is A Hard Act To Swallow | William Friedkin's "Sorcerer" Is A Curiously Mistreated Masterpiece | "To Catch A Thief" Shows Hitchcock Dabbling In Blandness
BIBLIOGRAPHY
William Friedkin: The Friedkin Connection (A Memoir), HarperCollins Publishers, New York, 2013 (pages 132, 365, 471 and 428)
Peter Biskind: Easy Riders, Raging Bulls – How the Sex 'N' Drugs 'N' Rock 'N' Roll Generation Saved Hollywood, Bloomsbury Publishing Plc, London, 1999 (pages 205-06)