Harold Ramis has been making me laugh for as long as I can remember. After battling illness for the last few years, he sadly passed away yesterday. Here I celebrate his best work in film.
When I was first introduced to Harold Ramis' brand of comedy I didn't know he had anything to do with it. I was laughing too hard to notice. It was some time in the late 1980s or early 1990s when, as a pre-teen, I was sat in front of our tiny television watching National Lampoon's Vacation. I remember that old CRT TV had an enormous rear-end that meant it had to be positioned about three feet away from the corner wall. It significantly impacted upon the space available in our living room but it didn't seem to bother me as my usual viewing position was sat goggle-eyed a hair's breadth from its flashing images.
National Lampoon's Vacation depicts a cross-country road trip that sees the indefatigable but hapless Clark W. Griswold (Chevy Chase) transport his "perfect" American family from one side of the country to the other in order to enjoy the delights of the journey, topped off with a visit to "America's favourite family fun park" – Wally World! It is a delightful concoction of aspirational family life built upon the firm foundations of the American Dream alongside the perils of adventure. We travel with this family on that much ridden route – the metaphorical and physical journey – taking in the sights, as well as the humorously sketched highs and the lows, but fashioned with an approving tongue-in-cheek nod to the love of a father and husband to his children and wife. This is complemented of course by the comic delights of seeing Chevy Chase take John Candy's inept security guard hostage in order to ride the rollercoasters at a closed-for-renovation theme park.
"…Ramis & Aykroyd's mix of the supernatural and the realistic in Ghostbusters made for a delightful combination of eye-candy special effects and character-based humour, enlivened further by the brilliant performance of Bill Murray as Peter Venkman…"
This was Ramis' second film as director after overseeing the far-more risqué but equally outlandish Caddyshack in 1980 starring Rodney Dangerfield, Bill Murray and again, Chevy Chase. It's a film that works less-well for young eyes with its notes of titillation and debauchery providing the perfect comedic imbalance to the otherwise conservative goings on at the Bushwood Country Club. Yet, as well as showing the comic potential of Ramis as director and writer, it's a film that quickly becomes one you find yourself returning to. It isn't necessarily the whole package you want but the component parts. Ramis' talent would come together much better in later films but his ability to develop moments of sheer comic genius are exampled perfectly here. Who leaves a viewing of Caddyshack without constantly repeating the Baby Ruth swimming pool sequence over and over in their minds. This parody of Jaws sees swimmers frantically jumping over each other to escape the "doodie in the pool". The scene's epilogue sees Bill Murray's vacant-minded greenskeeper don a protective chemical suit and breathing apparatus to deal with the offending poop only to discover it's a Baby Ruth candy bar which he starts eating.
But you'd be forgiven for not realising the man who would portray Egon in Ghostbusters was the man directing events in these two comedy classics. That's why most people, unsurprisingly, became aware of Ramis when he performed in front of the camera. In between directing Caddyshack in 1980 and National Lampoon's Vacation in 1983, he starred in Stripes alongside Bill Murray (a pairing that would later see both produce some their finest work). Ramis, who also co-wrote the film with writers Len Blum and Daniel Goldberg, plays Russell Ziskey, an uninterested new army recruit who gets dragged into enlisting after his friend (played by Murray) loses his job and his girlfriend. Think Full Metal Jacket meets Animal House!
"…Ramis takes the "everyman" and gives him an unnatural situation to deal with, drawing comedy from the results…"
But it was three years later that Ramis would produce one of his most loved movies. With writing and acting partner Dan Aykroyd, the pair created Ghostbusters, a comedy about a group of parapsychologists who, after being thrown out of their university by a sceptical academic fraternity, launch a ghost-catching service for the inhabitants of New York City. It was originally written with John Belushi in mind for the role later taken by Bill Murray, and featured far more fantastical elements such as time travel but after the comedian's death the original idea was given a major overhaul. Eddie Murphy and John Candy were both touted for roles early on but neither would commit prompting Ramis and Aykroyd to turn to fellow Saturday Night Live performer Bill Murray, while casting themselves as two of the main characters.
Ramis and Aykroyd proved to be a great team both in front of and behind the camera. Ramis had a knack for grounding his fellow writer's kinship to high concept and overt fantasy in a world that was contemporary and recognisable. This mix of the supernatural and the realistic made for a delightful combination of eye-candy special effects and character-based humour, enlivened further by the brilliant performance of Murray as Peter Venkman.
If Ghostbusters is Harold Ramis' best work as a writer and actor, then 1993's Groundhog Day is his best as writer-director. Inspired by the casting of Bill Murray once again in the lead role as Phil Connors, the egocentric TV weatherman who is forced to live out the same day over and over again, Ramis' talent of character-based humour in a realistic but extraordinary situation comes together perfectly. The film is rightly considered one of the best movies of the 1990s and one of the finest modern comedies to come out of Hollywood. In 2006, the United States National Film Registry even deemed it "culturally, historically, or aesthetically significant". It's a delightful film that sees Ramis again ground fantasy in an authentic and recognisable setting. Like National Lampoon's Vacation, Stripes and Ghostbusters, Ramis takes the "everyman" and gives him an unnatural situation to deal with, drawing comedy from the results. This is, of course, acutely highlighted in his Analyze This and Analyze That films, which he co-wrote and directed, where Billy Crystal's ultra conservative law abiding shrink begins treating Robert De Niro's destructive mob boss for anxiety.
"…his legacy is in the films he has left us, many of which I hold dear. Indeed, there are few comedies I cherish as much as Ghostbusters and Groundhog Day. For these, especially, I say: thank you Harold Ramis…"
While Ghostbusters (as well as its enjoyable sequel) and Groundhog Day are wonderful, distinguished reminders of the talent that was Harold Ramis, it should not be forgotten his contribution and work on a number of other films. For example, he was instrumental in helping launch the careers of both actor Bill Murray and director Ivan Reitman. The trio would work together on a number of movies throughout the years but their first outing was 1979's Meatballs of which Ramis co-wrote. Director John Landis also owes a debt of gratitude to Ramis for the screenplay that saw Animal House become such a success.
Meet the Parents and Austin Powers director Jay Roach and There's Something About Mary writer-directors Bobby and Peter Farrelly have each said Ramis has played an important inspirational role in their work. They are just a few of the filmmakers in Hollywood today who would gladly admit to have been influenced by his work. But most importantly, like all great filmmakers and film stars, he influenced us, the audience. He gave us characters we loved, lines of dialogue we quoted to one another, and scenes we revisited over and over. His legacy is in the films he has left us, many of which I hold dear. Indeed, there are few comedies I cherish as much as Ghostbusters and Groundhog Day. For these, especially, I say: thank you Harold Ramis.
(Ramis' role on each film is in brackets)
10. Armed and Dangerous (Co-writer) – 1986
Eugene Levy and John Candy star as two bumbling security guards who take the law into their own hands after being unable to stop a robbery at the warehouse they were assigned to protect.
9. Back to School (Co-writer) – 1986
After drifting apart from his son Jason, the larger-than-life Rodney Dangerfield tries to rekindle with relationship with him by enrolling at his college.
8. Meatballs (Co-writer) – 1979
Bill Murray's first starring role sees him get up to mischief as head counsellor at a low-grade summer camp.
7. Stripes (Co-Writer, Actor) – 1981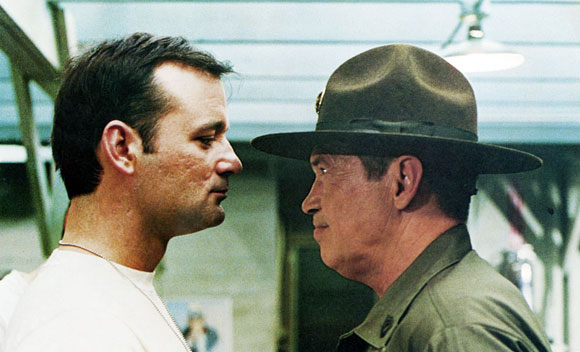 Harold Ramis and Bill Murray head off to basic training with the US Army and decide to do everything they're told not to.
6. Analyze This/That (Co-writer, Director) – 1999/2002
Nice-guy Billy Crystal is tasked with helping mob boss Robert De Niro get over his anxiety attacks. Unsurprisingly his life is turned upside down.
5. Caddyshack (Director, Co-writer) – 1980
Bill Murray versus a gopher, Chevy Chase versus the ladies, and the inhabitants of a swimming pool versus a shark shaped like a Baby Ruth candy bar in this revealing look at the crazy goings on at the conservative Bushwood Country Club. There's a bit of golf in between too!
4. Animal House (Co-writer) – 1979
Fronted by the suave and sophisticated Eric "Otter" Stratton (Tim Matheson) and the outrageous goon John "Bluto" Blutarsky (John Belushi), Animal House follows the exploits of a group of fraternity members and their many misdemeanours at Faber College.
3. National Lampoon's Vacation (Co-writer, Director) – 1983
Chevy Chase takes the whole family on a cross-country road trip to remember!
2. Ghostbusters/Ghostbusters II (Co-writer, Actor) – 1984/1989
New York City is overridden by paranormal activity – who are you going to call?
1. Groundhog Day (Co-writer, Director) – 1993
Bill Murray is forced to re-live the same day over and over again until he learns to think of someone other than himself. A friend of mine called this the "perfect comedy" – for once, I totally agree with him. Unsurprisingly, the film has featured in a number of my top movie lists including my Top 25 Films to Make You Happy, Top 10 Time Travel Films, and Top 10 Feel Good Films set in Small Town America.
Over to you: what are your fave Harold Ramis movies?