Where we're going, we DO NEED ROADS as Top 10 Films hits the highway to check out the greatest movies featuring bad driving, crazy drivers and malevolent vehicles…
(11). Jeeper Creepers (Salva, 2001)
Victor Salva's malevolent road user The Creeper and "its" unrelenting pursuit of siblings Trish (Gina Philips) and Darry (Justin Long) across the Floridian countryside is pulsating entertainment of the horrific kind. Part Duel, part The Hitcher, part Christine, Jeepers Creepers celebrates tropes, traits and terror seen in many of the best films on this top 10…
10. Black Cadillac (Murlowski, 2003)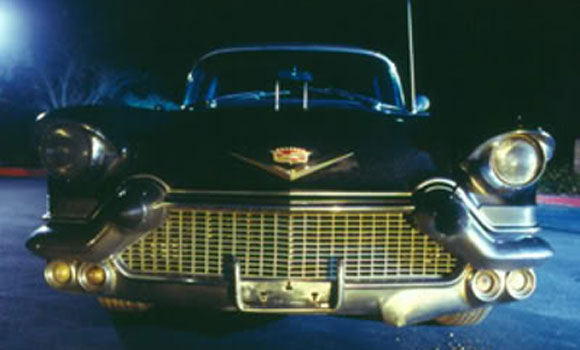 A crappy Saab 900 goes toe-to-toe with a 1957 Cadillac Series 75 Limousine after a bunch of guys draw the unwanted attentions of the black Cadillac's sadistic driver. It's cat and mouse thrills from then on, in director John Murlowski's forgettable thriller that stars Randy Quaid.
9. Highwaymen (Harmon, 2004)
Director Robert Harmon (the man who was previously at the helm of 1986's The Hitcher) returns to the place he knows so well: the road. Here, Jim Caviezel plays a widower determined to track down the psychotic man responsible for killing his wife in a deliberate hit and run. Rhona Mitra plays the unwitting woman caught in the diesel fumes of Caviezel's 1968 super-stock 426 Hemi Head Plymouth muscle car and the deranged killer's adapted 1972 Cadillac Eldorado.
8. The Car (Silverstein, 1977)
One of the post-Jaws knock-offs, The Car is everything you want from a b-movie. Swapping the sea for the desert dust of Utah, a driverless black car takes over from the shark on killing duties, terrorising the inhabitants of a small town, its motives remaining mysteriously and unnervingly ambiguous.
Discover More: The Unseen Monster: Why Steven Spielberg Had To Use The Reaction Shot For Dramatic Effect In Jaws – And Why It's So Good
7. Mad Max 2 (Miller, 1981)
Mad Max lives life on the desolate roads of a post-apocalyptic Australia scavenging for food, water and gas. In the best film of the series, he must battle a crazed motor cycle gang while helping a group of innocents escape their clutches. There's some brilliant action set-pieces while Vernon Wells' Mohawked Wez is a great villain.
Discover More: Top 10 Sequels Of The 1980s
6. Dead End (Andrea/Canepa, 2003)
The road gets a distinctly paranormal feel in this horror about a family seemingly trapped on the same stretch of highway. After Dad, Frank Harrington (Ray Wise) narrowly misses a head on collision things begin to go bump in the night as a series of strange occurrences befall him and his passengers.
5. Death Proof (Tarantino, 2007)
Quentin Tarantino's Death Proof was originally supposed to be featured as a double-bill with Robert Rodriguez's Planet Terror but after the concept largely passed audiences by, each film was extended to become a standalone feature. Thus, Death Proof suffers from an overly verbose first half but when Kurt Russell's psycho stunt driver with the reinforced 1971 Chevrolet Nova SS 396 starts driving into people, the film really heats up.
4. Christine (Carpenter, 1983)
King of the haunted car movie, John Carpenter's adaptation of Stephen King's novel mixes high school angst and teenage bullying (a la Carrie) with carnage on the roads as a murderous Plymouth Fury possesses the heart and mind of social outcast Arnie Cunningham (Keith Gordon).
Discover More: Top 10 Stephen King Film Adaptations
3. Joy Ride (aka Road Rage) (Dahl, 2001)
Pranksters get their comeuppance when their juvenile use of a CB radio gets the attention of a psychopathic truck driver. As friends Lewis (Paul Walker), Fuller (Steve Zahn) and Venna (Leelee Sobieski) desperately try to escape the clutches of the road-raged driver known only by his handle Rusty Nail, the chief villain appears increasingly supernatural as his vengeance holds no bars.
2. The Hitcher (Harmon, 1986)
Rutger Hauer delivers a chilling performance as John Ryder, a drifter who is offered a ride by well-meaning young man Jim Halsey (C. Thomas Howell) while journeying along the desolate desert roads of America's south-west. What transpires is a nail-biting cat and mouse battle to the death with Jennifer Jason Leigh's waitress unwittingly becoming caught in the middle. This leads to one of American cinema's most devastating climaxes.
Discover More: Top 10 Horror Films Of The 1980s
1. Duel (Spielberg, 1971)
Steven Spielberg's film laid the groundwork for other terrific "road rage" films with The Hitcher and Joy Ride owing a great debt to this 1971 thriller. When Dennis Weaver's David Mann overtakes a rusty, smoke-expelling truck in his Plymouth Valiant, little does he know he's just set into motion a chilling battle to the death. The truck, its driver unseen, becomes the inanimate villain with a twisted motive to bring terror to this mild-mannered electronics salesman's day. What begins as a series of inflammatory driving manoeuvres spirals into merciless car versus truck fight. The film features some terrific visuals (the dusty wilderness of the desert highway evoking a sense of desolation while the grill-mounted camera thrusts the viewer into the action sequences) in addition to an intriguingly enigmatic villain, the monster personified in the weathered metal and groaning engine of a 1955 Peterbilt 281 tanker truck.
Discover More: Top 10 Films Of Steven Spielberg | First-Rate Thriller "Duel" Marks the Beginning of a Hollywood Phenomenon
Over to you: what are your favourite "road rage" movies?
Discover More:
Top 10 Movie Train Rides To Avoid
Top 10 Movie Bus Rides to Avoid
Top 10 Films To Avoid Before Flying
Top 10 Movie Airport Crime Scenes