Providing energy must arguably involve one of the world's most complex supply chains, affecting governments, corporations and all the proverbial middle men alike. Mark Fraser looks at 10 cinematic instances when the oil and gas industries influence the lives of those who are directly – or somehow indirectly – touched by them.
10. Hellfighters (Andrew V McLaglen, 1968)
Surely this must be somewhat prototypical – a movie depicting corporate oil producers and the Third World (read Venezuelan) military where there's not a corrupt person in sight. Furthermore, the only baddies in this part of the world are some naughty insurgent rebel fighter pilots intent on undermining American business interests. Possibly one of the most wholesome depictions of the US energy sector ever committed to celluloid. Also, a peculiar quirk occurs in the middle of the film when professional oil well fire fighter Chance Buckman (John Wayne) meets his ex-wife Madelyn (Vera Miles) for dinner while Charlie Parker's "I'll Remember April" plays briefly as background music. Almost 10 years later William Friedkin used the original version of this tune in Sorcerer (see below). One can now only wonder if Friedkin was paying some kind of gimmicky homage to this splashy and sometimes cheesy nonsense when he chose the music or if its inclusion in his existential opus was just one of those bizarre coincidences.
9. The Formula (John G Alvidsen, 1980)
George C Scott plays a LA detective who is trying to discover the secret behind the titular formula, which has the potential to seriously undermine the balance sheets of the global oil cartels. Unfortunately he comes up against a waffling Marlon Brando, who does for fossil fuels what his Colonel Kurtz did for the Vietnam War in Apocalypse Now. Aside from a half reasonable opening (in which – during the final European moments of World War II – Berlin is being bombed by the advancing Russians while escaped zoo elephants roam the streets), this not-so-exciting and convoluted detective thriller ends up being way more talk than action.
Discover More: "The Formula" No Recipe For Spin
8. Oklahoma Crude (Stanley Kramer, 1973)
An old fashioned tale about how determined individualism can take on corporate greed as defiant oil driller/land owner Lena Doyle (Faye Dunaway) – along with a hired gun man (George C. Scott) and her father (John Mills) – stands up to the big guys (led by Jack Palance) who are trying to take over her well. Not surprisingly, an unlikely romance briefly ensues between the strong willed woman and her not-so-hot enforcer. Being a Stanley Kramer movie, it's obvious whose side the audience should take. Arguably the director's last enjoyable movie.
7. Giant (George Stevens, 1956)
Who could forget the moment when Jett Rink (James Dean) first discovers oil, particularly as the rest of this sprawling melodrama – even with its climatic punch-up – is quite dull? Another sweeping piece of George Stevens' Americana, this time focusing on the rich Texan family of Jordan "Bick" Benedict Jr. (Rock Hudson) and Leslie Lynnton (Elizabeth Taylor) and what it endures between the 1920s and the second half of the 1940s. Despite moments of tedium, it's still interesting to watch now because of the cast – aside from the above-mentioned leads, it also stars a young Dennis Hopper, Sal Mineo, Mercedes McCambridge, Carroll Baker and hunky Australian Rod Taylor. The fact it was Dean's last movie also adds some historical allure.
6. (TIE) Jarhead (Sam Mendes, 2005)
"The Earth is bleeding," US Marine Corp sniper Tony "Swoff" Swofford (Jake Gyllenhaal) observes as he and his unit come across the burning oil fields of Kuwait during 1990's Operation Desert Storm, when the tiny Arab country was briefly invaded by Iraq after the Kuwaitis started stealing Iraqi oil via horizontal drilling beneath the two nations' adjoining border. Director Sam Mendes adds a truly surreal touch when an oil-covered horse emerges from – and disappears back into – the desert darkness as it tries to escape the black rain. It's a moment Werner Herzog might have liked (see below).
6. (TIE) Armageddon (Michael Bay, 1996)
It takes an oil driller (Bruce Willis) and his motley crew to save the Earth, and thus greater humankind, from being destroyed by an approaching giant asteroid. This begs the question: Could the renewable energies sector produce a hero of this calibre?
5. Lessons of Darkness AKA Lektionen in Finsternis (Werner Herzog, 1992)
Only someone with the balls of Herzog – who is arguably one of the world's greatest living film makers – could have made this Apocalyptic documentary about the aftermath of the 1990 Gulf War, when Western contractors were given the task of putting out the burning oil wells that were ignited by Saddam Hussein's retreating army. Spectacular, horrifying and at times hallucinogenic, this truly does reveal a world gone mad.
4. There Will Be Blood (Paul Thomas Anderson, 2007)
After trying his hand as a silver miner, prospector Daniel Plainview (Daniel Day-Lewis) discovers oil in southern California during the early 1900s, after which he becomes one of modern American cinema's most self-centred, mean spirited bastards. In some ways this is kind of like Giant in an emotionally desolate parallel universe.
Discover More: Top 50 Films of the 2000s
3. Syriana (Stephen Gaghan, 2005)
As giant US energy producer Connex merges with shonky junior company Killen Oil so it can expand into Central Asia to counter its waning influence in the Persian Gulf, the CIA plots to kill the son of an Emirates' Emir (Alexander Siddig) – who has undermined US interests in the region by granting natural gas drilling rights to China Inc – after stumbling across an illegal arms deal involving Iran and Egypt. Meanwhile, a young Pakistani immigrant employed by Connex (Mazhar Munir) becomes radicalised by Islamic fundamentalists when he and his father (Shashid Ahmed) are stood down by the Americans due to the Chinese contract. In the end the sibling terrorist helps target a giant liquefied natural gas tanker owned by Connex-Killen using munitions stolen from the Iranians. On top of all this, a disgruntled CIA agent (George Clooney) tries to scuttle the Emir's assassination. This movie is just about as complicated as the energy sector's shadowy geopolitical shenanigans.
2. The Wages of Fear AKA Le Salaire de la peur (Henri-Georges Clouzot, 1953)
Four European men down on their luck in a southern Mexican village agree to drive two trucks carrying nitro-glycerine across some mountainous desert terrain to put out a burning American-owned oil well some 300 miles away. A strong anti-US sentiment was more apparent in the extended version of this film, which was released in the early 1990s and featured an expanded role for William Tubbs who, as Southern Oil Company manager Bill O'Brien, isn't particularly sympathetic when a number of his employees are killed following the on-site explosion. Easily one of the tensest (and most hair raising) road movies ever made.
1. Sorcerer (William Friedkin, 1977)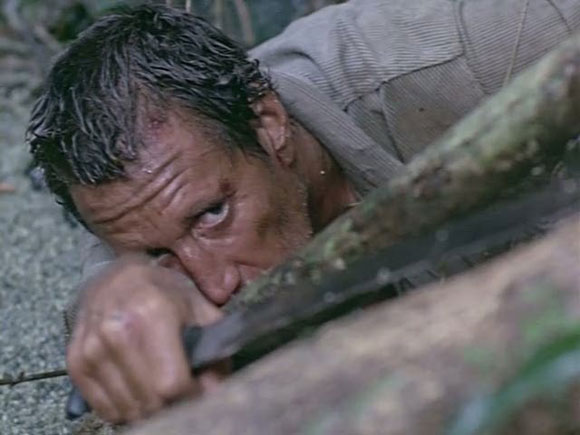 In this colour variation of The Wages of Fear (both it and the above-mentioned black and white French classic are based on the same book by Georges Arnaud), four international criminals hiding out in a poverty-stricken Latin American shanty town are hired by a ruthless oil producer to drive four crates of shaky nitro-glycerine in two just as-dodgy reconstituted trucks through 218 miles of unfriendly jungle to put out a blazing oil well that has been sabotaged by terrorists. The multinational company, which is in bed with the country's dictator president, doesn't come out looking too good, while its downtrodden employees – including an American gangster, a French embezzler and a Palestinian terrorist – are riddled with existential desperation and utter despair. While the movie's title refers to the name of one of the trucks (which, as it turns out, blows up late in the perilous journey), it probably would have made more sense if Friedkin and his screenwriter Walon Green had given it to the burning drilling derrick as its influence over the characters more accurately represents the director's claim that "a sorcerer is an evil wizard, and the evil wizard is fate".
Discover More: William Friedkin's "Sorcerer" Is A Curiously Mistreated Masterpiece
Written and compiled by Mark Fraser
Over to you: what is your top 10?