Harrison Ford is in trouble…again and again and again. He has made a career out of putting his characters at risk. Let's take a look at his most perilous adventures.
Harrison Ford is in peril. And he's been in this predicament for years! It begins with a single facial expression that appears on almost every film poster he appears on. A stern gaze, bordering on fear, as the realisation of some impending doom sinks in. What we have here is an actor who has almost entirely devoted himself to putting his characters at risk. It is a rare occurrence to see a Harrison Ford character not having to deal with a life or death situation. And, if he manages to avoid whatever is attacking him, don't be surprised to see loved ones – from wives to children to the women he's having casual flings with – coming under fire too. But this is why we love Harrison Ford movies. The more perilous the situation, the better the film.
10. Presumed Innocent

Playing prosecutor "Rusty" Sabich, Ford finds himself in peril when his mistress and fellow colleague is found murdered. He is implicated in her death and goes on trial as the chief suspect. Can he clear his name, or is he actually guilty..?
9. Patriot Games

Playing CIA operative Jack Ryan, Ford thwarts an assassination attempt in London, killing one of the assailants. When the brother of the killed assassin swears to take revenge, Ford and his family's lives become targets.
8. Raiders of the Lost Ark

Playing archaeologist, university professor and explorer Indiana Jones, Ford constantly places his life in peril as he travels the globe in search of the Ark of the Covenant. The real problem for the whip-snapping, fedora-wearing hero is that it's 1936 and Adolf Hitler believes the Ark will make his army indestructible. Can Indiana Jones beat the Nazis to the treasure..?
7. Clear and Present Danger

Playing CIA operative Jack Ryan, Ford finds his life in danger following the U.S. government's increased operations in Columbia to destroy the drug cartels. One of the leading cartels in the country decides to seek retribution for the freezing of millions of dollars in assets by assassinating the FBI's director. Unfortunately for Ford, he's enjoying a car ride with the FBI director when the assassination attempt goes down.
6. Witness

Playing police officer John Book, Ford finds himself in peril when a child witness implicates a police officer in a murder. Ford tries to take the case further but finds the door shut by other corrupt officers. It isn't long before his life is in danger so he goes into hiding by integrating himself into a Pennsylvanian Amish community.
5. Frantic

Playing Dr. Richard Walker, Ford is visiting Paris with his wife when she disappears from their hotel room. Having no clue as to why or how she disappeared, and with little help from the hotel staff or Paris police, Ford has to piece together the evidence himself.
4. Return of the Jedi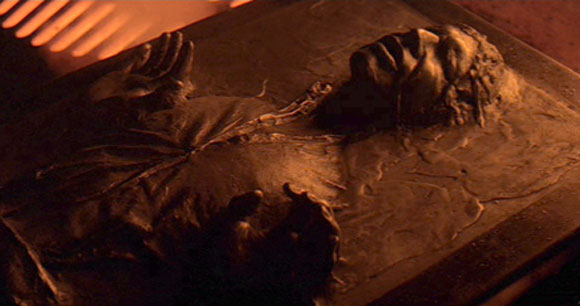 Playing space smuggler Han Solo, Ford finds he's mere decoration in Jabba The Hut's lair. The once great pilot of the Millennium Falcon is now incapable of anything – frozen in a block of carbonite and hung from Jabba's wall – until Luke Skywalker and Princess Leia come to rescue him. Even then it isn't pain sailing as Jabba recaptures the intrepid hero and sentences him to death by Sarlacc – a painful, slow demise in the belly of a sharp-toothed, sand-dwelling monster.
3. Six Days, Seven Nights

Playing South Pacific-based small-time pilot Quinn Harris, Ford gets himself and his passenger Anne Heche into trouble when he crashes his small DHC-2 Beaver plane during a thunderstorm. Stranded on a deserted island the warring pair must settle their differences, evade being killed by pirates, battle the jungle wilderness, repair the plane, escape the island and…fall in love.
2. Air Force One

Playing President of the United States James Marshall, Ford boards Air Force One asking for trouble. An American/Russian joint operation has managed to capture a leading figure in a rogue terrorist cell operating out of Kazakhstan. Imprisoning the man in a Russian jail, his followers plan to hijack the President's plane in order to get him released. Managing to overpower the Secret Service agents, Ford escapes the terrorists but instead of using the plane's escape pod, he decides to remain onboard in order to save them.
1. The Fugitive

Playing Chicago surgeon Dr. Richard Kimble, Ford finds himself on the run after being wrongly accused of his wife's murder. Initially caught, tried and convicted, Ford escapes and sets out to find the real killer before ruthless U.S. Marshal Samuel Gerard catches up to him.
For all the latest top 10s, reviews and competitions follow Top 10 Films on Twitter!
Your turn – what are your favourite Harrison Ford in Peril films?
Discover More on Top10Films.co.uk:
Search our collection of Top 10 lists sorted by type:
THEME | ACTOR | DIRECTOR | TIME PERIOD | GENRE | COUNTRY | SPECIAL INTEREST | FUNNY
See the A – Z of films featured on Top 10 Films / Check out our film review database