Relentless in its depiction of macabre, unsettling decomposition and dysfunction, writer-director George Miller brilliantly puts the pedal-to-the-metal as Mad Max: Fury Road hurtles along with no sign of a pit stop in this barren dystopia.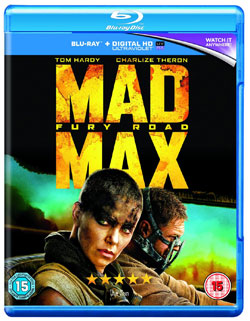 If you want to name a filmmaker truly at home with his source material, you'd be unlikely to find a more ideal writer-director than George Miller. To those of us accustomed to warm beds and morning cuddles, central heating and deep baths, and cheap bottles of red wine to make a day's nine-to-five feel less threatening, Miller is likely to turn his back in disgust. The world isn't this snuggly and sweet despite our best attempts to make it so.
A desolate future caused by greed and self-destruction, a physical battle for self-worth, and the isolation of the individual after the apocalypse when the earth embodies the look and texture of a biting post-hangover headache, filling the eyes with painfully blinding lustre, is where Miller finds an unlikely peace. Here, where the reconstruction of social structure has discovered a profound simplicity, the test of your dignity is judged by the accelerator pedal at your feet. This is the land of dirt roads and anti-heroes, endless horizons and a burning sun, and greasy, blood-riddled fingers gripping steering wheels adored with baby skulls.
It's a startling combination of images, both in their outward depiction of the macabre and the ghastly, and their unsettlingly figurative undercurrent. Miller is relentless in the way he presents this oppressive world, from the smattering of the ghoulish such as the skeletal breathing device worn by the crazed leader of the War Boys to the balloon-bloated feet of a fellow gang leader and bloody-mouthed rock guitarist playing chords for the carnage. It means not a single frame in Mad Max: Fury Road is wasted as the director paints his nightmarish tale of survival. Similarly, the action is just as unyielding.
In this part-sequel, part reboot of the original Mad Max trilogy, Tom Hardy fills the dusty charcoal boots of Mel Gibson as Max Rockatansky, a drifter who prefers to let his actions do most of his talking. Having being captured by Immortan Joe's War Boys and taken to the fanatical monarch's citadel, Max is assigned as an enslaved blood donor to be used by Nicolas Holt's Nux. When a chief lieutenant – Imperator Furiosa (Charlize Theron) – decides to lead Joe's wives to freedom in the armoured truck the "War Rig", he sends his entire army in pursuit. Nux, eager to rise the ranks of the tyrannical regime, joins the pursuit with Max reluctantly by his side.
From minute one, Miller is caught spitting nitrous oxide into the film's fuel system to dizzyingly propel us forth. The imagery of decomposition and dysfunction cuts a deep wound that pulls and prods at the out of control action; we are at once exhilarated and disgusted. At the heart of this is Theron's toughened traitor, her mechanical arm hinting at former horrors. She's determined to free Immortan Joe's favourite breeders, to find a better place for them all. Eventually teaming with Max, the pair form a formidable duo, each preferring the old adage: actions speak louder than words. Their ultimate goals might differ but they have one important thing in common: the will and determination to survive.
Our chief protagonists are fascinating in the simplicity of their existence – they're almost feral – but with layers that burn under the surface. Theron and Hardy are fittingly terrific, each world-weary and grizzled, living life by their own moral code. Their antagonist is Immortan Joe (Hugh Keays-Byrne) whose ceaseless devotion to retrieving his property is as unforgiving as his despotic regime. That his life is in the hands of the breathing apparatus that adorns his face underlines Miller's thematic reliance on the pursuit of survival while giving us an unforgettably grisly postcard memory to take home.
Taking his dramatic cues from recent hits such as Dredd and The Raid, Mad Max: Fury Road is fit and ready to welcome a new audience to this dishevelled anti-hero. Yet, with the franchise's original creator at the helm, the latest instalment of this dystopian adventure will equally excite fans of Mel Gibson's earlier incarnation. Built essentially as one action sequence broken up into various chapters, it's penetrative, adrenaline-fuelled genre entertainment that thrillingly gives its audience little respite. Even the moments of quiet are interrupted by the spectre of Immortan Joe's pursuing army on the horizon. It isn't surprising that Miller is at his strongest in an arena like this; however, what is remarkable is how successful the director's return to the franchise proves to be.
Directed by: George Miller
Written by: George Miller
Starring: Tom Hardy, Charlize Theron, Nicholas Hoult
Released: 2015 / Genre: Dystopian Adventure/Action / Country: USA/Aus / IMDB
More reviews: Latest | Archive
Mad Max: Fury Road is out now on DVD, Blu-ray and VOD in the UK.