The ghost story in horror cinema has been scaring audiences for decades with the most frightening presenting an unseen, unstoppable monster with mysterious motives.
With all the talk in the States surrounding the scares of Insidious director James Wan's new horror movie The Conjuring, Top 10 Films takes a look at the greatest ghost stories ever to grace the cinema screen.
The ghost story has proven to be a very popular theme in horror cinema. It is the monster you don't see. It allows filmmakers to marry mystery and suspense with jump-out-of-your seat moments that bring both instant gratification as well as the lingering impact of evil. The best ghost stories in cinema play on the absence of tangible danger meaning just about anything, from the mundane to the extraordinary, can prove deadly. There's also the overpowering sense of dread that comes from the fact this "monster" doesn't need to open doors or break through walls to get you. There's nothing physical that can stop a ghost. This is what stays with the viewer after the credits have rolled. When you've gone home, curled up in bed, and turned off the light; the door might be locked, the windows might be closed, the room may seem empty but the ghost could be there – watching, waiting, contemplating its first move…
Discover More: Top 30 Horror Films – 1967 to 1979 | Top 10 Werewolf Films | Top 10 Slashers Films | Top 10 Action Horror
10. The Orphanage (Bayona, Spain, 2007)

Director Juan Antonio Bayona stylishly tells this traditional ghost story as well-meaning Laura (Belén Rueda) returns to her childhood home – an ex-orphanage – in order to transform the aging building into a care centre for children. Not long after moving in, her young adopted son develops a peculiar friendship with a boy that no one else sees who he describes as wearing a sack over his head. Later, Laura's son goes missing, with not a shred of evidence to his whereabouts uncovered. With the police offering little help, Laura sets out to find her son and begins to find clues that lead her back to the orphanage's dark past.
9. The Amityville Horror (Rosenberg, USA, 1979)

Based on a true story, The Amityville Horror looks at the events surrounding the Lutz family's ill-fated 28-day stay at 112 Ocean Avenue, a Dutch Colonial house in the suburban neighbour of Amityville, New York. The roots of the story begin in 1974 when the eldest son the DeFeo family – Ronald "Butch" DeFeo Jr. – shot and killed his mother, father, and four siblings while they slept in their beds at 112 Ocean Avenue. Despite claiming insanity in his defence due to demonic possession, he was later convicted of their murders and is currently serving six concurrent sentences of 25 years to life. Thirteen months later, the Lutz family move into the house and within 28 days flee for their lives, claiming to have been terrorised by an evil paranormal presence. The Amityville Horror dares to chart their horrifying experience.
8. The Haunting (Wise, UK, 1963)

Based on the book The Haunting of Hill House, Robert Wise's thrilling ghost story sees a team of paranormal investigators spend a number of nights in a haunted mansion. Hill House is plagued by death and strange occurrences, ultimately seeing it lay vacant and unused. Dr. Markway (Richard Johnson) is investigating the possibility of ghosts and gains permission to take residence in the house to carry out his experiments. Far better than the CGI-overloaded 1999 remake, Wise's film is a technically superior effort that rightfully makes the haunted house a central "character" in this psychological thrill-ride.
7. The Changeling (Medak, Canada, 1980)

Another ghost story based on supposed real life events, The Changeling takes its inspiration from the experiences of writer Russell Hunter while he lived in the Henry Treat Rogers Mansion of Denver, Colorado. The film sees composer Dr. John Russell (George C. Scott) having to come to terms with life after the tragic deaths of his wife and daughter in an automobile accident. Deciding to rent a large Victorian-era mansion that is clearly in need of some tender loving care, it doesn't take long before things begin going bump in the night. As John delves into the mansion's dark past he discovers a family murder and subsequently the young boy who haunts the house. The film is particularly effective in its use of off-screen sound.
6. The Devil's Backbone (del Toro, Spain/Mexico, 2001)

While writer-director Guillermo del Toro would find greater commercial success with 2006's Pan's Labyrinth, both his 2006 film and his earlier 2001 ghost story would receive similarly widespread critical praise. This genuinely creepy tale, set during the tail end of the Spanish Civil War, focuses on an orphanage run by Casares (Federico Luppi) and Carmen (Marisa Paredes). When a young boy seeks refuge with them he begins to see a ghost-child the other children call Santi. They say he went missing when an unexploded bomb landed in the orphanage's courtyard. With a captivating backdrop this intricate story rewards repeat viewing. It also benefits from one of the best jump-out-of-your-seat moments of any ghost story movie.
Quirky Horror Film Lists on Top 10 Films: Top 10 Scary Mothers in Film | Top 10 Monsters I Don't Want To Find In My Closet | Killer TV: 10 Films Where TV Is The Bad Guy | Top 10 Scariest Villains In Children's Films | Top 10 Horror Film Beginnings
5. Candyman (Rose, USA, 1990)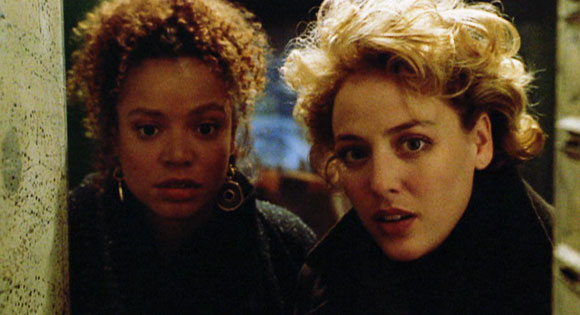 Say his name five times into the mirror and he shall appear ready to gut you with his bloody hook. Based on Clive Barker's short story The Forbidden, the film follows grad student Helen Lyle (Virginia Madsen) as she investigates urban legends. She is specifically interested in the legend of the Candyman who, having grown up in America as the son of a slave, was once a talented artist during the Civil War era. He met his traumatic demise after impregnating a white girl, prompting her father to cut off his hand, replace it with a hook and smear his body in honey. He was ultimately stung to death by a swarm of bees. When Helen unwittingly summons his spirit her life is turned upside down.
Bernard Rose's film perfectly makes use of its backdrop – the Cabrini-Green "projects" – a rundown public housing scheme that, in real life, had become so synonymous with gang violence and poor living conditions the name "Cabrini-Green" was often used to describe the worst American public housing neighbourhoods. This graffiti-ridden, poverty-stricken social dumping ground presents such an overpowering, ominous aura, that the presence of a frightening evil spirit becomes almost secondary. But that's what makes The Candyman so damn good.
4. Poltergeist (Hooper, USA, 1982)

The film that laid the foundations for one of horror cinema's most captivating enigmas – and it has nothing to do with the ghosts. Did Steven Spielberg direct Poltergeist – a question I investigated following conflicting reports as to official director Tobe Hooper's presence on set. The smart money is on the less interesting view that Hooper did carry out his duties as director while Spielberg offered some guidance in his role as producer. The mystery lies in how much Poltergeist feels like a Spielberg movie albeit with a dark edge. The film follows the experiences of the Freeling family after they move into a new home that, unknown to them, was built on an ancient Indian burial ground. Heather O'Rourke as Carol Anne, the Freeling's youngest daughter, is the pale-faced sweet and innocent child who becomes the target of the evil spirits that plague the house. The film doesn't overdo the use of special-effects in its playful but frightening depiction of a modern haunted house. Zelda Rubenstein also needs singling out as the squeaky-voiced spirit medium Tangina Barrons.
3. The Entity (Furie, USA, 1983)

This frightening tale sees a woman – Carla Moran (Barbara Hershey) – terrorised by an evil spirit which continually rapes and mutilates her. Fleeing from her home with her children, the entity follows, attacking Carla in her car causing her to lose control. Seeking help from a psychiatrist proves fruitless as the doctor believes Carla's problem is purely psychological and somewhat self-inflicted. She eventually seeks the help of parapsychologists who begin to investigate the possibility that an evil spirit is targeting her. The film is effective for a number of reasons, not least Barbara Hershey's strong performance as a woman breaking down under the constant fear of a tormentor she cannot see. There is also the powerful notion that this sadistic entity can attack at any time with no understanding of its motives and subsequently no way of stopping it. And, like Friedkin's The Exorcist, The Entity's depiction of violation, specifically in relation to women, is even more frightening.
2. The Blair Witch Project (Sanchez/Myrick, USA, 1999)

One of the most influential horror films, The Blair Witch Project showed just how well the found footage genre could work, both critically and, importantly, commercially (the two filmmakers who oversaw the entire production became so rich off the back of their debut film, they've hardly worked since). Aside from a brilliant marketing campaign that included a documentary and a website alluding to the idea that the events were real and that the three filmmakers that disappeared in the course of producing the film were really being sought by police, The Blair Witch Project is, plain and simply, a wonderfully frightening experience. Found footage is aesthetically realistic but as others have discovered before and since, that doesn't guarantee authenticity. Eduardo Sanchez and Daniel Myrick's film takes a simple premise and makes one of the scariest films I've ever seen.
Three student filmmakers take a black and white 16mm camera and a colour video camera into woodland near Burkittsville, Maryland to film a documentary about the mysterious Blair Witch. The legend tells of a crazed hermit who murdered children before turning himself into police claiming he was forced to do it by the spirit of a dead witch. As the three students carry out their investigation strange things begin to occur such as their tent being attacked in the middle of the night by what sound like a group of children. When they escape the tent they find nothing outside. When one of the group goes missing the realisation sets in that someone or something is pursuing them with deadly intentions. Ultimately, no trace of the group is ever found apart from their cameras. The footage details their traumatic final few days and their terrifying end.
Discover More: Top 10 Found Footage Horror Films
1. The Shining (Kubrick, USA, 1980)

"Here's Johnny" – the infamous line spoken by Jack Nicholson as he bashes his way through a locked bathroom door to terrorise his petrified wife and young son. The woman and the boy had locked themselves in the bathroom to escape the once loving husband and father, now an axe-wielding madman driven crazy by the collection of sadistic ghosts that reside at the Overlook Hotel. They had moved into the hotel when Nicholson's character Jack Torrance took over winter caretaking duties during the out of season period when the hotel sits dormant. During their time there, Jack struggles to write his novel while their son Danny begins to see the apparitions of two young girls. Jack sees other apparitions including the ghost of Grady, the hotel's previous caretaker, who tells him he must "correct" his wife and son. Given Grady's shady (and murderous) past this almost certainly means death. Meanwhile, Danny's ability to "shine", or see glimpses of the past including the ghosts themselves, allows him to pre-empt his father's breakdown. This fascinating film is one of the finest of the 1980s. Kubrick immerses the story in an icy chill, visualised in the snow drifts that box the huge hotel in, but also apparent in the ominous, overpowering size of the building and in the cracking bonds that once held this family unit together.
More Top 10 Films about… Animals In Film | Anti-Heroes | Brits On Holiday | 1980s Childhood Adventure Films | Clowns | Drug Addiction | Girl Power | Marriage | Prostitution
For all the latest top 10s, reviews and competitions follow Top 10 Films on Twitter!
Over to you: what is the best ghost story in film?
Discover More on Top10Films.co.uk:
Search our collection of Top 10 lists sorted by type:
THEME | ACTOR | DIRECTOR | TIME PERIOD | GENRE | COUNTRY | SPECIAL INTEREST | FUNNY
See the A – Z of films featured on Top 10 Films / Check out our film review database