To celebrate the release of Chicken, Top 10 Films toasts some of the best breakthrough performances available on video-on-demand service We Are Colony…
The rise to ubiquity can be slow and hard-earned, or a media-fuelled whirlwind. Either way, to be labelled as "the next big thing" is an exciting step for any performer.
The latest actor to be touted as one to watch is Scott Chambers, the mesmerising star of Joe Stephenson's rural family drama Chicken. Championed by Sir Ian McKellen and Noel Clarke and lauded by Mark Kermode, Chambers' revelatory portrayal of a mentally-challenged boy has certainly got heads turning. As heartwarming as it is heart-breaking, the film combines excellent performances with a social realism evocative of Ken Loach's Kes.
10. Devin Druid – Louder Than Bombs (Joachim Trier, US, 2016)
Devin Druid shows a maturity beyond his years in the subtle, shattering family-drama Louder Than Bombs. Despite sharing a screen with such established talent as Isabelle Huppert, Gabriel Byrne and Jesse Eisenberg, Druid more than holds his own as grieving teenager Conrad. As secrets threaten to fracture an already distant family, Druid is sullen and subdued, but never less than sympathetic.
Watch Louder Than Bombs on We Are Colony
9. Cush Jumbo – Remainder (Omer Fast, UK, 2016)
If you watched The Good Wife, you might recognise Jumbo from her performance as Alicia's protégé and partner Lucca Quinn; a role which is rumoured to be getting its own spin-off. You'd be forgiven for thinking that this spunky actress hails from across the pond, such is her flawless American accent, but the British-born Cush has simply had more luck getting jobs stateside. Let's hope her role in strikingly original drama Remainder – albeit as an American – does something to change that.
Watch Remainder with behind-the-scenes extras on We Are Colony.
8. Cara Delevingne – Kids In Love (Chris Foggin, UK, 2014)
Though she's been parading the red carpet in promotion of Warner Bros. behemoth Suicide Squad, Cara Delevingne's first film role was opposite Will Poulter in the aforementioned Kids In Love. As the flighty, carefree Viola, Delevingne gives us a flavour of the magnetic unpredictability that has been a trademark of her meteoric rise to stardom.
Kids in Love is coming to We Are Colony on 26th August.
7. Will Poulter – Kids In Love (Chris Foggin, UK, 2014)
Will Poulter has come along way since his debut screen appearance in the charming Son of Rambow. Most recently, he was seen dragging eventual Oscar-winner Leonardo DiCaprio up a mountain in The Revenant. However his performance in dreamy, hedonism-tinged, coming-of-age film Kids In Love gives us a gander at Poulter in leading man mode. And if it's anything to go by, his natural charisma and expressive eyebrows are certainly something we could get used to.
Kids in Love is coming to We Are Colony on 26th August.
6. Emily Meade – Bluebird (Lance Edmands, US, 2014)
With a landscape and tone akin to the severe, sprawling tundras of Debra Granik's Winter's Bone, it's no surprise that Emily Meade's flinty, disaffected performance as 16-year-old Paula in Bluebird has drawn comparisons to Jennifer Lawrence. Though her trajectory may not be quite as precipitous, having already graced our screens in HBO series Boardwalk Empire and The Leftovers, Meade certainly projects the same star quality.
Watch Bluebird plus an exclusive audio commentary on We Are Colony.
5. Agyness Deyn – Electricity (Bryn Higgins, UK, 2014)
This year Agyness Deyn arguably graduated from model to full-time actress with a sensational performance in Terence Davies' Sunset Song. With Electricity she delivered us a glimpse of the talent she has to offer in her first lead role as feisty Northern lass and epileptic Lily. With fascinating fearlessness, Deyn depicts the physical and emotional struggle of the condition as Lily embarks on a journey to reconnect with her long-lost brother and ultimately, herself.
Watch Electricity plus a behind-the-scenes interview with Deyn on We Are Colony.
4. Mia Goth – The Survivalist (Stephen Fingleton, UK, 2015)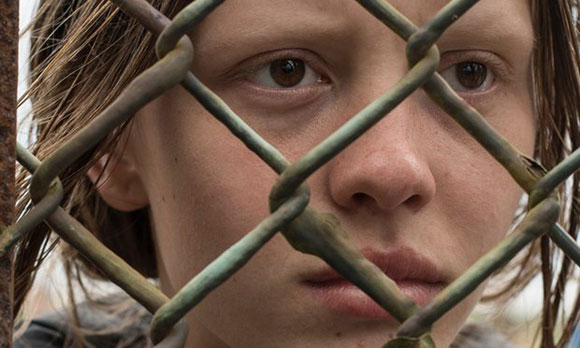 Mia Goth provides a lesson in authenticity in the BAFTA-nominated thriller The Survivalist. A film she literally stopped showering for. Director Stephen Fingleton transforms a Northern Irish forest into a post-apocalyptic wasteland, as the rest of civilisation fights it out for what's left of the world's resources. With minimal dialogue and a penetrating stare, Goth's performance tingles with both fragility and stoicism; pulling off a third-act twist with manipulative magnetism.
Watch The Survivalist with behind-the-scenes extras on We Are Colony.
3. Bel Powley – The Diary of a Teenage Girl (Marielle Heller, US, 2015)
Sundance It-girl and darling of the indie awards circuit this year, Bel Powley is due to conquer Hollywood in a big way after her bewitchingly unflinching performance in Marielle Heller's The Diary of a Teenage Girl. Exploring youthful sexuality against the backdrop of 1970s San Francisco, this adaptation of Phoebe Gloeckner's graphic novel bears witness to the messy complexities and desires of adolescence but never judges them. Oozing gumption and candor, Powley has well and truly arrived.
Watch The Diary of a Teenage Girl plus a behind-the-scenes interview with Powley on We Are Colony.
2. Lauren McQueen – The Violators (Helen Walsh, UK, 2016)
Lauren McQueen is the beating heart and embittered soul of Helen Walsh's debut The Violators. Reminiscent of Katie Jarvis' angsty breakout in Andrea Arnold's Fish Tank, McQueen makes the leap from small TV roles to her big screen debut with beguiling ease. Her performance as 15-year-old Shelly reconciles both the vulnerabilities and hardened edges of a young woman growing up in urban poverty.
Discover More: The Grit & Grime Of Helen Walsh's "The Violators" Is Punctuated By The Bold Brilliance Of Star Lauren McQueen
Watch The Violators plus a behind-the-scenes interview with McQueen on We Are Colony.
1. Scott Chambers – Chicken (Joe Stephenson, UK, 2016)
Scott Chambers proves his mettle portraying Richard – a teenager with learning difficulties – in rural indie Chicken. Reminiscent of Dustin Hoffman in Rain Man and Leonardo DiCaprio in What's Eating Gilbert Grape?, Chambers' performance is sensitive and endearing, but never mawkish. As Richard struggles to survive on the periphery of society, he finds solace in his interactions with poultry pal Fiona and a burgeoning friendship with fellow teenager Annabel (Submarine's Yasmin Paige). This is stirring stuff.
Watch Chicken with behind-the-scenes extras on We Are Colony from Friday 12th August.
See all these films and more on We Are Colony