In Housekeeping, Bill Forsyth has left us with a film boasting universal relevance both poignant and pertinent that speaks to the tolerant part in each of us. Martin Carr reviews…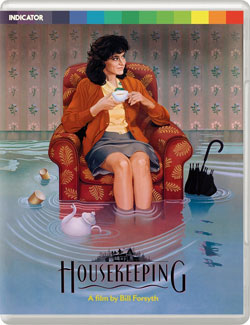 Bill Forsyth stopped making films in the mid Nineties. Disillusioned with Columbia Pictures and his work on Being Humun with Robin Williams, he threw in the towel. After finding critical acclaim with Gregory's Girl and following it up with Local Hero a short time later, Forsyth made films bedded in reality. Small town melodramas concerned with larger themes and ideas which built slowly to reveal a bittersweet resolution. Even when budgets increased, his focus remained the same meaning that as tastes changed these types of film drifted out of vogue. However before the onset of action spectaculars which carried Stallone, Schwarzenegger and Willis above their title, Forsyth had time for one more cinematic gem.
Housekeeping is all about free expression, non-conformity and small minded opinions which proliferate amongst close knit communities. Spanning several decades Forsyth paints a picture of Fifties America where conservative attitudes, outmoded methods of teaching and restrictive ideals diminish individuality. Focusing on two sisters orphaned young and raised by grandparents, Housekeeping uses extensive voice over, two handed dialogue scenes and stunning scenery to establish mood.
Narratively speaking things fail to kick-start until eccentric aunt Sylvie arrives after the grandparents pass. It is here that Housekeeping finds its beating heart with Christine Lahti in an understated performance, which is quirky without being hammy and real without feeling dry. Andrea Burchill and Sara Walker who play twin sisters also complement Lahti, making this situation feel tangible without drifting into melodrama. In truth Housekeeping feels more like a series of vignettes strung together, only fully making sense when you see the whole. For that reason I recommend sticking with it as things drag in places and feel extremely slow.
In its picture perfect depiction of small town American life Housekeeping has Norman Rockwell overtones. Dappled glades, huge sprawling houses, cultured town hall meetings and an inherent fear of the unknown. This paranoia may have more to do with the Communist witch hunts and a fear of Russian invasion, but Forsyth still gives us an engaging yet meandering snapshot of time and place. A sad reminder that this filmmaker chose to step away from Hollywood bureaucracy depriving us of his skill and talent, in favour of creative control elsewhere.
For me Housekeeping is a good film in retrospect. It is no action flick nor one of monumental importance yet it stays with you. Themes of alienation, isolation and new arrivals is perhaps more prevalent now than in 1987 when it was first released. But what Bill Forsyth has left us is a film with universal relevance both poignant and pertinent that speaks to the tolerant part in each of us.
Directed by: Bill Forsyth
Written by: Bill Forsyth
Starring: Christine Lahti
Released: 1987 / Genre: Comedy-Drama
Country: USA / IMDB
More reviews: Latest | Archive
Top 10 Films reviewed Housekeeping on Blu-ray. The film was released on Blu-ray through Powerhouse Films on May 22, 2017 in the UK.