Dreaming of travel? Suffering post-travel gloom? Or perhaps preparing for the next trip away? These contemporary movies from the last few years are likely to inspire your wanderlust…
Whether you're hoping to put together a Netflix movie playlist to keep you occupied for the full weekend or simply want to find interesting and entertaining movies for a cosy night in this autumn or winter, travel themed movies are sure to inspire your wanderlust and get you thinking about your next trip. Whether you're currently travelling elsewhere in the world this autumn or are at home waiting until you can finally afford to travel away again, we've listed some of the best travel movies to consider watching.
The Guilt Trip
If you're hoping for a comical and humorous movie to watch whilst still thinking about your next travel plans, The Guilt Trip is an amazing choice. Barbra Streisand and Seth Rogan star perfectly as mother and son as they take a road trip from Jersey to San Francisco, being forced to get along with each other along the way. Stopping in Tennessee, Las Vegas and the Grand Canyon, this pleasant comedy has plenty of twists and turns along the way to a hopefully happy ending.
Sightseers
A British black comedy, Sightseers covers a sightseeing expedition throughout the English countryside which results in a body count. Filled with weird yet darkly funny scenes in Cumbria, North Yorkshire and other parts of the North of England, this film is a great choice for anybody who wants to get more involved with UK travel and likes thrilling mystery films with a hint of humour.
A Long Way Down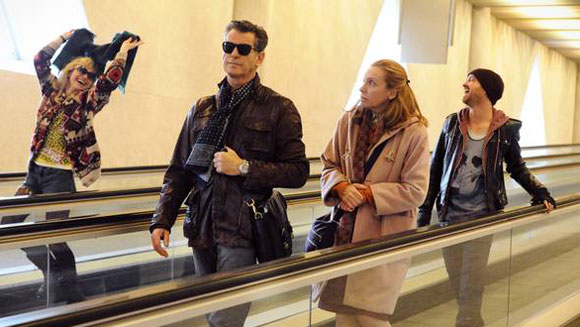 A 'dramady' about four strangers living in London who meet on New Year's Eve as they plan to commit suicide by jumping off the roof of a building, A Long Way Down follows the four main characters make a pact and decide to travel together instead, taking viewers all over London and abroad, even out to the Canary Islands.
In Bruges
A black comedy film which stars Brendan Gleeson and Colin Farrell as two Irish hitmen who are hiding out in a B&B after a job in London goes wrong, this film is the perfect opportunity to get to know the beautiful Bruges, Belgium. With one of the main characters having a passion for sightseeing, the film follows them on a tour of the stunning canals and bridges, along with a number of churches in Bruges.
Into the Wild
Based on a true story, this film is a captivating tale of a graduate and top athlete Christopher McCandless, who donated all of his savings account to charity and embarked on a travel adventure, hitchhiking to Alaska to live in the wilderness. Along the way, Christopher experiences a range of situations and events, along with meeting a variety of new characters who will eventually shape his life. Shedding light on the social aspect of travelling and how our travel experiences can really make us who we are, this is a must-watch for any passionate traveller.
Which are your favourite travel-related films? Whether you travel a lot yourself or simply enjoy watching movies about it, we'd love to hear from you in the comments.