Screenwriter Richard Matheson uses Edgar Allan Poe's poem The Raven as inspiration behind this tale of rival sorcerers which stars Vincent Pirce, Peter Lorre & Boris Karloff.
Independent film producer and director Roger Corman was well into the swing of adapting Edgar Allan Poe stories when he released The Raven in 1963. It was the fifth film he had made based on the work of the acclaimed mystery-horror writer in what would ultimately be a series of eight features. For The Raven, despite its familiar setting in a great gothic mansion (redressed from previous work such as The Pit and the Pendulum) and starring reoccurring performer Vincent Price, the film distinguishes itself thanks to its playful humour. It's also only loosely connected to Poe's work as screenwriter Richard Matheson used Poe's titular poem as inspiration for a wholly original story.
The poem introduces us to a narrator who is visited by a raven with potentially malicious intent. The ambiguous nature of the work – "And the Raven, never flitting, still is sitting, still is sitting / On the pallid bust of Pallas just above my chamber door" – gave Matheson the idea behind his latest collaboration with Corman. Price essentially plays the poem's narrator transplanted into a story about three rival sorcerers whose magical powers come to blows after Boris Karloff's evil Dr. Scarabus turns Peter Lorre's wizard Dr. Bedlo into the titular raven.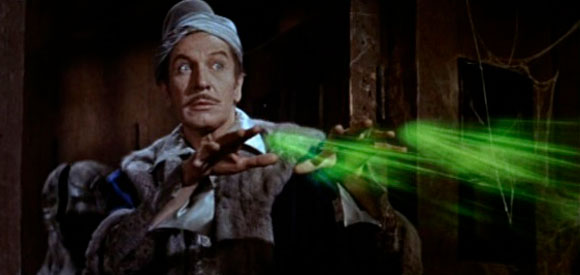 Without achieving the same sort of success, or indeed cohesiveness of earlier efforts The Fall of the House of Usher and The Pit and the Pendulum, The Raven enjoys the finest ensemble of actors Corman ever put together for his Poe adaptations. Even when the film misses the mark you're still treated to the talent on screen – the suave sophistication of Vincent Price, the inebriated, shaky energy of Lorre, and the imposing, world-weary Karloff. In fact, Karloff's real life decrepit state – he was almost unable to walk due to chronic arthritis – adds to the malevolent allure of his powerful sorcery.
The Raven has enough going for it to make it worthwhile, if not essential, viewing in the Corman-Poe canon of work. The infusion of comedy brings a new dimension to an otherwise familiar structure while the primitive, dated special effects are a fun example of what you can do with limited means. It's a nostalgic charm that accompanies much of Corman's better work. The real reason to see The Raven is to witness a trio of seasoned genre actors taking to the stage simultaneously, delivering the sort of over-the-top performances akin to their larger-than-life screen personas. Oh, and there's the small matter of a support role for a very young upstart named Jack Nicholson.

Directed by: Roger Corman
Written by: Richard Matheson
Starring: Vincent Price, Peter Lorre, Boris Karloff
Released: 1963 / Genre: Horror
Country: USA / IMDB