Social media is now a part of everyone's life. Leanne Miller takes a look at how Twitter and other social media such as Facebook has influenced film.
[ad#Google text Ad – square no border]
Social media is absolutely huge these days and its popularity is growing by the day. It's hard to imagine a world without Twitter, Facebook or YouTube and exciting technologies are being invented and developed all the time.
With just a few clicks of a button you can discover who has been voted out of The X Factor, what is going on in The Only Way Is Essex and of course, all the latest world news. Online communities are growing and the internet is the place to be to find up-to-date information quickly.
The world of film and cinema has also been revolutionised of late with films being made about, for, and even via social media. Check these unique movies that have been inspired one way or another by popular networking sites.
World Wide Dead
Bryony Matthewman AKA Paperlilies decided she wanted to make a zombie movie with the help of YouTube and set out to find script writers, budding actors and a crew… online. With no plot and just a webcam she appealed to YouTube fans to join in the fun and the internet literally went mental.
Web fanatics loved the idea and were soon auditioning for parts, sending in blogs and throwing ideas around in their thousands to help create the film that would become known as World Wide Dead. This unique type of production even caught the attention of BBC Three which agreed to make a documentary called Bryony Makes a Zombie Movie.
Twittamentary

Twittamentary is a fascinating documentary about the weird and wonderful world of Twitter and comprises stories that were specifically gathered from the social networking site. Created by Singaporean filmmaker and tweeter Tan Siok Siok, the documentary focuses on how Twitter affects people's lives and centres on our search for love, meaning and significance. One of the coolest things of all is that viewers can interact with the cast and production team while watching the movie, meaning that Twitter constantly shapes the production.
The Social Network

Starring Jesse Eisenberg as Facebook founder Mark Zuckerberg, The Social Network is a flick that hit the film news headlines in 2010 with a slew of awards. The story follows the creation and launch of Facebook and the resulting lawsuits, as well as the squabble over who first thought up the idea of this revolutionary social networking site. An intelligent and dramatic insight into life behind the multi-billion dollar site, The Social Network became an immediate hit.
Girl Walks Into A Bar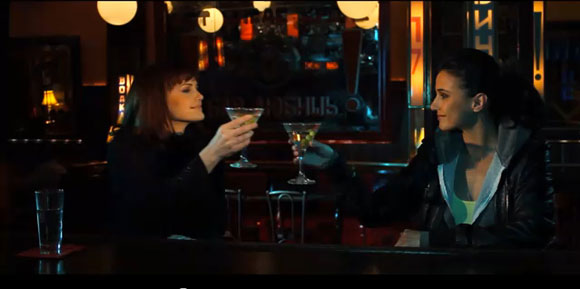 Sebastián Gutiérrez's comedy Girl Walks Into A Bar was the first feature-length Hollywood movie created specifically for the internet. The film premiered in LA and is now available to watch on YouTube in the USA. Starring actors including Josh Hartnett and Danny DeVito, Girl Walks into a Bar is the first motion picture of its kind and has attracted significant attention.
So as you can see, social media is not only constantly evolving but is also inspiring many of the latest film ideas. Watch this space.
Written by Leanne Miller
Discover More on Top10Films.co.uk:
Search our collection of Top 10 lists sorted by type:
THEME | ACTOR | DIRECTOR | TIME PERIOD | GENRE | COUNTRY | SPECIAL INTEREST | FUNNY
See the A – Z of films featured on Top 10 Films / Check out our film review database