Most Christmas films hang a concept on an assortment of obvious key words – Christmas, Santa, Snow…but what happens when filmmakers run out of ideas or want to be overly creative?
Well, it is December and therefore I'm counting down the days until Santa burglarises my home, steals my mince pies and leaves a cache of consumer goods on my living room floor. Oh, I can't wait to see what I get this year.
But Christmas Day is about so much more than just opening presents. Its about family togetherness, eating far too much delicious food, and ultimately, getting drunk. And of course there wouldn't a Christmas Day without the Christmas film to settle our stomachs after a slow-cooked Turkey. I recently wrote about the best A Christmas Carol film versions while my esteemed Editor has been locked away viewing every Christmas film since 1980. For my latest top 10 Christmas list I thought it would be nice to look at some little-seen gems that can be either summed up as The Worst Christmas Films of all a time or, as I more affectionately like to think of them, the Top 10 Craziest Christmas Film Titles. The lesson to be learned here is that if the film is bad, give it a ludicrous title that will have people, for a short time at least, laughing WITH the filmmakers rather than AT them.
The following ten films are all actual titles of films released in theatres or made-for-television.
10. Holiday In Handcuffs (Underwood, 2007)

No, this isn't a pornographic Christmas film. This came as a surprise to me as I began watching it as part of another list I was making for a site called HootersForReal.org. Heck, we all make mistakes sometimes. That is Melissa Joan Hart on the poster by the way…oh, what might have been!
9. Christmas Comes But Once a Year (Fleischer, 1936)
This animated short from 1936 decided to use its title to state the obvious…
8. A Lively Christmas Eve (Reish, Germany, 1962)
I wonder what sort of Christmas Eve we are going to have? This German film's title actually translates to Oh, You Merry One. I don't know which one I prefer.
7. The Christmas That Almost Wasn't (Brazzi, USA/Italy, 1966)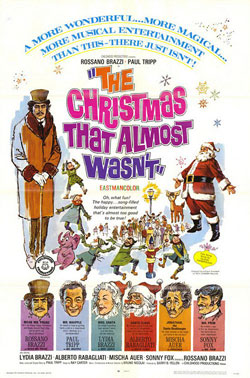 Intriguing. I wonder why.
6. A Boyfriend for Christmas (Connor, 2004)
Hmm…this seems to exclude all young boys! We don't want a BOYFRIEND…! We want…our ACTION MAN FIGURES!
…hang on a minute, here's one for the boys…maybe…
5. Make The Yuletide Gay (Williams, 2009)
I thought this romantic comedy, going by its title, would be a 1930s film about a snowy little village and how its inhabitants come together in a joyous celebration of happiness. But like so many Christmas films featured here the title gives pretty much everything you need to know about the film away. This one is actually about a gay college student dealing with coming "out" at Christmas.
4. The Hebrew Hammer (Kesselman, 2003)

Harking back to the blaxploitation films of the 1970s, The Hebrew Hammer is about a Jewish crime fighter who must save Hanukkah from the evil son of Santa Claus who wants to destroy the festival in favour of everyone celebrating Christmas. Yes, you read that right!
3. Santa With Muscles (Murlowski, 1996)
Santa With Muscles stars ex-professional wrestler Hulk Hogan which is about all I need to say about it.
2. I Saw Mommy Kissing Santa Claus (Shepphird, 2001)
…I'm only glad little Justin didn't see his mother riding Santa Claus like Seabiscuit.
1. Santa Claus Conquers the Martians (Webster, 1964)
Unsurprisingly, this film is considered one of the worst ever made. This convoluted tale has something to do with aliens on Mars deciding to abduct Santa to stop the child martians from watching too much television…or something like that. Anyway, it is a complete waste of time and you should avoid it at all costs.
Have we missed some other good ones? What crazy Christmas film titles have you heard of?
For a slightly different take on the traditional Christmas film have a look at our Top 10 Alternative Christmas Films
Written and compiled by Rory Fish
Discover More on Top10Films.co.uk:
Search our collection of Top 10 lists sorted by type:
THEME | ACTOR | DIRECTOR | TIME PERIOD | GENRE | COUNTRY | SPECIAL INTEREST | FUNNY
See the A – Z of films featured on Top 10 Films / Check out our film review database
Check out the Christmas film coverage on Top 10 Films:
Top 10 Christmas Films of the 1980s | 1990s | 2000s
Top 10 Crazy Christmas Film Titles | Top 10 Film Versions of A Christmas Carol | Top 10 Alternative Christmas Films