There was a golden period for the Christmas film in the early 1990s. Amongst other festive delights, one stand out performance came from an eight-year-old defending his house from burglars.
The 1980s gave us some great Christmas films so the 1990s had a lot to live up to. And, still with thoughts of that era with the big hair clear on the mind, the early 1990s was a boom period for the festive film.
Between 1990 and 1994 we got the first two Home Alone films, the Miracle on 34th Street remake, The Santa Clause, The Nightmare Before Christmas and Muppet Christmas Carol. The second half of the decade wasn't as good but there were a few moments of inspiration such as Angela Lansbury's delightful performance as Father Christmas' wife in Mrs Santa Claus and the somewhat entertaining Arnold Schwarzenegger vehicle Jingle All The Way.
10. Jack Frost (Miller, 1998)

Not to be mistaken with the Christmas horror film of the same name, Jack Frost stars Michael Keaton and Kelly Preston. Keaton plays Jack Frost, the lead singer in The Jack Frost Band, who has a car accident, dies and returns as a snowman. The film is the sort of emotional blackmail that Christmas films seem to exude by default. And, like other films of its ilk, we find ourselves forgiving it at this time of year.
9. Mixed Nuts (Ephron, 1994)

Almost universally panned, Nora Ephron's film was, effectively, a complete failure. But as an antidote to sentimental, sweet-natured and emotionally demeaning Christmas films, Mixed Nuts will certainly suffice. This twisted, dark-edged comedy isn't as bad as some make out.
8. Jingle All The Way (Levant, 1996)

Criticism for Jingle All The Way went straight for the throat – Arnold Schwarzenegger's mission to get the toy his child wants for Christmas was met with disdain, as critics claimed the film glorified the commercialisation of the festive period. In a sentence: No shit, Sherlock! Appealing to kids whose only care at Christmas is what Santa breaks into the house and leaves behind after munching on a mince pie, Jingle All The Way is perfectly acceptable Crimbo fare.
7. Home Alone 2: Lost in New York (Columbus, 1992)

Hollywood has known since Steven Spielberg released Jaws that audience familiarity, convention and high-concept formulas are a winning cocktail when trying to dominate the box office. As such, how does one repeat the financial success of Home Alone? By remaking it two years later in a different location. Yes, Home Alone 2 is almost a scene by scene retread of Home Alone, but there are enough little moments of inspiration to entice lovers of the first film back for another ride. Heck, we go on roller-coasters time and time again and they are exactly the same ride. Home Alone 2 is the film version of re-riding the roller-coaster.
6. Mrs Santa Claus (Hughes, 1996)

Starring the delightful Angela Lansbury, this Christmas musical had the benefit of Jerry Herman, composer of hit Broadway musicals Hello, Dolly! and La Cage aux Folles, behind its music. This fun film has plenty of Christmas cheer and a charming performance from Lansbury.
5. The Muppet Christmas Carol (Henson, 1992)
The Muppet Christmas Carol sees Jim Henson's puppet creations play the roles of the various ghosts and other characters while Michael Caine rejuvenates his career as Ebenezer Scrooge.
4. The Nightmare Before Christmas (Selick, 1993)

Produced by Tim Burton and directed by Henry Selick, The Nightmare Before Christmas is one of the most original Christmas films you're ever likely to see. It is a terrifically dark, funny and visually stunning film that uses the stop-motion technique in realising its macabre world.
3. The Santa Clause (Pasquin, 1994)

Tim Allen becomes Santa when the real Father Christmas falls off his roof and dies. Allen must learn the tricks of Santa's trade while juggling a working life with raising his young son. This is a fun film with high production values.
2. Miracle on 34th Street (Mayfield, 1994)

John Hughes, the king of the coming-of-age teen comedy-drama, is also it seems the master of the Christmas film. Not only was he the brainchild behind the Home Alone films, he also wrote and produced this updated version of Miracle on 34th Street. This charming film features a couple of sparkling performances from Richard Attenborough and child actor Mara Wilson. This is one of those films when you tell yourself: this time I won't cry!
1. Home Alone (Columbus, 1990)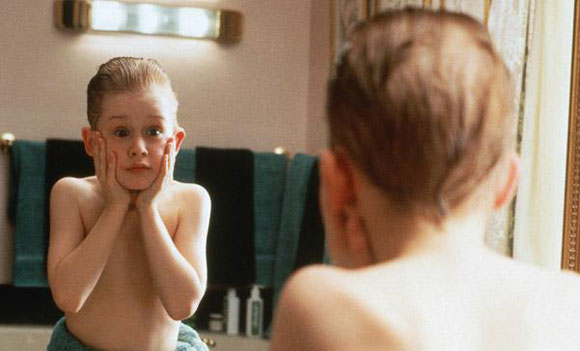 Chris Columbus directs child star Macauley Culkin in John Hughes' fabulously entertaining tale of a child left alone at Christmas by accident who then has to defend his house from two inept burglars. Joe Pesci in family-friendly mode (as opposed to Scorsese-mode which, if you've seen Casino or Goodfellas, you'll know is decidedly un-family friendly) is great as the bumbling bad guy who finds himself up against a determined eight-year-old who uses every resource available in the house (from paint cans to glue to toy cars and anything else he can turn into an inspired weapon) to repel the bad guys. This wonderful Christmas film is a joy from start to finish.
Your turn – what is your favourite Christmas film from the 1990s?
For a slightly different take on the traditional Christmas film have a look at our Top 10 Alternative Christmas Films
Discover More on Top10Films.co.uk:
Search our collection of Top 10 lists sorted by type:
THEME | ACTOR | DIRECTOR | TIME PERIOD | GENRE | COUNTRY | SPECIAL INTEREST | FUNNY
See the A – Z of films featured on Top 10 Films / Check out our film review database
Check out the Christmas film coverage on Top 10 Films:
Top 10 Christmas Films of the 1980s | 1990s | 2000s
Top 10 Crazy Christmas Film Titles | Top 10 Film Versions of A Christmas Carol | Top 10 Alternative Christmas Films