Christmas was well represented in the 1980s. From horror to fantasy to offbeat black comedy to outlandish slapstick. Oh, and Die Hard!
Like the decade's Hollywood output as a whole, I look back at 1980s Christmas films with rose-tinted spectacles. In my case they are rose-tinted rimless spectacles but that is beside the point. Nevertheless, reminiscing about the decade with officially the worst fashion sense of the century, awful hairstyles and Double Dutch Bus, I noticed quite a few hugely entertaining festive films that are as enjoyable today as they ever were.
From Bill Murray in Richard Donner's super-duper Scrooged to Chevy Chase stepping into his best comedic character again for the second sequel in the National Lampoon's Vacation franchise to Bruce Willis taking on terrorists at Christmas, the 1980s managed to mix a seemingly inherent schmaltz with a sense of fun and plenty of cool. From straight comedy to stalk and slash horror to action-adventure to fantasy to black comedy, Christmas in the 1980s was never boring – that's for sure!
10. Silent Night Deadly Night (Sellier, 1984)
Silent Night Deadly Night is one of many several films based around the Christmas season and while not being the best, to its credit, it has one of the best posters. On it, an arm from someone dressed up as Santa is revealed coming out of, or going into, a house through the chimney with a huge axe in-hand. The film garnered no critical praise but became famous because of the backlash. Siskel and Ebert hated the film so much they went through its entire credit list, saying "shame" after reading each name. In the UK the film was unavailable for 25 years.
9. A Very Brady Christmas (Baldwin, 1988)
The Brady Bunch get a cinematic outing for Christmas in this 1988 festive film. The success of A Very Brady Christmas helped revive interest in the television show and led to a couple of excellent films with new cast members – The Brady Bunch Movie (1995) and A Very Brady Sequel (1996). 2002's The Brady Bunch in the White House wasn't so good.
8. Ernest Saves Christmas (Cherry III, 1988)
One of many Ernest films, I think this was the third, finds the unlikely hero saving Christmas after several mishaps happen to Santa when he goes on a jolly holiday in sunny Florida.
7. A Christmas Story (Clark, 1983)
A Christmas Story has become a huge holiday-period favourite. It has featured on American television networks in 24-hour marathons numerous times, where the film is played on repeat for a full day, usually beginning on Christmas Eve night. The film has become one of the most popular Christmas films to be shown on TV and usually garners huge ratings. The film features the likable Peter Billingsley as a nine-year-old who desperately wants a BB gun for Christmas. He tries to convince various adults, through a variety of amusing schemes, why he should get the gift but to no avail. Interestingly, the film garnered mixed reviews when it was first released and although critical acclaim is now almost unanimous in the States, it still does not get as much recognition in the UK. As such, it remains a little-seen film on UK televisions screens.
6. Santa Claus: The Movie (Schwarz, 1985)
This wasn't just a movie event, it was the definitive cinematic outing for the bearded gift-giver. As a child I genuinely believed that David Huddleston was Santa. After all, this was THE MOVIE. But alas, the years have taught me that David Huddleston is indeed an actor and that the real Father Christmas continues to live out a life of mystery, last seen in the North Pole. I plan to set up photographic equipment this year with a motion sensor to catch the man with the bowl-full-of-jelly-belly in the act. I will post my images on Boxing Day. Keep a look out. As to whether or not you should see Santa Claus The Movie – you should, as there's plenty of magic and Christmas cheer on show as the film sports some wonderful production values. Can you believe John Carpenter was originally approached to direct the film!
5. Gremlins (Dante, 1984)
Gremlins is a great Christmas film to watch if only for Phoebe Cates' macabre story about her father going missing in the lead-up to December 25th. A few days after his disappearance the family to begin smelling an odd, unpleasant fragrance coming from the fireplace. Miss Cates' well-meaning Dad only broke his neck while trying to shimmy down the chimney to deliver the presents. Poor chap. Of course, it isn't obvious whether Phoebe's emotional recollection is tinged in sadness at the loss of her Dad, or disappointment at not receiving her Barbie and Ken Horse and Cart collection.
4. Die Hard (McTiernan, 1988)
John McTiernan's Die Hard has plenty of Christmas cheer when you get past the hail of bullets, broken necks, huge explosions and bodies falling out of buildings on to easy-going, Twinkie-eating cop Al Powell's squad car. One thing the film teaches us is that no terrorist, or anyone wanting to steal $600 million in bearer bonds, should ever mess with Detective John McClane. Hans Gruber, as depicted by the brilliant Alan Rickman, tries this un-winnable feat on Christmas Eve. Bruce Willis portrays the great white vest-wearer with sweaty testosterone and an eye for a good quip. Best action flick of the 1980s? Possibly.
3. National Lampoon's Christmas Vacation (Chechik, 1989)
Chevy Chase returns to his finest cinematic role as Clark W. Griswold. The hapless but well-meaning family man decides to have a Christmas at home but not everything goes to plan beginning with finding a tree. The film immediately stands out thanks to its ace Christmas song by Marvis Staples which plays over the credits with a funny animation of Santa getting into trouble on Christmas Eve. Chase is brilliant again while the film distinguishes itself as that very unique thing in film franchises – a Part 3 that is better than Part 2.
2. Trading Places (Landis, 1983)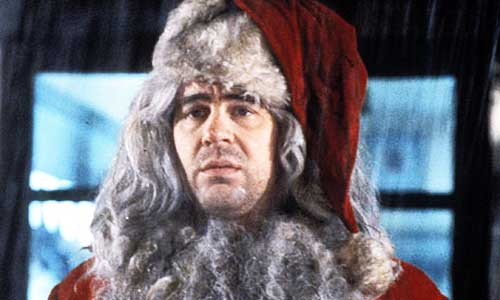 Set over Christmas and New Year, John Landis' Trading Places is one of my favourite films. Dan Aykroyd and Eddie Murphy make a wonderful comedy duo, but they are aided by an excellent script that makes light of the corporate shenanigans so prevalent in 1980s New York. It is great seeing Aykroyd dress up as Santa – or should that be a drunk, depressed, anti-social, suicidal and homeless Santa!
1. Scrooged (Donner, 1988)
Scrooged deserves to top so many lists – best Bill Murray, best film based on Dickens' A Christmas Carol, best use of 12 sharp knives as a Christmas gift, and, perhaps most importantly, best Christmas film of the 1980s. Richard Donner directs this updated version of Dickens' classic tale as Bill Murray plays an egotistical, self-centred, conceited television producer who has shunned friends and family in order to progress up the corporate ladder. In keeping with his anti-family ethos, he has everyone working long hours through Christmas in order to produce a special Christmas show. As in Dickens' novella, Murray's character Frank Cross is visited by three ghosts who show him various parts of his life in order for him to mend his ways. The film is wonderfully funny thanks to a marvellous performance from Bill Murray who has rarely been better in a comedic role.
Your turn – what is your favourite Christmas film from the 1980s?
For a slightly different take on the traditional Christmas film have a look at our Top 10 Alternative Christmas Films
Discover More on Top10Films.co.uk:
Search our collection of Top 10 lists sorted by type:
THEME | ACTOR | DIRECTOR | TIME PERIOD | GENRE | COUNTRY | SPECIAL INTEREST | FUNNY
See the A – Z of films featured on Top 10 Films / Check out our film review database