Prepare yourself for ten of the most terrifying villains to squirm their way into kids' films. Young or old, these scary guys still send shivers down the spine.
I set out to make a list of the most memorably frightening characters from children's and family films and found that almost everyone came from the decade when I was a child myself. I guess that is unsurprising. But I do wonder whether villains today really are as visually and emotionally terrifying as they were during my formative years in the eighties. The films on this list all appeared on television for the first time, and then were consequently repeated in the following years, during the late 1980s and early 1990s. All of which I would have seen before my tenth birthday.
One of the great things about being a child is having that imagination which, depending on who you are, diminishes greatly as you grow up and see the world for what it really is. So it is easier for writers of books, comics, games and films, to use that inherent and innocent imagination, where everything is still possible, to the greater good of their fictional story.
The following ten characters come from some great and some not-so great films made specifically for young or family-orientated audiences. Each terrified me in their own unique way, and they appear here because they are still, after all these years, genuinely frightening creations.
What are your favourite children's film villains and what characters from your childhood do you remember the most?
10. Talking Hands (Labyrinth – 1986)

Jim Henson's puppet creations spanned several films. His singular imagination was behind such iconic characters as Kermit the Frog, Miss Piggy and Big Bird. Uniquely, he could target both a young audience and a more adult audience, mixing shades of light and dark within his characters. This led to some colourful yet macabre characters in films such as The Dark Crystal and Labyrinth. Although Labyrinth, starring David Bowie and Jennifer Connelly, has an assortment of wonderful puppet creations, the relatively simply conceived Talking Hands have stood out as the most creepily memorable.
9. Karg (Masters of the Universe – 1987)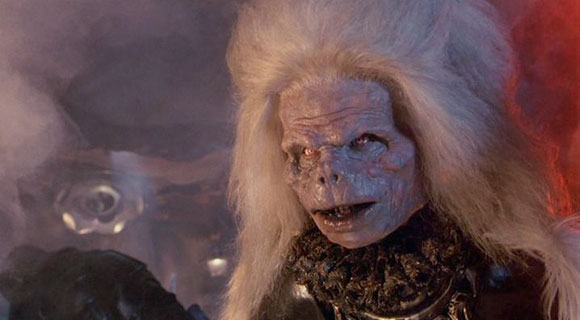 Starring a pre-Friends Courteney Cox and a post-Rocky IV, super-buffed Dolph Lundgren in the role of hero He-Man, Masters of the Universe was a box office flop. It also didn't sit well with critics either. But the film did boast an array of interesting, darkly conceived characters, some of which were far too frightening for me as a child. The worst of all has to be Karg – the iconic Skeletor's chief field commander. His ugly mug is fitting for his vicious pursuit of He-Man across space and time.
8. Dogs (Ghostbusters – 1984)

Sigourney Weaver and Rick Moranis get possessed by the demon dogs in Ghostbusters. These terrifying creations form several very dark and horrific moments in Dan Aykroyd and Harold Ramis' brilliant supernatural-comedy.
7. Eva Ernst aka The Witch (The Witches – 1990)

Trust Roald Dahl to concoct a great children's fantasy story villain. In fact, you could look at his entire body of work and pick out some fantastically dark creations that play on that childhood imagination he could tap into so well. Sometimes his stories haven't worked well on-screen but The Witches is one of the exceptions thanks to director Nicolas Roeg and actress Anjelica Huston.
6. Gmork (The NeverEnding Story – 1984)

The talking wolf from The NeverEnding Story is terrifying enough for adults let alone children. Could The NeverEnding Story be the scariest film ever made for children?
5. Medusa (Clash of the Titans – 1981)

This freakishly looking creature is based on Greek mythology's Medusa. She has snakes for hair and turns anyone who looks directly at her to stone.
4. Skeksis (The Dark Crystal – 1982)

Another brilliantly dark creation from Jim Henson, the Skeksis are a species of evil rulers on the world known as Thra. A little, unassuming elf-like creature named Jen, sets out to find the missing shard of the Dark Crystal to restore balance in the universe.
3. Vera's robot transformation (Superman 3 – 1983)

Vera is one of evil Ross Webster's henchwomen. Together they conspire to take over the world through financial domination. But they don't calculate the effect Superman might have on their plans. Equally, Superman doesn't expect to be faced by a very powerful Vera-shaped cyborg when Webster's super computer becomes self-aware and begins defending itself.
2. Mombi/Head Nurse (Return to Oz – 1985)

Everything about Return to Oz is frightening from the lunatic asylum-like hospital Dorothy is taken to for shock therapy to each of the characters – both good and bad. The scariest of them all has to be the dual role of Jean Marsh who plays the terrifying Head Nurse who wants to submit Dorothy to electroshock treatment and her personification in the world of Oz, Mombi, a witch with several interchangeable heads which she keeps in trophy-like cabinets.
1. The Child Catcher (Chitty Chitty Bang Bang – 1968)

When parents tell their children not to accept sweets from strangers they have a very good reason. Thanks to watching Chitty Chitty Bang Bang when they were kids they know that the promise of lollipops and ice cream can only lead to doom. The crazed Child Catcher in the film, as served by the brilliant mind of Roald Dahl who wrote the screenplay, is the epitome of scary characters for children chiefly due to his appetite for young prey.
Your turn – what are your favourite villains from children's films? What scary characters do you remember from childhood?
Written and compiled by Dan Stephens.
Discover More on Top10Films.co.uk:
Search our collection of Top 10 lists sorted by type:
THEME | ACTOR | DIRECTOR | TIME PERIOD | GENRE | COUNTRY | SPECIAL INTEREST | FUNNY
See the A – Z of films featured on Top 10 Films / Check out our film review database
This top 10 is part of 31 Days of Horror: