Candyman, Candyman, Candyman, Candyman…say his name once more and he will appear before you, his bloody hook ready to do his murderous bidding.
Directed by: Bernard Rose
Written by: Bernard Rose
Starring: Virginia Madsen, Tony Todd, Xander Berkeley, Vanessa A. Williams
Released: 1992 / Genre: Horror / Country: USA / IMDB

Buy on DVD:
Amazon.co.uk: DVD

Discover More: 31 Days of Horror
More reviews: Latest | Archive
[ad#Google text Ad – square no border]
Utter his name in the mirror five times and he will come. The bloody stump where his hand once was now sports a rusty hook hungry to slice human flesh. From the brilliant mind of Clive Barker comes The Candyman, a mythological figure etched forever in urban legend. When Helen Lyle (Virginia Madsen) begins investigating the role such legends play in the lives of those that live in the deprived, urban decayed housing project of Cabrini Green she finds that the myth is more real than she could ever imagine.
Directed by British filmmaker Bernard Rose and based on Clive Barker's short story The Forbidden (which appeared in volume 4 of the writer's Books of Blood series), The Candyman's icy exterior is warmed only by its blood spatter. It is an authentically filmed and gory depiction of obsession, fear and urban decay in a world where the financial and geographical divide of the underclass is magnified in all its rotten glory. The beauty of Rose's film is its indefinable line between truth and fiction which gleefully riffs on the very essence of urban legend. What is undeniable is that, whether the audience believes the myth or not, no one is seeking out the nearest mirror to summon the Candyman.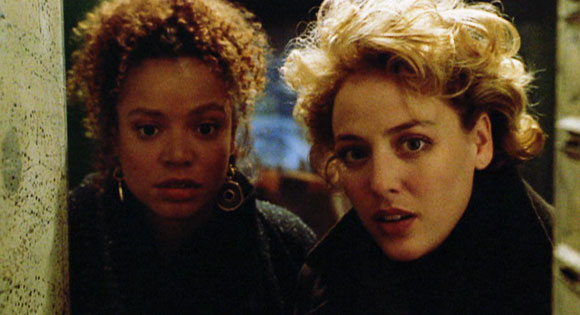 Helen Lyle is a graduate student in Chicago. Along with her friend Bernadette (Vanessa A. Williams) she is interviewing fellow students about urban legends. One interview leads to her discovering the Candyman. She is told that a babysitter called his name into a mirror five times. Her mutilated body was found by her boyfriend whose hair consequently turned white and he proceeded to go crazy. Overhearing that the Candyman legend has become a popular cultural phenomenon among the poor families of Chicago's Cabrini Green housing development, Helen and Bernadette head to the city's crime-ridden north side to interview the residents.
They arrive and swiftly make their way to an apartment where the Candyman is said to have murdered a woman. A neighbour tells the two women that she heard the woman's screams but the police didn't come until it was too late. But Bernadette is too frightened to stay in Cabrini Green for long so they leave against Helen's better wishes. Helen then returns alone and is led into a public toilet by a young boy who says the Candyman mutilated a fellow child there. Whilst taking photos in the decrepit toilet a local gang member, claiming to be the Candyman, enters and assaults her. She is picked up by the police and through a line-up identifies her attacker. The police claim he is responsible for the Candyman-related crimes in the area and the case is effectively closed. But on her way to her car some days later she has a vision of the Candyman who claims to have come for her. She loses consciousness and awakens to find herself covered in blood in an apartment at Cabrini Green. Carrying a meat cleaver she finds the severed head of a dog and the apartment owner crying over an empty cot. She believes Helen has stolen her baby and attacks her. The police arrive and arrest Helen. But Helen's visions of the Candyman won't go away. When Bernadette visits her at her aprtment she is slaughtered and Helen blames Candyman for the crime. But of course the police don't believe her. Can Helen escape the clutches of this mysterious and deadly figure, or is he a figment of her imagination?
The Candyman is effective for a multitude of reasons, not least its idea about romanticising fear as if it isn't good enough to simply be scared by something, that it must be remembered. The origins of urban legend are perhaps more interesting than the urban legend itself which inevitably makes the film stand out. It is also deeply unsettling in its depiction of the uncontrollable monster that may be erupting from within. What is left ambiguous is whether the mythological Candyman really does appear to terrorise Helen or whether she becomes so deeply immersed in her own study of his legend that she acts out his terrible revenge.
Bernard Rose directs with straight-forward simplicity. There are few special-effects, his colour scheme is washed-out and natural, and he limits stylistic extravagance. Rose's masterstroke is utilising the talents of Koyaanisqatsi composer Philip Glass and shooting on-location at Chicago's Cabrini Green housing estate. Glass' orchestral score is the epitome of simple but effective music that unnerves without overstating its presence. Cabrini Green, one of the Projects in Chicago's Near North Side, is the identifiable truth behind Helen's quest to find the origins of her urban legend. Once a thriving housing community, the area has fallen into disrepair. Gang warfare, guns and crime have left the area like a time-capsule preserving the remnants of urban decay. The film's real-life locations – the broken elevator, the graffiti-ridden walls, the dishevelled gardens – aid its ominous atmosphere and effectively hint at the truth behind the legend.
Tony Todd as the Candyman himself and Virginia Madsen as the wide-eyed graduate student also play a huge part in the film's successful transition from short story to cinema screen. The undertones of racist traditions play their part to provide another dimension to the terror (the untrustworthy black man stealing the virginal white woman) and Todd's commanding physical presence over the petite Madsen is a menacing image. Director Rose enhances Madsen's performance by using a hypnotist on set to put her in a semi-conscious trance every time she comes into contact with Candyman. It makes for a hallucinatory experience that again furthers the film's undistinguished line between truth and fiction. And despite Madsen's helpful hypnotist she ensures her fully conscious performance doesn't let her down, giving Helen an intellectual stubbornness that contrasts Candyman's physical strength. Tony Todd, in a role that is far removed from his previous work at that time, uses his deep, tigerish roar of a voice to great effect while the bloody hook does his murderous bidding.
But perhaps none of that would really matter if the film didn't have Clive Barker's wonderful central premise. The idea of saying Candyman's name in the mirror five times in order to summon him is freakish in its horrifying consequences. It's a great idea and one that sneaks into everyone's home since we all have a mirror somewhere in the house. Thankfully, director Bernard Rose has produced such a fantastic film adaptation of the story. It has some wonderful jump-out-of-your-seat moments, some graphic carnage and a frequency of unsettling sequences that ensures this horror film will never get old. With depth, character, a great score, intelligent direction and one of horror film's most fascinating villains, The Candyman can proudly declare itself as the best horror film of the 1990s.
Review by Daniel Stephens – See all reviews
This review is part of 31 Days of Horror: