Phone hacking scandals. News of the World forced to shut down. Officials in the pockets of unscrupulous tabloid hacks. "Ouch" for journalism!
[ad#Google text Ad – square no border]
It's a pretty rough time for journalism, as the phone hacking scandal rumbles on, so why not look for some escapism in this list?
We're looking for escapism (so no documentaries) and films where the reporter is the hero (so nothing like Shattered Glass, about a reporter who made up his sources, or The Sweet Smell of Success, in which Burt Lancaster plays a crooked columnist.)
Julia Kukiewicz takes a look at ten films where the journalist is king. From Grant Hezlov's The Men Who Stare At Goats based on investigative journalist Jon Ronson's experiences to the infamous Watergate scandal and the work of Bob Woodward and Carl Bernstein in All The President's Men.
10. The Men Who Stare at Goats (Hezlov, 2009)
Jon Ronson is an investigative journalist, whose book of the same name is a funny, fascinating look at bizarre techniques used by the US military. That accounts for the film's big names – George Clooney and Ewan McGregor – and, perhaps, for the disappointingly meandering plot too. But the protagonist, apparently based on Ronson, remains a plucky reporter throughout.
9. How to Lose a Guy in Ten Days (Petrie, 2003)
A reminder that digging dirt is just one aspect of journalism, this extremely questionable but very watchable rom-com is set in the kind of women's magazine where everyone takes their shoes off at meetings. Kate Hudson spends an entire week being as irritating as possible for a feature. Only to accidentally fall for the guy she's trying to drive away.
8. The Insider (Mann, 1999)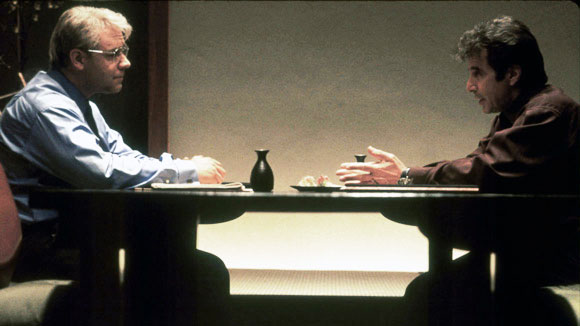 Many desk-bashing speeches ("Who told you your incompetent little fingers had the requisite skills to edit me!?") in this story of the attempt to get a tobacco industry whistleblower to appear on 60minutes which even managed to highlight the owner of CBS' involvement in Big Tobacco in real life.
7. Deadline (Brooks, 1952)
Humphrey Bogart can't stay away from a story, even when his paper The Day is just three days away from being shut down. With only a few days to go, he launches a crusade against a local gangster he believes is responsible for murder and gets to make plenty of desk-bashing speeches in the process ("as long as even one newspaper will print the truth – you're finished!").
6. Almost Famous (Crowe, 2000)
You root for the teenage reporter and rock fan spouting off to Rolling Stone ("it's a think-piece about a mid-level band…struggling with their own limitations in the harsh face of stardom") and accidentally getting the front cover, if not the girl, in the process.
5. Frost/Nixon (Howard, 2008)
The film version slightly mangles history a bit to wring the drama out of the Nixon interviews – David Frost, a successful interviewer both in the UK and abroad, is portrayed as a gutsy outsider on his last chance.
4. His Girl Friday (Hawks, 1940)
When Cary Grant sets his mind to winning over a fellow reporter dead set on leaving her job to settle down with an insurance salesman, he does it by concocting a story she can't resist. Soon, she can't resist him either.
3. The Pelican Brief (Pakula, 1993)
Denzel Washington plays a Washington Herald reporter protecting a law student who has uncovered an unsettling truth (Julia Roberts), in this high-stakes thriller based on a John Grisham novel.
2. State of Play (Yates, 2003 – six-part BBC television series)
If possible, go with the original 2003 BBC TV series rather than the slightly dodgy remake with Russell Crowe and Helen Mirren. Either way, the reporters are the heroes – even as, in true British tradition, they're also heroically boozed throughout.
1. All the President's Men (Pakula, 1976)
Of course. This classic, focusing on Woodward and Bernstein's attempts to uncover the Watergate scandal, does perhaps rely on slightly more knowledge of the crisis than can be assumed of modern audiences (by which I mean, I got a bit lost) but there's no arguing that the reporters are the heroes here.
Read Top 10 Films editor Daniel Stephens' review of All The President's Men here.
Written and compiled by Julia Kukiewicz

Julia Kukiewicz is editor of Choose.net, a news and reviews site covering – among other things – DVD rental. The site covers big names like Lovefilm and ways for film-lovers to save money like blu ray rental.
Discover More on Top10Films.co.uk:
Search our collection of Top 10 lists sorted by type:
THEME | ACTOR | DIRECTOR | TIME PERIOD | GENRE | COUNTRY | SPECIAL INTEREST | FUNNY
See the A – Z of films featured on Top 10 Films / Check out our film review database