The allure of the single location film
Films set in a single location (or predominantly in a single location) have always fascinated me. Perhaps it's their theatre roots, as many single-location films derive from the work of playwrights. The consequence of that is strong characterisation, an emphasis on good acting, and tight control of plot that usually takes place over a few hours.
Another reason I am a fan of single location (and indeed single day films or those set over a short prescribed period of time) derives from my distaste for the sprawling epic and biopic. "Lawrence of Arabia" is one of the best films ever made, and "Forrest Gump" is a 1990s masterpiece, but largely, films that stretch themselves thinly across years and decades don't appeal to me. Conversely, the snippets of characters lives in various settings hung on a plot that lacks central focus is what single location films avoid. At least the good ones do.
I'm not totally adverse to a good three-hour jaunt but put me in room with ten average epics and ten passable single-location films and the rambling story would be cast out in favour of the tightly plotted. That's not to say films based predominantly in a single place aren't long, rambling or indeed thinly plotted as Andy Warhol managed several times, most convincingly in his 1963 film "Sleep". But the best display the talents of their scribes, a keen eye for authentic dialogue that works to bolster depth of character and provide momentum to the story. They also show the best of their directors – an ability to maintain pace and drama with limited manoeuvrability (there's no easy cut to a car chase to get the audience's attention), to get the most powerful performance possible from their actors, and the use of constricted space.
The criteria to qualify for the top 10 single location films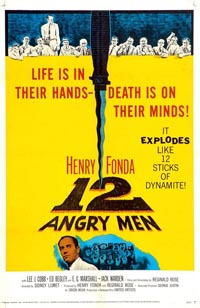 When compiling this top 10 I set myself a set of rules each film had to follow to qualify. Very few films remain strictly in a single room for instance so I decided that for this list a single location means all rooms directly related to that location (eg. "The Breakfast Club" is set in a school, so all classrooms, gym, food hall etc., are allowed; in "Sleuth" and "Clue", we see various rooms in huge mansions). On a more simplistic basis the "12 Angry Men" leave the jury room to discuss events in the bathroom briefly, while James Stewart and the camera's only excursion away from the apartment in "Rear Window" occurs near the end of the movie.
I also allowed leeway for pre-credit and credit sequences or early establishing scenes that were away from the central location. In "Wait Until Dark", for example, the credit sequence involves plane travel before we arrive at the main location.
I also wanted to accommodate films such as George A. Romero's "Night of the Living Dead", where the first ten minutes and last few minutes are away from the main location. This also allows for Hitchcock's "Dial M For Murder" where brief scenes show the antagonist in another, unrelated building. As long as the main, single location is pivotal to the plot, and the majority of the action takes place there, a few scattered shots at other locations are allowed.
I discovered that single location films had certain conventions that go beyond simply their setting. They largely feature an ensemble cast with two or more lead characters. And they are also generally set over a short period of time – a matter of hours or a day or two.
Above all, the films had to be good – very good. Indeed, some of the choices on the following list are bona fide classics.
10. Clerks (Smith, 1994)

Shot on a tiny budget acquired by maxing out several credit cards Kevin Smith wrote, produced, directed and starred in this debut film about two convenience store clerks and the many assortment of characters they interact with throughout the day. Although the film has a couple of scenes away from the shop, it is predominantly set in and around the Kwik-Stop convenience store.
The film launched Kevin Smith's career and gave independent distributors Miramax a minor hit in 1994. The film was made for a miniscule $27,500 and grossed over $3 million in a limited release across America.
Location: Convenience store
Set-up: Dante has to spend the day at work on his day off.
Timeframe: One day
Quote: "Melodrama coming from you seems about as natural as an oral bowel movement."
9. Clue (Lynn, 1985)

A big part of the success of ensemble films is in the casting. It's difficult to look past Jonathan Lynn's "Clue" as a perfect example of this. Based on the board game of the same name, "Clue" is a brilliantly conceived and scripted comedy whodunit. Yet, in bringing the essentially one-dimensional caricatures from the board game to screen is no easy feat. But, Lynn, along with collaborator John Landis, achieve it with the energy of Buster Keaton and the smart-dialogue of Neil Simon. Indeed, the film is based much on Simon's "Murder By Death", however, improves on the great playwright's work largely in the casting. From Tim Curry's indefatigable butler to Lesley Ann Warren's slutty Miss Scarlet, from the reserved yet suspicious Christopher Lloyd as Professor Plum to the nervous edginess of Michael McKean's Mr Green. Every character is beautifully brought to life, and although they remain fundamentally caricatures, each actor has adulterated fun with their role.
The film takes place almost in real time, with the New England Gothic Revival mansion the setting for the characters to scurry about in search of the supposed murderer. It's fast-paced, entertaining fun, and the three alternate endings make for further amusement in discovering just who- did it!
Location: New England countryside mansion
Set-up: Six people adopt the aliases of the titular family-favourite board game in an attempt to discover who is blackmailing them. However, someone is murdered and the characters have to discover who committed the crime before the police arrive.
Timeframe: Approximately 90 minutes
Quote: "I have something to say. I'm not going to wait for Wadsworth here to unmask me. I work for the State Department, and I'm a homosexual."
Read More: Christopher Banks looks back at one of his favourite movies | Natsukashi talks to director Jonathan Lynn
8. Reservoir Dogs (Tarantino, 1992)

Quentin Tarantino's debut film has many scenes away from the central location – the warehouse where the bank robbers meet after the botched jewel heist – but, since these are presented in flashback, the present day story line takes place almost exclusively in the one location.
In many ways "Reservoir Dogs" is a classic single location movie – ensemble cast, one major setting, events take place over a period of a few hours. Significantly, what differs it from those films deriving from the theatre are the flashbacks. Tarantino uses the flashback to tell us story information and develop each character in more depth. It's a more convenient way of telling a single location story than the way in which "12 Angry Men" or "Lifeboat" are told. But it allows the filmmaker to give the audience more action. This can be both good and bad. Cutting to an important flashback means there's always something happening, but it does stifle the forward momentum of the story. It is also easier on the screenwriter to be able to develop characters by showing their past rather than developing them in the present. The beauty of "12 Angry Men" is that each character is an individual, each has his traits and quirks and political sway, and yet we learn all this through their interaction in the present. This is a much more difficult proposition for the writer.
But Tarantino, by his own admission, is a product of the cinema. He's a film fanatic and therefore his script is informed by the movies he's experienced. The flashback is very much a characteristic of film. He uses his flashbacks in "Reservoir Dogs" perfectly, and the film never becomes bogged down by them. This is thanks largely to his verbose but quick-witted dialogue, that's infused by an acknowledgement of and nostalgic reaction to pop-culture. The film also benefits from Tarantino failing to let the audience in on the heist itself. We never see what actually happens, only a brief scene prior to the attempted robbery and the aftermath. We then get to understand what happened by the characters discussing the events and arguing the possibility of insider working with the police.
The film also benefits from the ensemble cast who work overtime for the then fledgling director, and the seventies rock n roll soundtrack that adds a shade of light to the ultra-violence depicted on-screen.
Location: Suburban warehouse
Set-up: Bank robbers meet after jewel heist goes wrong – one is bleeding to death; the other three try to figure out who double-crossed them.
Timeframe: A few hours
Quote: "All you can do is pray for quick death, which you ain't gonna get."
Read More: The Movie Report review | Wonders In The Dark review and discussion
7. Lifeboat (Hitchcock, 1944)

One of Hitchcock's early American films, "Lifeboat" was a difficult movie to make for the director, and was met by a mixed critical reaction. However, it has become recognised as one of Hitchcock's best films. From the same stable as "Rear Window", Dial M For Murder", and "Rope", the master filmmaker grips his audience to their seats with tension and suspense confined to the simple, one-location set-up of the lifeboat.
Location: Allied lifeboat floating in the Atlantic
Set-up: Allied survivors band together on a small lifeboat after their ship is sunk by a German U-boat.
Timeframe: A few days
Quote: "Dying together is even more personal than living together."
6. The Breakfast Club (Hughes, 1985)

The quintessential 1980s teen-drama from director John Hughes is a daring exercise in simplicity during a particularly fast-paced, high-concept-centric era of American cinema. Essentially, Hughes made a crowd-pleasing movie for a young audience wanting eye-candy and cheap thrills. It worked because its characters – based entirely on high-school stereotypes – worked so perfectly in mirroring the same fears and anxieties, peer-pressure, growing pains, love, ambition, and parental politics faced by a generation of youth. With its pop-culture references and mod-rock soundtrack it was a product of its time. But Hughes' perfectly composed script, a tale of friendship breaking through the deep-rooted divisions of high-school social groups is one that continues to resonate decades later. It highlights that although things have changed, Hughes' characterisation and depiction of teenagers is spot-on: a culture that may change and alternate aesthetically over time, but one that remains challenged by the stereotypes permeating from class, sex, ability, fashion, and further to issues of religion, race, and so on.
Location: School
Set-up: Five students spend the day in Saturday detention.
Timeframe: One day
Quote: Dear Mr. Vernon, we accept the fact that we had to sacrifice a whole Saturday in detention for whatever it was we did wrong. What we did was wrong. But we think you're crazy to make us write an essay telling you who we think we are. You see us as you want to see us – in the simplest terms, in the most convenient definitions. Does that answer your question? Sincerely yours, the Breakfast Club."
Read More: The Girl Can Write review | The Final Taxi on the late John Hughes | Foolish Blatherings review | Breakfast Club V Ferris Bueller on RossvRoss.com
5. Dial M For Murder (Hitchcock, 1954)
"Dial M For Murder" shares more than just its single location with another film on this list. I'm not talking about Alfred Hitchcock. Frederick Knott wrote the original play that forms the basis for "Dial M For Murder". It was written in the early 1950s, debuted as a BBC television play, and then had stints on London's West End and New York's Broadway. Several years later Knott would write his only other successful play – "Wait Until Dark" – which appears here in third place on the list, directed by Terrence Young and starring Audrey Hepburn. Both films are supreme examples of well-crafted, brilliantly characterised suspense stories. They feature Knott's favoured trait of an innocent woman trapped in a seemingly lawless situation. They are also based almost exclusively in the apartment of the victim.
Some critics believe "Dial M For Murder" is a better film than Hitchcock's much-loved follow-up "Rear Window". I'm not one of these critics but I can see the appeal. It's the simplicity of the film, delivered with such style and controlled elegance by Hitchcock, that makes the unspectacular nature of the set and the action thoroughly spectacular. The ticking time-bomb moment when Tony Wendice (Ray Milland) realises his watch has stopped and he's late making the call to his contract killer, most probably botching the entire plan, is simple in its construction but perfectly executed. It's a sequence of high tension, beautifully edited together to show the three character's unpredictable situations. Running as a constant throughout is innocent Grace Kelly and the will-she-won't-she predicament of her impending murder.
Location: London apartment
Set-up: An ex-tennis player who married for money and gave up the sport plots to murder his wife.
Timeframe: Several days
Quote: "People don't commit murder on credit."
Read More: Gone Elsewhere review | John Kenneth Muir review | Precious Bodily Fluids (Images)
4. Sleuth (Mankiewicz, 1972)

"Sleuth" is based on Anthony Shaffer's play of the same name. He was reluctant to see a screen version of his work and went to lengths to avoid selling the rights. When the pull of cinema finally overcame him, he vigorously recommended actors to play the two lead roles but director Joseph Mankiewicz had his own ideas. Indeed, it's good he did. The film is less notable for the, admittedly excellent screenplay, than for the superb performances of Laurence Olivier and Michael Caine (who were both nominated for Academy Awards). The two actors are the only people ever seen on screen and carry the film with charisma and self-assurance.
Location: English country manor house
Set-up: Two adulterers spar off against each in a strategic game of cat and mouse based around a love of crime fiction and a mutual disliking of one another
Timeframe: Three days
Quote: "Andrew, be sure and tell them, it was only a bloody game."
Read More: Alt Film Guide on director Joseph L. Mankiewicz
3. Wait Until Dark (Young, 1967)
After the pre-credit sequence and some early character establishment between the three crooks, "Wait Until Dark" takes place entirely across one day. It's a fascinating suspense film made more interesting by Susy's lack of sight. Brought to the screen with poise and Hepburn's inherent elegance, Susy is a woman coming to terms with her new life. She's tough and in control, not allowing her sight to demean her. Any fragility she shows in the face of danger comes not from her blindness but for the love she feels for her husband, and the care and affection she has for friend Gloria. When the lights are extinguished in the film's nerve-shredding climax and we as an audience are plunged into darkness, we inherit Susy's condition. It's a devastating and frightening experience – an experience any person with sight would panic in – and yet Susy is the aggressor (albeit an unwilling one).
Location: Apartment
Set-up: Three crooks don various guises in order to find a heroin-stuffed doll in blind woman Susy Hendrix's apartment.
Timeframe: Two days
Quote: "Did you know they wanted to kill me? I did. I knew even before they did."
2. Rear Window (Hitchcock, 1954)
"Rear Window" breaks the mould in that it doesn't feature an ensemble cast nor do the events it depicts start and finish in a day or two (a side effect of being based on a short story rather than a theatre play when it comes to Hitchcock single location movies). However, it's no less a single location film, and indeed, takes the idea and makes better use of it than perhaps any film on this list. Alfred Hitchcock was a master with the camera. In "Rear Window" his camera only leaves Jefferies apartment for a brief few moments at the end of the movie. At all other times, the camera and therefore the audience is locked away with Jefferies in the apartment, seeing the world as he sees it from his window.
And that's the brilliance of "Rear Window" – arguably Hitchcock's finest film – in that our world is localised and subjective. Hitchcock makes us complicit voyeurs. We see as Jefferies sees. We are given no prior knowledge and are privy to nothing outside of Jefferies' experiences. This presents us with a unique sense of suspense – an authentic, personal sense of mystery. Although Jefferies believes he has witnesses wrongdoing we as an audience don't have to believe him. We have the same evidence but can interpret it any way we please. The suspense comes from our inherent support for the protagonist; a hope that in the end he's proven right. It also comes from our own desire to be proven right – did the neighbour commit murder and hide the body? We as an audience have probably come to our own conclusion, which may or may not coincide with Jefferies, and we await (with finger nails bitten) the justification or otherwise of our verdict.
Location: Apartment
Set-up: Photographer L.B. Jefferies has suffered a broken leg and can't leave his apartment. He starts spying on his neighbours and believes one of them has murdered his wife and hidden the body.
Timeframe: A few days
Quote: "Because everything this fellow's done has been suspicious: trips at night in the rain, knifes, saws, trunks with rope, and now this wife that isn't there anymore."
Read More: Wonders In The Dark find Rear Window best-of the 1950s | Wonders In The Dark review | 1416 and Counting Review | Celluloid Heroes review
1. 12 Angry Men (Lumet, 1957)

Sidney Lumet's greatest film is a perfect example of the single location movie. Its ensemble cast of characters are rendered on screen with individuality and depth. The film also displays a faultless progression of plot and character, and with Lumet's controlled and confident direction, it never loses its momentum or its grip on the audience. It is one of the greatest American movies ever made, and one that should be shown to any student of film who wants to learn the fundamentals of plot and character.
Much of the film's appeal comes from Henry Fonda. He is the single dissenter who stands up for what he believes in the face of total opposition. It is the classic tale of standing up for yourself – an easily digested charm that resonates amongst audiences.
Location: Jury Room
Set-up: Twelve jurors retire to consider their verdict
Timeframe: Two hours
Quote: "It's always difficult to keep personal prejudice out of a thing like this. And wherever you run into it, prejudice always obscures the truth."
Read More: M. Carter @ the Movies (Review) | RossvRoss.com – 12 Angry Men V A Few Good Men | Wonders In The Dark (Review)
Written and compiled by Daniel Stephens
Discover More on Top10Films.co.uk:
Search our collection of Top 10 lists sorted by type:
THEME | ACTOR | DIRECTOR | TIME PERIOD | GENRE | COUNTRY | SPECIAL INTEREST | FUNNY
See the A – Z of films featured on Top 10 Films / Check out our film review database