Deservedly nominated for four Academy Awards, Jennifer Lawrence shines in Debra Granik's excellent film about the courage of one young girl on a quest to find her missing father.
Directed by: Debra Granik
Written by: Debra Granik, Anne Rosellini
Starring: Jennifer Lawrence, John Hawkes, Garret Dillahunt
Released: 2010 / Genre: Murder/Mystery/Drama / Country: USA / IMDB
Buy on DVD:
Amazon.co.uk: DVD
Discover More: Read Daniel Woodrell's novel
Ree Dolly (Jennifer Lawrence) is trapped. She is imprisoned by circumstance. Not only is she handcuffed to a family that desperately needs her to support them (two small children and a catatonic mother), the local sheriff has made it known that unless her father Jessup shows up for his court appearance over the illegal production of Methamphetamine, she will lose the family ranch. Having not seen her emotionally distant father for two weeks she sets out in a search to track him down. But she is thwarted in her quest by a local code of honour and the close-knit underworld that engulfs her community.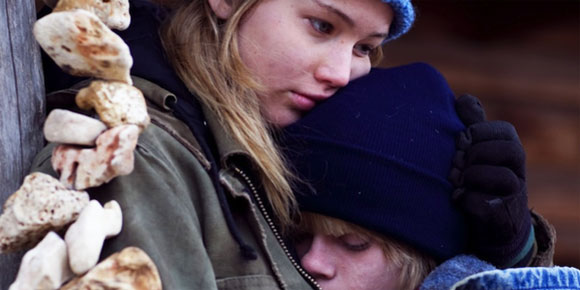 [ad#Google text Ad – square no border]
Winter's Bone, based on Daniel Woodrell's mesmerising 2006 novel, grew to prominence following its nomination in four Academy Award categories including Best Picture and Best Actress in 2010. Although it did not win an Oscar it was rightly rewarded at the year's Sundance, Berlin and Stockholm International film festivals. Debra Granik's second film as writer-director is a fascinating portrayal of poverty in the Ozarks. She captures this culturally gated community with unrelenting authenticity, beautifully drawing the audience into this world run by its own politics and traditions. Granik makes this world simple in its primitiveness yet maddeningly chaotic and divisive. It is simultaneously wonderfully immersive yet oddly suffocating.
At its centre – the warm, beating heart of the film – is Ree Dolly. Ree is not your usual teenage girl. She goes out shooting squirrels for her evening meals, teaching her young siblings the fine out of gutting the rodents before adding to the stew pot. She also, unwittingly, has become the carer for her twelve-year-old brother and six-year-old sister, as her mother suffers from a debilitating mental illness and her father is missing. She is a young girl of extraordinary courage and steely resolve, exampled in all its glory by her quest to find her father and prevent the family from losing their home.
Jennifer Lawrence portrays the character of Ree with a sort of blunt defiance. She isn't exactly happy with her lot in life but she is determined to make the best of it. You can't help feeling empathy for this girl, yet, while her troubled existence and upbringing may have stripped her of the luxuries most take for granted, it has also shaped her as a person. She is a battler and at times her archaic, primal day to day living is a sort of quiet luxury forgotten and left behind by a world obsessed with technology beginning with 'i'.
All this makes for a very interesting mystery-thriller with a unique protagonist and an unusual setting. The linear conventions of the protagonist setting out on a quest to find answers maybe fairly straightforward but Granik's almost macabre ambience is tangibly overpowering. She knows she is taking her audience through a world that is both alien and yet strangely familiar. She manages to not only concoct a fascinating murder-mystery but does so while making a grimly unforgiving comment on the destructiveness of methamphetamine use amidst an aesthetically detailed portrait of the traditions and behaviours of Ozark culture. That in itself is both daring in its complexity and worthy of applause for its execution.
Review by Daniel Stephens – See all reviews