Top 10 Films presents a selection of "alternative" Christmas movies – films that have some link to the holiday period without, perhaps, fully embracing the festive spirit…
Whimsical, feel-good festive fun. Sing-a-long musicals and family entertainment. Bumbling cartoon characters, flying reindeer, talking animals, elves making toys, angels getting wings, they are all part of the Christmas movie. But there's another side to a Christmas sat in front of the telly. The Dark Side. Pitch black film noir, offbeat comedy, sadistic horror. Killer snowmen, drunk Santa's, capitalist in-fighting, sex fetishes and rampant orgies, terrorists, lunatics, Christmas tree robbers, murderers hiding in the attic, marriage breakdowns and the curse of the mother-in-law. No songs in sight, no talking animals (do Gremlins count?), and maybe no happy ending. There is another way to enjoy the holidays. This is the top 10 alternative Christmas films list.
10. Mixed Nuts (Ephron, 1994)
What's in the Christmas Cracker: Black comedy
Christmas cheer provided by: Lunatics, paranoid social workers, Christmas tree stealers, and a dead body
Christmas dinner speech: "May I put you on hold while I run to my desk? You're not calling from a bridge or holding a weapon, are you?"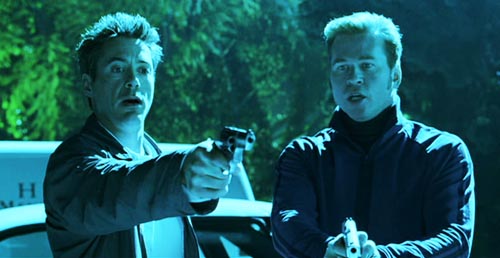 9. Kiss Kiss Bang Bang (Black, 2005)
What's in the Christmas Cracker: black comedy/film noir
Christmas cheer provided by: An openly gay private investigator and a self-referential small-time criminal
Christmas dinner speech: "Its hard to believe it was just last Christmas that Harmony and I changed the world. And we didn't mean to and it didn't last long. You know a thing like that can't."
8. Lady In The Lake (Montgomery, 1944)
What's in the Christmas Cracker: Film-noir
Christmas cheer provided by: Hard-boiled private detective
Christmas dinner speech: Perhaps you'd better go home and play with your fingerprint collection.
7. Gremlins (Dante, 1984)
What's in the Christmas Cracker: Horror-comedy
Christmas cheer provided by: little creatures that get very nasty when wet
Christmas dinner speech: "The worst thing that ever happened to me was on Christmas. Oh, God. It was so horrible. It was Christmas Eve. I was 9 years old. Me and Mom were decorating the tree, waiting for Dad to come home from work. A couple hours went by. Dad wasn't home. So Mom called the office. No answer. Christmas Day came and went, and still nothing. So the police began a search. Four or five days went by. Neither one of us could eat or sleep. Everything was falling apart. It was snowing outside. The house was freezing, so I went to try to light up the fire. That's when I noticed the smell. The firemen came and broke through the chimney top. And me and Mom were expecting them to pull out a dead cat or a bird. And instead they pulled out my father. He was dressed in a Santa Claus suit. He'd been climbing down the chimney… his arms loaded with presents. He was gonna surprise us. He slipped and broke his neck. He died instantly. And that's how I found out there was no Santa Claus."
6. Eyes Wide Shut (Kubrick, 1999)
What's in the Christmas Cracker: Neo-noir mystery
Christmas cheer provided by: Upper-class sex maniacs
Christmas dinner speech: "When she is having her little titties squeezed, do you think she ever has any fantasies about what handsome Dr. Bill's dickie might be like?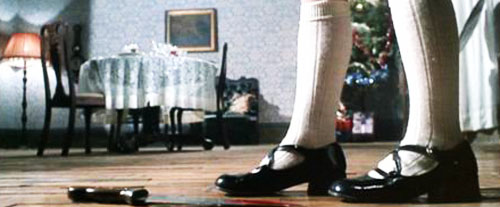 5. Deep Red (Argento, 1975)
What's in the Christmas Cracker: horror
Christmas cheer provided by: moulding corpses, music teachers who think they're detectives, and psychic mediums who can't foresee their own death
Christmas dinner speech: "Gianna! Gianna! There's someone in the house… absolutely trying to kill me, ya'know?"
4. The Ref (Demme, 1994) (aka Hostile Hostages)
What's in the Christmas Cracker: black comedy
Christmas cheer provided by: retiring cat burglar, bickering married couple, mother-in-law from hell, inept police officers, blackmailing son
Christmas dinner speech: "From now on, the only person who gets to yell is me. Why? Because I have a gun. People with guns get to do whatever they want. Married people without guns – for instance – you – do not get to yell. Why? No guns! No guns, no yelling. See? Simple little equation."
3. Die Hard (McTiernan, 1987)
What's in the Christmas Cracker: Action-thriller
Christmas cheer provided by: heroic cop, German terrorists, overzealous FBI agents
Christmas dinner speech: "Nine million terrorists in the world and I gotta kill one with feet smaller than my sister."
2. Black Christmas (Clark, 1974)
What's in the Christmas Cracker: Slasher horror
Christmas cheer provided by: mysterious phone caller and a killer hiding in the attic
Christmas dinner speech: "These broads would hump the Leaning Tower of Pisa if they could get up there!"
1. Bad Santa (Zwigoff, 2003)
What's in the Christmas Cracker: black comedy
Christmas cheer provided by: a drunk, fake Santa Claus and his scheming sidekick
Christmas dinner speech: "Good night, Santa. Good night, Mrs. Santa's sister."
Check out the Christmas film coverage on Top 10 Films:
Top 10 Christmas Films of the 1980s | 1990s | 2000s
Top 10 Crazy Christmas Film Titles | Top 10 Film Versions of A Christmas Carol | Top 10 Alternative Christmas Films