The debate over whether movies can motivate crime has raged for years. This Top 10 Films list looks at a bunch of movies that have allegedly inspired real life crimes…
A debate has raged for many years about violence in the media having an adverse influence on society, leading in some cases to very disturbing crimes. The debate was writ large in 1993 after the murder of James Bulger in Liverpool, England. The two killers, both just ten years of age, had allegedly watched Child's Play 3 and then re-enacted scenes from the film in the abduction, torture and killing of their two-year-old victim. It marked a period of hysteria that harked back to the UK's Video Recordings Act of 1984 when the "Video Nasty" – a term coined a couple of years earlier by Mary Whitehouse for films deemed unsuitable for audience consumption – welcomed a host of films into its seedy underbelly that were consequently banned in the country.
Whitehouse was the poster girl of this ultra-conservative movement and became infamous for campaigns against what she saw as the permissive society, especially as depicted in films and television. Whitehouse was campaigning for years before she got her claws into the world of cinema. When Thatcher's government took charge she found several supporters in some very high-up places including Thatcher herself. Her decisive campaign against "video nasties" in the early part of the 1980s played a crucial role in the sanctioning of the 1984 Video Recordings Act. Although not banned under the new legislation, the act was the defining reason the UK could not watch The Exorcist for twenty years. Other notable films banned under the act included The Texas Chainsaw Massacre, Straw Dogs, and prominent "video nasties" such as The Driller Killer, The Evil Dead, Cannibal Holocaust, and I Spit On Your Grave.
"Her main focus was on sex, followed by bad language and violence. Odd: if she had reversed the order, she might have been more effective." – Academic Richard Hoggart on Mary Whitehouse
Whether you agree with Whitehouse (few did, then or now, apart from Thatcher and a few of her cronies) she did have a point in terms of the way films were advertised. The Driller Killer kicked off the era of the video nasty thanks to its crude advertising campaign. The film's distributors took out a full page advert in a number of magazines and publications depicting the explicit poster art. The blood-filled poster showed a man in obvious anguish being subjected to a drill entering his forehead. This resulted in a large number of complaints sent to the Advertising Standards Agency. Britain's conservative newspapers were quick to act with The Sunday Times printing an article entitled "How high street horror is invading the home", and, typical of the Daily Mail, they exposed "video nasties" as the reason why youth crime was on the rise.
But the correlation between crime and media violence is a blurred one. That's why the argument for and against the depiction of sex, violence and bad language causing the ills of society to erupt is one fraught with danger. A Clockwork Orange has frequently been cited as a film that induces a negative reaction in those that view it yet Kubrick uses violence like a mirror on the world. Yes, the film is violence and sadistic but Kubrick's point is that society is no different. What detractors of the film fail to point out is that Kubrick's use of depravity forces us to be complicit and therefore question our own reaction to such events. It doesn't encourage such actions, it ultimately says they are physically sickening.
I personally agree that The Driller Killer's poster was not suitable for mainstream print, where the control of those who view it is largely unsupervised. But that does not mean the film should not be released. There is a distinct difference between turning a page in a magazine and being faced with the graphic depiction of murder, than choosing to view a horror film. In one instance you are unknowingly faced with what is a horrifying act in a context that is presumably far removed from murder and death. In the other instance you have chosen to view a film that depicts such horrifying events and prepared accordingly. My problem with censorship is that it defeats the possibility of choice, something that should be available in a free, democratic society. The ban on The Driller Killer, like all the other films removed from shop shelves, is therefore undemocratic. However, I do agree that the poster for The Driller Killer poses an interesting problem.
"Although not banned under the new legislation, the act was the defining reason the UK could not watch The Exorcist for twenty years." – Video Recordings Act 1984
What all this means in practical terms is that I couldn't watch two of the greatest horror films ever made until my twenties – the films being The Exorcist and The Texas Chainsaw Massacre. And I also had to put up with heavily edited versions of films on British TV – for example, I never knew Robocop was so graphically bloody until I finally saw it uncut on DVD.
Yet, it was Child's Play 3 that supposedly encouraged two twisted ten-year-old children to commit a disgusting murder. This was a film deemed suitable for public consumption by those in charge. God forbid they see one of the "video nasties" – ie. one of the film's deemed morally corruptible. What would they have done then? Moreover, since the banned films have come back into circulation after the relaxation of censorship laws following the departure of James Ferman from the BBFC in 1999 (the year the UK could finally see The Exorcist again, or in my case, for the first time) has there been a increase in violent crime in society? Or, indeed, have these banned films suddenly topped the charts of films cited by murderers as the influencing factors in their despicable acts? The answer, as the films below highlight, is a decisive "no". Just as Kubrick pointed out in his masterpiece A Clockwork Orange, society was cruel and violent in the seventies, it is cruel and violent now, and it will be cruel and violent in the future.
But do films, violent or otherwise, influence people to commit crime? I don't think they do. There are many factors more important in the creation of a criminal mind. I'm not a psychologist but I know from experience of watching violent films myself that they have not inspired me to act in a criminal manner. In fact, they make me more determined to stay away from such things. And since friends and family have had similar reactions to horror films as me it seems the argument they drive people to commit crime is false.
Where the argument holds the most weight is in the idea that they make those susceptible to committing crime either more creative in their endeavours, or encouraged in their criminal behaviour with the film acting as the catalyst. But again there has to be more deciding factors in someone choosing to murder somebody else. Ultimately, film becomes the easy target, when other, more deep-rooted and telling issues, are the cause of society's woes.
Of those films cited by the killer(s) or the police as influencing murder, here are the top ten:
10. Robocop 2 (Kirshner, 1990)
Perhaps surprisingly, Robocop 2 had to make this list thanks to serial killer Nathanial White. White, who was out on parole at the time of his killing spree, assaulted and murder a number of victims, killing six. White later told police how Robocop 2 had inspired the way in which he murdered one of his victims, describing in graphic detail a scene in the film which he played out in real life.
9. The Deer Hunter (Cimino, 1978)
The Russian Roulette scene in the movie has been the inspiration behind many real life recreations of the suicidal game. In countries around the world, similar copycat deaths have occurred.
8. Oldboy (Chan-Wook, 2003)
In 2007, U.S. student Cho Seung-Hui killed thirty-two students of Virginia Tech university, injuring seventeen others, in a shooting rampage that became known as the Virginia Tech massacre. Prior to the incident, it is alleged he repeatedly watched Oldboy.
7. Taxi Driver (Scorsese, 1976)
John Hinkley Jr. tried but failed to assassinate President Ronald Reagan in 1981 because, believe it or not, he thought Travis Bickle was talking to him and in carrying out an assassination of Reagan he could impress real life actress Jodie Foster (who plays the young prostitute in the film). Hinkley failed in his attempt but did wound Reagan in the attack. He was charged with a variety of offences but found to be, unsurprisingly, clinically insane.
6. A Clockwork Orange (Kubrick, 1971)
The only film to be withdrawn from British circulation by its own director due to copycat crimes, A Clockwork Orange should be notorious for the right reasons (in that it's a mesmerising, brilliant piece of work by a visionary filmmaker) but is often thought of for all the wrong reasons. That is because it is said to have influenced several murders, most notably, two incidents of teenage boys imitating the film. One, dressed as a Droog, stabbed a classmate, the other assaulted a tramp to death. In another incident, a girl was gang raped by a group singing the song Singing in the Rain, which features in Kubrick's film.
5. A Nightmare on Elm Street (Craven, 1984)
Since Wes Craven's films get such a bad reputation in sensationlist media who want to blame the movies for creating the psychotics of society, perhaps he should be locked up. Poor chap. In 2004, Donald Gonzales told prosecutors it was Wes Craven's fault for him going on a three day slice and dice rampage that left four people dead. The clinically diagnosed paranoid schizophrenic said he aspired to be Freddy Krueger and kill as many people as his "idol".
4. Natural Born Killers (Stone, 1994)
Oliver Stone's Natural Born Killers was always going to get named in the blame game since it depicts a loved-up couple becoming celebrities because of their killing spree. Author John Grisham actually tried to bring legal action against the film;s producer's after Sarah Edmondson and Benjamin Darrus cited the film as inspiration behind them killing two people. The Columbine massacre also has links to the film as the killers noted references to Natural Born Killers in their journals. There are numerous other murders that have significant links to the film including a fourteen-year-old boy who murdered a young girl because he wanted to be "famous like the Natural Born Killers".
3. The Birth of a Nation (Griffith, 1915)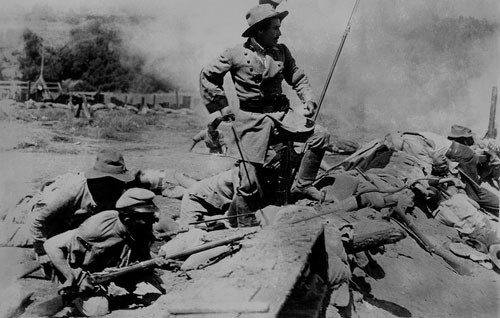 D.W. Griffith's film about the American Civil War is notorious for its derogatory depiction of African-Americans. Following the film's release, massive race riots broke out across America and several historians have blamed Griffith's film for inciting the violence. Many men, women and children lost their lives to the racist, ritualistic murders carried out by the Ku Klux Klan.
2. Scream (Craven, 1996)
Scream has been blamed for a number of copycat murders or attempted murders. The most disturbing was the case of a seventeen-year-old in France who stabbed a classmate several times with a kitchen knife. The murderer called the victim in a similar way to phone calls placed in the film and wore the notorious Ghostface mask while committing the crime. The film has been cited as influencing at least half a dozen other murders or attempted murders.
1. Child's Play (Holland – 1982, Lafia – 1990, Bender – 1991)
The most notorious films to have inspired crime are chillingly telling of the affect of violence in the media on young minds. Child's Play III in particular is renowned for all the wrong reasons as it was cited as the inspiration behind two ten-year-olds – Robert Thompson and Jon Venables – abducting, torturing and murdering two-year-old James Bulger. The disgusting crime was headline news in the UK for many months, rekindling the belief that the banning of films deemed unsuitable for consumption was a practical and useful solution to defeating crime in the society. That debate continues to rage on today but what was most disturbing about the crime, and the reason Child's Play 3 came in for such public derision from many quarters, was the age of those involved. James Bulger didn't live to see his third birthday while Thompson and Venables had yet to reach their teen years.
Although Jon Venables' father denies his son ever saw Child's Play 3, the conclusion to their truly shocking torture of the two-year-old is very similar to a scene featured in the film where killer Chucky tries to kill a person under the wheels of a ghost train. Perhaps what is more damning evidence of a correlation between the murder and the film is that Jamie was splashed in blue paint, just as Chucky is in Child's Play 3.
Ultimately, the police concluded that the film did not influence the ten-year-old boys to commit such a heinous crime but Chucky – the doll that kills – has become an easy scapegoat for sick minds to blame for their disturbing activities.
In Manchester, a city close to Liverpool where James Bulger was killed, a sixteen-year-old girl was burnt alive by a group of boys who allegedly quoted lines from Child's Play while they tortured and murdered her. In Australia, Martin Bryant said Child's Play 2 had inspired him to go on a shooting spree, while a woman blamed the fact her son had been watching Child's Play too many times as the reason behind him stabbing her husband.
The debate goes on…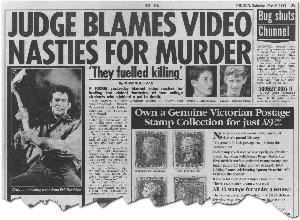 The debate about violence in the media will rage on. I believe that violent films do not make people go out and commit crime. Each of the tragic instances highlighted above were crimes committed by unstable individuals who were already open to notions of crime, death and carnage. John Hinkley Jr. was clinically insane, believing not only that Travis Bickle was real and talking to him on a one to one basis, but he also had an imaginary girlfriend who had been a part of his life for several years. Cho Seung-Hui who committed the Virginia Tech massacre and Eric Harris and Dylan Klebold who committed the Columbine High School massacre were unstable individuals who had long histories of social dysfunction. You can look into each case and see deep-rooted problems that go well beyond simply imitating a scene from a film or claiming to be inspired by events depicted on the cinema screen.
In August 2011, England saw some of the worst and most sustained rioting for a number of years. Politicians, police, the media and the general public are now asking what could have sparked the violence with one police chief claiming video game Grand Theft Auto had something to do with it. How long will it be until they blame the movies?
What are your thoughts on cinema violence? Do you feel that violent films are a danger to society? Is life imitating art a legitimate argument for instigating violent crime or are there more deep-rooted issues involved?
Discover More on Top10Films.co.uk:
Search our collection of Top 10 lists sorted by type:
THEME | ACTOR | DIRECTOR | TIME PERIOD | GENRE | COUNTRY | SPECIAL INTEREST | FUNNY
See the A – Z of films featured on Top 10 Films / Check out our film review database