Poker was revitalised by the internet. Poker players across the world can play each other from the comfort of their own computer. With sites like Facebook embracing the game with popular apps played by their users, millions of people have been introduced to a game that was once too complicated to play around the family dining table.
With the popularity of the game has come widespread television coverage. And through television, poker's Texas Hold 'em variation of play (which is the best, and most effective, form of the game to televise) has become the game of choice of so many. And, whether it is free poker online or a cash game with friends on a Friday night, everyone is trying to improve their poker strategy. If you need a few tips, check out the following ten films for some of the best 'plays' from the movie world.
10. Rounders (John Dahl, USA, 1998)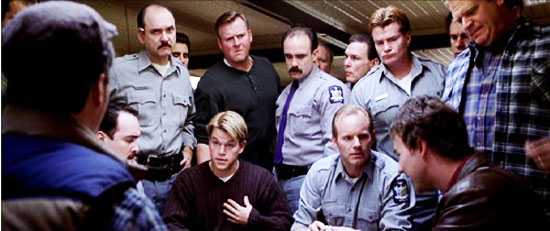 Rounders, a film about Poker culture and the people who are involved (directly and indirectly) with the highs and lows of the game, could be a definitive Hollywood expose on the game's new-age popularity if it wasn't let down by wayward characterizations and poor plotting. Yet, Rounders, despite its flaws, is an enjoyable, fast-paced sports-drama that will entice new fans to the game and make established Poker players salivate for their next big win.
The film tells the story of Mike McDermott (Matt Damon), a great player who lost all his money and quit the game. When his best friend Worm (Edward Norton) gets out of prison owing money to the wrong sorts of people, Mike is forced back into the game he loves but at the cost of putting both his friendship, and his relationship to girlfriend Jo (Gretchen Mol), on the line.
9. A Cure for Pokeritis (Laurence Trimble, USA, 1912)
One of the earliest films made about poker, A Cure for Pokeritis features comedian John Bunny getting a lesson in life and cards from his wife (Flora Finch)
8. Honeymoon In Vegas (Andrew Bergman, USA, 1992)
Nicolas Cage plays idiot Jack Singer who loses a high stakes poker game and has to give up his wife in order to pay for the debt. Sarah Jessica Parker is the wife, James Caan is the lucky man.
7. Casino Royale (Martin Campbell, UK, 2006)
If we are talking about high stakes poker there can only be one film that fits the bill. Casino Royale sees James Bond put his Ministry of Defence pension on the line against terrorist financier La Chiffre in a multimillion dollar game.
6. House of Games (David Mamet, USA, 1987)
Margaret Ford is every poker player's worst nightmare – she can read a 'tell' thanks to her professional background in psychiatry. To help a friend she accompanies a gangster to a poker game posing as his girlfriend to inform him of his opponent's giveaway 'tells'.
5. A Big Hand for the Little Lady (Fielder Cook, USA, 1966)
A stellar cast including Henry Fonda, Paul Ford and Jason Robards find themselves in a high-stakes poker game with Mary (Joanne Woodward) who is thrust into the game as a newbie and finds herself playing a group of men who don't want her there. She says she doesn't know how to play…but is she bluffing?
4. Maverick (Richard Donner, USA, 1994)
Maverick, loosely based on the 1950s television show of the same name, sees card shark Mel Gibson attempt to prove he's the best poker player in the American Old West by beating the competition at a tournament taking place on a peddle steamer. This funny comedy from director Richard Donner features some delightful performances and plenty of bluffs and ace card playing to keep poker fans entertained.
3. Lucky You (Curtis Hanson, USA, 2007)
Possibly made to cash-in on the online Texas Hold 'em poker boom, Curtis Hanson's Lucky You bombed at the box office despite featuring the likes of Eric Bana, Drew Barrymore, and Robert Duvall. Bana plays Huck Cheever, a talented poker player who has struggled in the limelight of his father's success at the poker table. Entering the World Series of Poker's Main Event, he gets the chance to finally lay those demons to rest by beating his father. But can he accomplish the feat?
2. The Cincinnati Kid (Norman Jewison, USA, 1965)
Probably the most famous film about poker sees Steve McQueen attempting to establish himself as the best poker player of them all by beating veteran Lancey "The Man" Howard (Edward G. Robinson).
1. The Sting (George Roy Hill, USA, 1973)
Not entirely about poker, The Sting is nonetheless a wonderfully entertaining story of two con artists who dream up the most elaborate schemes to get money out of their victims. Paul Newman and Robert Redford play Henry Gondorff and Johnny Hooker respectively. Both actors are delightful in their roles. The film features a brilliant poker game when Paul Newman shows just how the con can be applied to poker by beating crime boss Doyle Lonnegan (Robert Shaw).
Discover More on Top10Films.co.uk:
Search our collection of Top 10 lists sorted by type:
THEME | ACTOR | DIRECTOR | TIME PERIOD | GENRE | COUNTRY | SPECIAL INTEREST | FUNNY
See the A – Z of films featured on Top 10 Films / Check out our film review database