[ad#Google text Ad – square no border]
Adam Sandler has become a love-it-hate-it figure thanks to a collection of tenacious characters and a filmography featuring both the good and the bad of modern Hollywood comedy.
Sandler got his big break on Saturday Night Live before breaking into movies. One of his earliest appearances was in rock n roll comedy Airheads where he played an unruly drummer alongside Steve Buscemi and Brendan Fraser. But Sandler didn't hit the big time until 1998 when he played the unlucky-in-love Robbie Heart in The Wedding Singer. The film's success propelled him to career as an A-list comedy performer and he followed the film with a string of commercial successes including The Waterboy, Big Daddy and Mr. Deeds.
Despite him having a host of Worst Actor nominations from the Razzies, Sandler has shown glimpses of a talent that goes beyond throwaway comic roles. As well as his talents as a musician (he wrote the original songs he performs in The Wedding Singer), a writer (he has co-written many of his movies) and producer (forming Happy Madison, a film and television company in 1999), he has provided us with some marvellously idiosyncratic and authentic dramatic performances such as those seen in Paul Thomas Anderson's Punch-Drunk Love and Mike Binder's Reign Over Me. As a fan of the actor I hope he continues to make an eclectic mix of films. Here's his ten best films so far.
10. Airheads (Lehmann, 1994)
One of Adam Sandler's earliest feature films, he takes a backseat to Brendan Fraser who leads a rock band that take a local radio station hostage in order to get airtime for their latest song. This amusing music comedy is the sort of post-adolescent coming of age story of twenty-something males who failed to come of age with the rest of their generation.
9. Anger Management (Segal, 2003)
One of the best Sandler comedies of the 2000s, Anger Management plays to the actor's greatest tendencies – kinetic energy and raw emotion. Here he is Dave Buznik, a guy who has to take anger management lessons from Dr. Buddy Rydell (Jack Nicholson) after an altercation on a plane. The film benefits from a terrific comic pairing of Sandler and Nicholson and a great support cast including Luis Guzman, Woody Harrelson, John Turturro and Marisa Tomei.
8. Billy Madison (Davis, 1995)
Billy Madison was Sandler's introduction to feature films as writer and actor. The film sees a raw talent emerging with Sandler playing the titular title character who decides to retake all the school grades from 1 to 12 in 24 weeks to win the respect of his father and prevent the family company being taken over by vice president Eric Gordon (Bradley Whitford). This fish out of water story allows Sandler to have plenty of fun playing the big kid amongst lots of little people. He is ably supported by the beautiful future Mrs Pete Sampras – Bridgette Wilson.
7. Click (Coraci, 2006)
Adam Sandler enters the fantasy-comedy genre in Click, a film about a family man who is given a remote control that has the ability to control time. This fun film also has touching moments and the support cast, which includes Kate Beckinsale and Christopher Walken, is excellent.
6. Spanglish (Brooks, 2004)
Although considered a box office bomb since it was over $20 million short of recouping its $80 million budget, Spanglish remains one of Sandler's more affecting, intelligent films thanks to the skill of writer/director James L. Brooks.
5. Big Daddy (Dugan, 1999)
1999 was the year the Sandler brand was at its most profitable. After popular successes with The Wedding Singer and The Waterboy Sandler knew he had to deliver another likeable comedy that could appeal to the masses. Big Daddy was that film, a watered down Sandler performance and a straightforward story of a thirty-year old loser who, having shied away from responsibility much of his life, now has to care for the child of his elusive roommate. Yet, despite Sandler keeping his most expressive eccentricities in check, Big Daddy is the actor's most accessible film. It is therefore one of his most entertaining movies that will appeal to the widest possible audience.
4. Happy Gilmore (Dugan, 1996)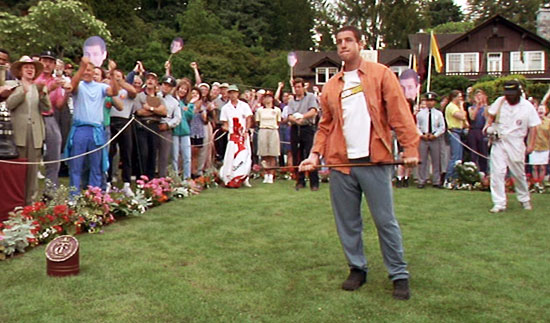 Happy Gilmore was the film that established Adam Sandler as a star in the making. After the relative success of Billy Madison and small roles in Airheads and Mixed Nuts, Sandler finally had a film that could highlight his skills as a comic actor and writer. Happy Gilmore sees a juvenile, outwardly emotive character Sandler (the very traits that would become the Sandler trademark) switch hockey for golf when his grandmother needs $200,000 to prevent the government repossessing her home. Happy, his powerful hockey skills in tow, finds that he can drive a golf ball further than any of the pros, becoming the scorn of the number one ranked Shooter McGavin (Christopher McDonald). All Happy needs to do to hone his skills is learn how to putt. Sandler is great in the role of Happy Gilmore, angry young man with a kind heart. Its obvious to see why Sandler's brand of comedy would become popular – he's vulnerable but stands up for himself, and in every character he's created, there's a warm heart at the centre.
3. Punch-Drunk Love (Paul Thomas Anderson, 2002)
Very different from anything Adam Sandler had done before, some questioned director Paul Thomas Anderson's decision to cast the comedian in the role of Barry Egan, a socially dysfunctional individual who against all odds finds companionship and love. But credit has to go to the director for believing Sandler was right man for the role. In hindsight it was a brilliant decision, and the role won Sandler a few new fans. Indeed, when looking at the character of Egan – a powder keg of heightened emotion – it's obvious why Anderson saw Sandler as the ideal candidate given the juvenile, heart-on-sleeve nature of his comic creations.
2. The Wedding Singer (Coraci, 1998)
The Wedding Singer marks Adam Sandler riding the crest of a wave. Off the back of two successes with Billy Madison and Happy Gilmore in both a writer-actor capacity, Sandler brought together the comedic attributes that made his previous films tick with the commercial viability of straightforward romance. Of course, he would provide The Wedding Singer with enough originality to propel it above the average mush-fest.
Playing Robbie Hart, a small time rocker turned wedding singer, he is jilted at the alter when his fiancée fails to turn up. Sandler relocates his late 1990s film to the mid-1980s with a suitably selected eighties soundtrack. He even throws in some delightful songs of his own such as the love-hate break-up song he sings to new love interest Drew Barrymore when she's rehearsing wedding singers for her own trip down the aisle, and the lovely acoustic number he seduces Barrymore with on a flight to Las Vegas (with the help of eighties pop-rock icon Billy Idol).
Adam Sandler delivers what was his best performance to date. He mixes the angry, juvenile tantrums that saw Billy Madison and Happy Gilmore bring him a legion of fans, with more down to earth posturing highlighted by his own original music and a real chemistry between him and Barrymore. The film is certainly aided by the delightful Miss Drew, but it is perhaps Sandler's performance behind the microphone that merits watching The Wedding Singer on repeat.
1. Reign Over Me (Binder, 2007)
Mike Binder's touching post-9/11 drama about a New York urbanite's psychological breakdown following the deaths of his wife and children in the terrorist attack of 2001 is a moving, honest and heartfelt depiction of one of those left behind.
The film never dwells on the atrocities committed on September 11th 2001, they are the unspoken backdrop to a man's deep-rooted and overwhelming sadness. That a comedian known for his outlandish humour and character-based sketches can bring to the screen a man whose sense of fun has long since diminished is testament to Adam Sandler's skill as an actor He had already proven he could handle more dramatic roles in Paul Thomas Anderson's brilliant Punch-Drunk Love, but Sandler's performance in Reign Over Me eclipses even that.
In Reign Over Me Sandler plays Charlie Fineman, a dentist who watched on television the deaths of his family when the plane they were travelling on hurtled into one of the Twin Towers. From that day forth he has shutdown. Ignoring his in-laws and quitting work, he spends time continually redecorating his kitchen and playing video games. He has forcibly removed his past from memory. That is until old college roommate Alan Johnson (Don Cheadle) happens across him in the street. A friendship begins that could bring Charlie out of his slumber. But how painful will the journey be?
Reign Over Me is a terrific film. It has all the elements that make for great drama – an emotionally charged story, characters that have depth, some delightfully funny moments as well as some tragic ones. If Adam Sandler ever needed to prove he had range, this film is proof positive he can take on any role he puts his mind to.
Written and compiled by Daniel Stephens.
Discover More on Top10Films.co.uk:
Search our collection of Top 10 lists sorted by type:
THEME | ACTOR | DIRECTOR | TIME PERIOD | GENRE | COUNTRY | SPECIAL INTEREST | FUNNY
See the A – Z of films featured on Top 10 Films / Check out our film review database