After looking at Tom Hanks' brilliant movies from the 1980s it was only a matter of time until we got around to the next two decades in the great actor's career.
Admittedly, Hanks is one of my favourite actors. He's such a likable personality off screen that it's difficult not to fall for his indomitable charm. And that is displayed in all its glory on screen – especially in the 1980s comedies he was renowned for before the post-Oscar-winning period set in. But his work as a so-called 'serious' actor has only got better, and, without forgetting his comedy roots, he has maintained a streak of funny roles in some of the 1990s and 2000s most well-known films.
And that is perhaps why he is an actor worth focusing on. If you were to name the most iconic characters of the 1990s or 2000s, I bet out of the top 20, Hanks would appear at least once. Think of Jim Lovell from Apollo 13, Woody in Toy Story, Robert Langdon from The Da Vinci Code and of course Forrest Gump. Yet, while comedy stood out for the Californian-born actor during the first decade of his career, it was Oscar glory for his moving performance as AIDS suffered Andrew Beckett in Philadelphia that prompted him to take on more dramatic roles. Forrest Gump, Apollo 13, That Thing You Do, Saving Private Ryan, The Green Mile, Cast Away, Road To Perdition and Catch Me If You Can all followed with Toy Story being Hanks' only strictly comedic movie. That did change in 2004 when he appeared in Steven Spielberg's hugely entertaining The Terminal in which he provided his funniest performance since 1989's The Burbs.
Throughout a career spanning over thirty years, Tom Hanks has shown not only versatility but longevity. He is a Hollywood film star who has retained a wholesome image and a long relationship with quality material. He has a knack of choosing the best scripts and directors to work with, and knows intrinsically the types of roles that will propel him to the top of the box office. Here is his top 10 films 1990 to 2010.
10. A League of Their Own (Marshall, 1992)
Penny Marshall and Tom Hanks re-team after their first collaboration in the 1980s classic Big. Hanks is clearly at ease with Marshall and his performance is the highlight of a likable comedy about women's baseball during the latter stages of the second world war.
9. Joe Versus The Volcano (Shanley, 1990)
A minor cult classic, Joe Versus The Volcano doesn't quite fit with the style of films Tom Hanks was well known for at the time and subsequently struggled to find an audience on release. But since then it has gained cult status on home video thanks to director John Patrick Shanley's offbeat script and direction. The film remains an obscure, off-centre look at an everyman who quits his job to experience life to its fullest after being told by his doctor he has an incurable disease. It plays on the traits of the yuppie-in-peril movie that became popular in the late 1980s, and sees the titular Joe meet an assortment of characters on his journey from New York to Los Angeles and on to his final destination on a remote island in the Pacific.
8. Cast Away (Zemeckis, 2000)
Aside from featuring one of the most harrowing, visually and aurally spectacular plane crashes ever committed to celuloid, Cast Away displayed an actor willing to go the extra mile for his craft. Tom Hanks put on weight for the role as Chuck Noland, the time-obsessed systems analyst for FedEx. When his plane crashes leaving him lost and alone on an unpopulated island, he pieces together a life for himself from the wreckage made up principally of the FedEx packages the aircraft was carrying. Noland is stuck on the island for four years and subsequently Hanks had to lose substantial weight to show his lack of nourishment and the passing of four long years. It was the first and only time Hanks has gone to such method acting lengths for a role. It is his sheer passion for the film, and the fact he carries it almost entirely alone, that makes it worthy of a place on this list.
7. The Terminal (Spielberg, 2004)
The Terminal features Tom Hanks' funniest role since the 1980s as Viktor Navorski, a foreigner forced to live at JFK International Airport because of a loophole in immigration law. The film follows Viktor as he tries to acclimatise to his new surroundings. Catherine Zeta Jones is the likable love interest.
Read my full review here
6. Charlie Wilson's War (Nichols, 2007)
Tom Hanks is Congressman Charlie Wilson, a womanising socialite who doesn't always play fair with the law but attempts to clear his conscience by helping the Afghan's in their fight with the Soviets. Tom Hanks' spirited performance makes this complicated story of American foreign policy accessible for all. Writer Aaron Sorkin who wrote the scripts for The Social Network and brilliant TV drama Studio 60 on the Sunset Strip provides the penmanship behind Mike Nichols' direction.
5. The Green Mile (Darabont, 1999)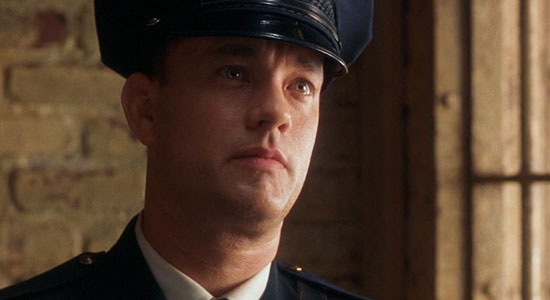 Frank Darabont returns to the epic prison movie to adapt Stephen King's The Green Mile. This whimsical, touching film about Death Row at Cold Mountain Penitentiary mixes emotional drama with fantasy as inmate John Coffey changes the lives of the guards and the inmates with his magical healing ability. Tom Hanks plays Paul Edgecomb, a kindly corrections officer who sees the best in people, including Michael Clarke Duncan's convicted child killer, who he begins to suspect may be innocent. Darabont knows how to layer the sentimentality, and is aided in his quest by one of Stephen King's more melancholic stories but there's plenty to like during the film's three-hour runtime. Michael Clarke Duncan's gentle giant provides the film's most moving hook, while Doug Hutchinson's performance as nasty guard Percy Wetmore is chilling in its villainess.
4. Apollo 13 (Howard, 1995)
,/a>
The story of the ill-fated Apollo 13 space mission sees Tom Hanks going for a third Academy Award for Best Actor in three years. Unfortunately, he wouldn't make it a hat-trick of wins in consecutive years. That is in part due to the ensemble nature of Ron Howard's sugar-coated lunar epic. Apollo 13 may be sentimental but it is a well-constructed story of real life drama and human courage and determination.
3. Philadelphia (Demme, 1993)
Hollywood looked at AIDS and homosexuality with a seriousness unseen before. It was a daring project in many ways, not least for Tom Hanks who had never played such a tragic character before. However, his performance is exemplary, one of many reasons why the film was lavished with praise. He won the Academy Award for Best Actor for his portrayal as Andrew Beckett, a lawyer who sues his former employees for unfair dismissal after they learn he is suffering from AIDS. Hanks is superb, undoubtedly one of his finest dramatic performances. The scene in which he slow dances to Rachmaninoff while dictating the story of the music to Denzel Washington is one of the most touching scenes Hanks has performed in.
2. Saving Private Ryan (Spielberg, 1998)
Saving Private Ryan is perhaps best remembered for its blistering, visceral opening, depicting the bloody conflict on Omaha beach during the D-Day invasion. The beach invasion lasts for a harrowing thirty minutes as brave American soldiers try to take control of the coastline against well-armed, well-armoured and well-dug in German infantry. Spielberg displays some of his most skilful photographic direction, utilising the camera in much the same way as a documentary film crew, its movement low and entrenched in the action, its lens frequently peppered with the blood of fallen men. It is a shocking yet brilliant cinematic re-enactment of one of the second world war's most significant events. The film would top many lists based on its opening battle alone, but the much longer fight to protect a bridge that ends the film is just as visually dynamic and equally as powerful. In the midst of gun shots and bloody carnage, Tom Hanks heads a wonderful ensemble cast, leading a group of soldiers from the U.S. 2nd Ranger Battalion on a mission in search of a soldier who has a ticket home.
1. Forrest Gump (Zemeckis, 1994)
[ad#Google text Ad – square no border]
Tom Hanks would make it two Oscar wins in two years with his performance as nice but dim Forrest Gump. Based on the 1986 novel by Winston Groom, Forrest Gump tells the tall tale of a simpleton from Alabama who lives an extraordinary life. Depicting his life from the 1950s until around 1980, we see how Forrest interacts and influences some of America's most significant historical moments, while he learns about life, love and loss along the way.
Some of the film's best bits include director Robert Zemeckis' use of special visual effects to depict Forrest in some of the most iconic scenes of American history. Namely, he appears on the Dick Cavett show alongside John Lennon, witnesses and exposes the Watergate scandal, and meets President's Kennedy, Nixon and Johnson. He also takes part in key movements of American culture such as civil rights and the integration of America's segregated schools, anti-war rallies during the Vietnam war, and Vietnam itself. One of the film's greatest attributes is the visual effects of Ken Ralston and his team at Industrial Light and Magic who were able to take archived television footage and place Tom Hanks within the scene. This enabled them to achieve such effects as seeing Hanks physically interact with people such as John Lennon and John F. Kennedy.
But the most remarkable element of the film is Tom Hanks. The journey he takes with Forrest through twenty years of history is a lot of story time for an actor to take on. Hanks achieves the feat, making Forrest's simple ways a lovable and endearing route to the character's oversized heart.
See also:
Top 10 Tom Hanks Films of the 1980s
Reader's Choice: Favourite Tom Hanks film of all time
Written and compiled by Daniel Stephens.
Discover More on Top10Films.co.uk:
Search our collection of Top 10 lists sorted by type:
THEME | ACTOR | DIRECTOR | TIME PERIOD | GENRE | COUNTRY | SPECIAL INTEREST | FUNNY
See the A – Z of films featured on Top 10 Films / Check out our film review database