Just 24 hours to tell a story. These great films, from courtroom drama 12 Angry Men to comic caper Quick Change, have a beginning, middle and end that all occur in a single day.
24 made the single day narrative a television event. Every week viewers would spend another hour in the life of CTU agent Jack Bauer (Kiefer Sutherland), a James Bond-like hero who would fight more peril in one day than Superman in a lifetime.
We were on the edge of our seats even though we knew that Bauer would never succumb to his tormentors. Bauer would literally be shot, stabbed, beaten up, blown up, be hit by a car, and at one point actually killed only to come back to life and continue the mission, all the while staying on cue to deliver the next plot twist.
24 is a real time drama that takes the concept and runs with it all the way to the end zone and into the crowd. It's fiction in the grandest sense. But often single day dramas are quite the opposite – they use the limited story time to create uniquely immediate and relevant tales. Witness Spike Lee's bold and brash Do The Right Thing and Quentin Tarantino's minimalist Reservoir Dogs, or the tense jury room of Sidney Lumet's 12 Angry Men. Films that rely on their authenticity, but use the limited time period to magnify the pressure cooker suspense.
The narrative device works particularly well to develop tension, a clear reason why 24 works so well, but also why films such as Carol Reed's Odd Man Out, Lumet's Dog Day Afternoon and Joel Schumacher's Phone Booth have audiences on the edge of seats.
It is also perfect for character-based films where character development has to occur over a short period of story time. There's no lost time – in the single day film there's no "10 Years Later…", or lengthy passages of story we don't see. We're with these characters and the audience is directly involved with the events of their day. It works to generate character depth in thrilling drama like Dog Day Afternoon and Reservoir Dogs, just as well as it does in straight-forward comedy like Mallrats and Clerks, and in the coming-of-age drama The Breakfast Club.
In the single day film there's a real sense we've got to know these characters we've invested our time in.
Take a look at our Top 10 Films set in a day. Which film is your favourite? What other single day films would you recommend? – SEE ALSO: Top 10 Films set over one night
10. Mallrats (Smith, 1995)
Kevin Smith's superb follow-up to Clerks is set a day before his debut film. It sees comic book nerd Brodie (Jason Lee) and his best friend T.S. as they spend the day at the mall after T.S. breaks up with his girlfriend over her proposed appearance on a cheesy dating game show. Very funny, very well scripted, great cast.
9. Do The Right Thing (Lee, 1989)
This critically acclaimed film from Spike Lee looks at a day in the lives of a group of inhabitants of a small neighbourhood in Brooklyn, New York. During a hot summer's day, tensions rise and cultures class in this film about identity, tradition and ideals in a multicultural community.
8. Odd Man Out (Reed, 1947)
James Mason delivers a gritty performance as an Irish criminal on the run from police after a robbery. The film follows his increasingly troubling day and night following the robbery as he tries to evade capture.
7. A Single Man (Ford, 2009)
Colin Firth delivers the performance of his career in Tom Ford's film about a depressed British university professor who proclaims at the beginning of the film that he will commit suicide that very evening.
6. Quick Change (Franklin/Murray, 1990)
This underrated comedy-drama about three bank robbers trying to escape the country was actor Bill Murray's first, and currently only, attempt at direction. His lack of experience doesn't show as he teams with Geena Davis and Randy Quaid in a mad dash across New York City to get to the airport and the plane that will get them away from the law. The film features a great script and crucially Bill Murray's finest comedic performance.
5. Reservoir Dogs (Tarantino, 1992)
After a botched diamond heist a group of gangsters head to the rendezvous point to survey their losses. Holed up at a warehouse the gangsters, who are only ever named by their code names, lick their wounds and try to discover who has set them up. A superb script with sizzling dialogue and some strong performances make Reservoir Dogs arguably Tarantino's best film. Again, the film is blessed with a great soundtrack, with Steelers Wheel "Stuck In The Middle" sticking in the memory thanks to it played over a particularly iconic scene involving Michael Madsen and a severed ear.
See more: Top 10 Single Location Films
4. Dazed and Confused (Linklater, 1993)
Richard Linklater is the master of single day/night films (witness Tape, Before Sunset, Before Sunrise) but Dazed and Confused might just be the best. The film follows the lives of a bunch of high school students on the last day of term circa 1976. Another great soundtrack accompanies the ensemble coming of age antics.
3. The Breakfast Club (Hughes, 1985)
The seminal high school drama from writer-director John Hughes is set across the nine long hours five students face when in Saturday detention. Hughes uses teenage stereotypes to present to cross-section of high school life in 1980s America. It's a funny, endearing and relevant film about growing up and breaking boundaries, with the period approaching adulthood in young people's lives given the respect it deserves by a director who knew how to tap into the teen market. Great soundtrack too.
See also: Top 10 Single Location Films
2. Dog Day Afternoon (Lumet, 1975)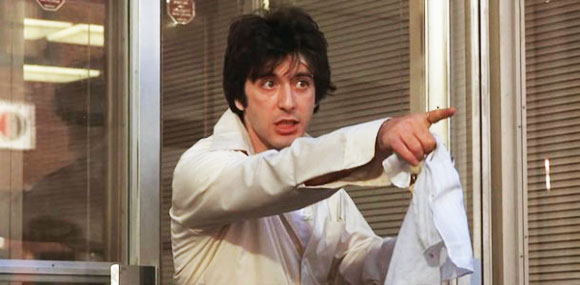 Sidney Lumet really knows how to create tension and drama within small spaces. In 12 Angry Men he did it in a single room, in Dog Day Afternoon he accomplishes it a bank. Al Pacino delivers his finest performance as Sonny Wortzik, a down-on-his-luck blue collar guy, who decides the only way to a better his life is to rob a bank. It all goes wrong but, during the course of the day, he becomes an anti-establishment hero as the media frenzy outside the bank grows.
1. 12 Angry Men (Lumet, 1957)
Easily one of the greatest films ever made, Sidney Lumet's taut, tightly scripted and brilliantly performed film takes place entirely in the jury room of a court house as the jurors deliberate over a murder case. The amazing thing about the film is that it's as exciting as any action-adventure yet Lumet's camera remains restrained and relatively unmoved, and the action is little more than people sat around a table discussing the plausibility of the prosecution's case. Perhaps what really makes the film work is its real-time story – it's compact, the dialogue is exceptional in the way it establishes character and keeps the plot moving, and the performances are top notch. There is nothing to criticise about this masterpiece – it's perfect and one of the greatest American movies ever made.
See also: Top 10 Single Location Films
Discover More on Top10Films.co.uk:
Search our collection of Top 10 lists sorted by type:
THEME | ACTOR | DIRECTOR | TIME PERIOD | GENRE | COUNTRY | SPECIAL INTEREST | FUNNY
See the A – Z of films featured on Top 10 Films / Check out our film review database