Werewolf movies have gone from the sublime to the ridiculous. For every An American Werewolf In London there's a My Mom's A Werewolf to brings us back down to earth. Here's the 10 best.
The werewolf movie. A genre that has stuttered its way through the decades with films ranging from the sublime (An American Werewolf In London) to the distinctly average (Cursed) to the ridiculous (My Mom's A Werewolf). There has always been something more terrifying about the werewolf than its more popular mythological cousin the vampire, but whereas the bloodsuckers have been shown in all manner of lights (from comedy to character-study to postmodern revisionism) the werewolf has continued to get a bad reputation. And much of that has been down to its unfairly poor showing on the big screen.
Unlike the vampire, which has turned up in various guises from romantic love interest (Twilight) to the homeless savage (Near Dark), the werewolf has had to manage with moonlit excursions into dark alleys for dinner of human arm for starter followed by heart and lungs for main. Perhaps writers just haven't found the scope in the mythological character to pursue interesting and unique stories. But a few have appeared such as the seminal horror-comedy An American Werewolf In London, the teenage-angst and sexual frustration of Ginger Snaps, the detective murder-mystery found in Wolfen, and the bedtime fable The Company of Wolves.
More on Top10Films.co.uk that you might like: Top 30 Horror Films 1967 to 1979 | Top 10 Horror Film Beginnings | Top 10 Modern Vampire Films
What are your favourite werewolf movies? Let us know in the comments below.
10. Curse of the Werewolf (Fisher , 1961)
Hammer Films' attempt at the werewolf movie sees Oliver Reed grow a hairy beard and stomp around Bray Studios trying to eat human flesh. This convoluted tale isn't without its highlights, especially Oliver Reed's performance as the cursed Leon.
Discover More: Exclamation Mark review
9. Teen Wolf (Daniel, 1985)
Michael J. Fox becomes a hairy beast in this family-friendly coming-of-age story that arrived at a time when teen comedy was at the heights of its power. Amidst the John Hughes and Savage Steve Holland movies, Teen Wolf stuck in to show high school life from the point of view of a teen who can't help but howl at the moon. Teen Wolf steps on similar ground as Ginger Snaps but has a much lighter tone, in that the werewolf curse afflicts the boy when he reaches a certain age thanks to his Dad being a werewolf too. It's silly stuff and diverts into a sports movie by the end but Teen Wolf will remain a favourite for 1980s audiences wanting a dose of nostalgic high school comedy.
Discover More: Silver Emulsion review
8. The Company of Wolves (Jordan, 1984)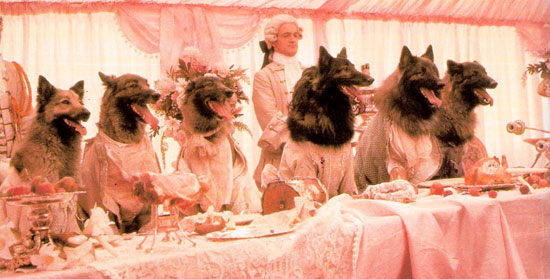 Based on Angela Carter's short story, Neil Jordan's dreamlike fantasy film takes on a fairytale narrative that concludes with a very moralistic message. The Company of Wolves is like none of the other werewolf movies on this list but its influence can be seen in the teenage turmoil that resurfaces in Ginger Snaps.
Discover More: Bright Lights Film Journal
7. Dog Soldiers (Marshall, 2002)

See my full review
Dog Soldiers would inevitably be higher on this list if it had an original bone in its hairy body. This entertaining, fast-paced, tongue-in-cheek werewolf movie sounds like a lot of fun (guys with guns fighting a pack of man-hungry werewolves) and is a lot of fun but borrows heavily from werewolf films such as The Howling and Silver Bullet and other action-horror's such as Aliens, Predator and even The Blair Witch Project. At times I'm left wondering what is a homage and what is a rip-off.
When a team of British soldiers find their training mission cut short by a deadly attack from a group of angry lycanthrope, they ditch the blanks for live ammunition and hide out in a secluded cottage. But soon the werewolves are circling the insecure haven and the tired infantry men are running out of bullets.
Discover More: Cinefantastique review | Live For Films interview with the guy in the suit Leslie Simpson
6. Wolfen (Wadleigh, 1981)
1981 was a great year for werewolf movies. Wolfen takes a different stance on the werewolf myth, shedding much of the traditional conventions for a more modern look at the beast. Indeed, some critics say it isn't a werewolf movie at all but if you like the genre you'll like this great film. Significantly, it features one of the earlier uses of an in-camera effect similar to that used in Predator to display the perspective of the werewolves themselves. Wolfen is essentially a murder-mystery detective story set in New York. Albert Finney is great as detective Dewey Wilson who is given the unenviable task of unearthing the culprit behind a series of bizarre murders.
Discover More: From New York to San Francisco
5. The Howling (Dante, 1981)

Joe Dante's attempt at a werewolf movie fails to reach the amusing delights of some of his other horror-comedies, taking more of a straight-edged tone and paying homage to some of the genre's classic conventions. He does find time to satirise the media and there's some genuinely frightening moments. The opening sequence in which a news reporter tries to trap a psychotic is nail-biting stuff.
Discover More: Gruesome Details review | John of the Dead review
See also: Top 10 Zombie Films
4. The Wolf Man (Waggner, 1941)
One of the earliest werewolf movies and still one of the best, The Wolf Man takes the werewolf myth established six years earlier in Universal's Werewolf of London and adds the silver bullet element to the story. With a fantastic cast that included Lon Chaney Jr., Claude Rains, Ralph Bellamy and Bela Lugosi, The Wolf Man is classic werewolf movie which has had a major influence on the genre ever since.
Discover More: Classic Horror.com review | Notes on the 2010 remake at The Movie Blog
See also: Top 10 Scariest Films Ever Made
3. Silver Bullet (Attias, 1985)

See my full review
Renowned horror writer Stephen King tries his hand at the werewolf genre and creates an original story that borrows from werewolf traditions while finding some new ones. Corey Haim is a paraplegic child living in the small town of Tarker's Mills. A spate of murders have been occurring and the townsfolk are sniffing blood. But Haim thinks he's onto something when he gets attacked by the werewolf, escaping thanks to firing one of his fireworks into the creatures eye. Now all he has to do is find the person in town with one eye to reveal the werewolf's identity. Silver Bullet mixes humour with horror to great effect. One super scene – that was nicked by Neil Marshall for his homage/rip-off movie Dog Soldiers – sees a burly beer guzzler searching the forest with his trusty baseball bat. When he happens across the werewolf he tries to attack in vain. We see a haze of murky smoke and the frantic shuffle of trees as a hairy werewolf arm reaches into the night air, the baseball bat in its clutches, and brings it down on the man with a bone breaking thud.
See also: Top 10 Stephen King Film Adaptations
2. Ginger Snaps (Fawcett, 2000)

See my full review
Werewolf lore meets teenager hormones in John Fawcett's modern day take on the genre. Sisters Ginger and Brigitte find themselves in a spot of trouble after Ginger gets attacked by a werewolf and begins to slowly change into the bloodthirsty beast. Brigitte frantically tries to find a cure but Ginger's appetite for human flesh is growing and time is running out. Ginger Snaps offers an original look at the coming of age teen drama through the trappings of a werewolf curse. It makes for a interesting and suitably gory horror film that is a cut above the teen horror movies of the late 1990s and 2000s.
Discover More: The Soothsayer Never Sleeps review
See also: Top 10 Scariest Movie Scenes
1. An American Werewolf In London (Landis, 1981)
John Landis' 1981 werewolf movie sits at the top of most werewolf lists for good reasons. It is, without any doubt, the finest werewolf film ever released thanks to a wry sense of humour, a sparkling, original script, some astonishing make-up and prosthetic special-effects, and Landis' foreboding, icy cold sense of direction that makes fantastic use of the English setting (including London and the countryside moors where the first werewolf attack takes place). Landis also concocts a horror-comedy, the first of its kind, that makes complete use of both genres. The film is at once funny and frightening, making both extremes more effective. An American Werewolf In London also features the best werewolf transformation scene thanks to David Naughton's spirited performance and Rick Baker's sensational use of make-up and prosthetics. And, of course, we must not forget Griffin Dunne's slowly decaying corpse who turns up to scare both Naughton and the audience throughout the film, as well as Landis' inspired use of moon-related rock and blues songs for the soundtrack.
Discover More: Mutant Reviewers review
See also: He'll make you laugh, then he'll make you scream: The Films of John Landis | Top 10 John Landis Films | Top 10 Horror Films of the 1980s
Written and compiled by Dan Stephens.
For all the latest top 10s, reviews and competitions follow Top 10 Films on Twitter!
Your turn – what are your favourite werewolf movies?
See more Top 10s: Horror (1980s) | Horror (2000s) | Horror (1967-1979) Part 1 – 30-21 | Horror (1967-1979) Part 2: 20-11 | Horror (1967-1979) Part 3: 10-1 | Horror (Beginnings) | Horror (Friday the 13th movies) | Horror (Goriest Scenes) | Horror (Modern Vampire) | Horror (Scary characters in kid's films) | Horror (Scariest films ever made) | Horror (Scariest Monsters) | Horror (Scariest Scenes) | Horror (Slasher Films) | Horror (Werewolf) | Horror (Zombies)
Discover More on Top10Films.co.uk:
Search our collection of Top 10 lists sorted by type:
THEME | ACTOR | DIRECTOR | TIME PERIOD | GENRE | COUNTRY | SPECIAL INTEREST | FUNNY
See the A – Z of films featured on Top 10 Films / Check out our film review database