Polished like a new penny, visually audacious and peppered with nightmarish revelations, Final Cut promises to be Francis Ford Coppola's legacy.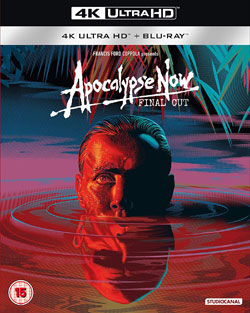 No individual review will ever do this film justice. Mythologies have been built, documentaries made and people vindicated over Apocalypse Now for forty years. None more so than writer, director and confirmed maverick of seventies cinema Francis Ford Coppola. For anyone who claims to love film this is one amongst a select group which has Grail like qualities. It speaks to the creative part of anyone who has ever written, watched or considered cinema as a career.
I say cinema because this Final Cut which follows on from the kitchen sink approach of Redux apparently gives us Coppola's definitive version. Polished like a new penny, visually audacious and peppered with nightmarish revelations, Final Cut promises to be his legacy. Following Martin Sheen's Willard down a meandering river in pursuit of Brando's Kurtz, at times there is a sense that these actors lived rather than portrayed their characters. Amongst the numerous additional extras spread over three discs is Eleanor Coppola's fabled documentary shot during filming.
It conveys with more immediacy exactly what Coppola went through making this movie. Actors turned up unprepared, principal players were sacked while others almost died; then there is the film itself. Helicopters flying off mid-scene, illicit affairs being carried on and all the time studio pressure being applied to a director who put up his own house as collateral to continue shooting. This is before studios applied strategy, test audiences and committees when greenlighting projects. Apocalypse Now was the brainchild of legendary screenwriter John Milius and Coppola who were at the forefront of seventies cinema, but represented an independence everyone craved. Amongst other things Final Cut and the triumph of this film in Cannes that year symbolised this freedom.
In a time where superheroes rule the box office this is a reminder that true originals still exist. Some people said that when Coppola came back he was a different man, somehow bereft of that spark that had been lost somewhere in the jungle during filming. That he never attained that level of creative freedom again is undeniable, yet his reputation over forty years has continued to gain momentum. Coppola may have made some studio films for the cash, sacrificed his principles to further other projects but he is not the first to have done so.
This version like every other one before it is essential viewing. Ownership is mandatory and filmmaking lessons are there to be learned. Study, appreciate and apply what Coppola left behind in the Philippines forty years ago. As someone once said: "the first ones through the wall always get bloody".
Directed by: Francis Coppola
Written by: Francis Coppola
Starring: Marlon Brando, Robert Duvall, Martin Sheen, Frederic Forrest, Albert Hall, Sam Bottoms, Laurence Fishburne, Dennis Hopper
Released: 1979 / Genre: War
Country: USA / IMDB
More reviews: Latest | Archive
Apocalypse Now Final Cut was released on DVD, Blu-ray and 4K in the UK on September 30, 2019. New additional features include an introduction to Final Cut by Francis Ford Coppola, Tribeca Film Festival Q&A with Francis Ford Coppola and Steven Soderbergh, Super 8mm Behind-The-Scenes Footage, and featurettes Dutch Angle: Chas Gerretsen & Apocalypse Now, Apocalypse Now: Remastering A Legend In Dolby Vision and Dolby Atmos, Apocalypse Now: A Forty Year Journey, and Sensual Sound Technology from Meyer.