Alan Parker's magnificent psychological horror Angel Heart hasn't looked this good since it was first theatrically released in 1987.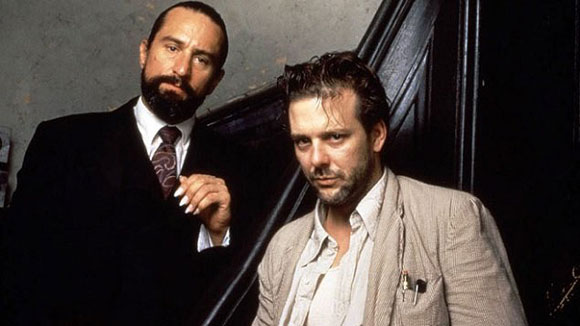 Intricately restored by experts Silver Salt, and overseen by the film's director Alan Parker, this unsettling psychological horror Angel Heart has never looked so good. Given that a significant part of the film's appeal is the cinematography of Michael Seresin (who was surprisingly ignored by the Oscars), his wonderful off-kilter framing and dreamy contrasting light has a clarity audiences won't have experienced before.
Parker's neo-noir approach to this tale of the occult, black magic and the devil brings the appeal of British folk horror to a slice of fifties Americana. It makes for a truly unique thriller featuring one of Mickey Rourke's finest career performances (alongside a oddly camp Robert De Niro).
The new home video release gives audiences the chance to see the new 4K restoration on DVD, Blu-ray or Digital as well as via a 4K UHD release.
Painstakingly processed, over 200 hours of manual frame-by-frame fixes have been carried out. Senior colourist, Steve Bearman optimised the distinctive shadows and framing through the additional range of HDR, significantly contributing to Parker's aesthetic desire to see light and dark contrast harshly with one another.
Added attention was given to the film's special effects with an additional pass used to remove persistent negative dirt and added general stability to the image. This ambitious restoration project was approved by Parker himself.
This deeply disturbing film will be released with a special 48-page booklet written by Parker, offering audiences a glimpse behind-the-scenes. Other features include an Alan Parker interview excerpt from Cinéastes des années 80, audio commentary with the director, and an archival introduction (recorded for the original DVD special edition a few years ago) to the film by the director.
ALAN PARKER APPROVED 4K RESTORATION RELEASED ON DIGITAL, DVD, BLU-RAY and 4K UHD ON OCTOBER 14TH 2019