With Angel Heart recently enjoying a 4K restoration, it's an appropriate time to take a look at Alan Parker's greatest work including Midnight Express, Birdy and Mississippi Burning.
Sir Alan Parker began his career as a copywriter and director of award-winning TV adverts and went on to conquer Hollywood as a producer, screenwriter and director. His films have won nineteen BAFTA awards, ten Golden Globes and six Academy Awards. One of Parker's best-loved films, the neo-noir classic Angel Heart has recently enjoyed a 4K makeover following an ambitious restoration project overseen by Parker himself.
To celebrate we take a look at ten of Alan Parker's best films from his screenwriting debut on Melody to Angela's Ashes.
Melody (1971)
Melody was Alan Parker's first film script and David Puttnam's first production. Directed by Waris Hussein it featured songs by the Bee Gees that Puttnam had bought the rights to. Parker came up with a story loosely based on his childhood school experiences, incorporating the songs, and Jack Wild and Mark Lester (straight from the huge success of Oliver!) were cast along with Tracy Hyde as Melody. When youngsters Daniel and Melody fall in love, they decide they want to get married right away. Undeterred by the objections of parents and teachers, they and their friends plan a secret wedding which leads to a raucous showdown with the grown-ups.  Told entirely from the children's point of view Melody is still fondly remembered and has many famous fans including Wes Anderson whose 'Moonlight Kingdom' was inspired by the film.
Bugsy Malone (1976)
In 1976 Alan Parker made his directorial debut with the joyous Bugsy Malone, a musical gangster comedy with every part played by child actors. Starring Jodie Foster and Scott Baio, the film tells the story of the rise of "Bugsy Malone" and the battle for power between "Fat Sam" and "Dandy Dan" as they fight it out with fake guns firing whipped cream instead of bullets. A huge success in the UK and winner of three BAFTA Awards, the film is still a firm favourite with adults and children alike.
Midnight Express (1978)
Based on Billy Hayes' non-fiction book and adapted for the screen by Oliver Stone, Midnight Express was directed by Alan Parker and produced by David Puttnam. Hayes was a young American student sent to a Turkish prison for trying to smuggle Hashish and was portrayed in the film version by Brad Davis. The film was a commercial success and positively reviewed on its release with many praising Davis' performance and Parker's direction. However, Hayes criticized the film for deviating from his original story and Midnight Express has become infamous for its portrayal of the Turkish prison men as violent and villainous.
Fame (1980)
Apparently not put off of working with young actors in big musical numbers after Bugsy Malone, Alan Parker was brought in to direct the iconic Fame in 1980. Set in New York City, it chronicles the lives and hardships of students attending the High School of Performing Arts, from their auditions to their freshman, sophomore, junior and senior years. After he was hired to direct the film, Parker rewrote the script aiming for a darker and dramatic tone. Its huge success spawned a media franchise encompassing several television series, stage musicals and a remake released in 2009.
Birdy (1984)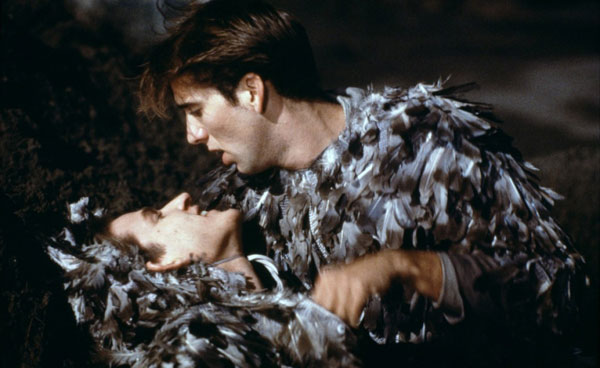 Birdy was based on William Wharton's novel of the same name and starred Matthew Modine and Nicolas Cage. Set in 1960s Philadelphia, the film focuses on the friendship between two teenage boys, Birdy (Modine) and Al Columbato (Cage) following their return from the trauma of the Vietnam War. Parker initially turned down the opportunity to direct, believing that the complex book could not be successfully adapted for a feature film but when the project resurfaced in 1982, with a screenplay by Sandy Kroopf and Jack Behr, he changed his mind. Birdy is notable for being the first film to be partially shot with the Skycam, a computer-controlled camera system created by Steadicam inventor Garrett Brown.
Angel Heart (1987)
Angel Heart starred Mickey Rourke in his seminal leading role and Robert De Niro as well as a controversial appearance from Lisa Bonet who was at the time still in The Cosby Show. Written and directed by Parker, Angel Heart was based on the William Hjortsberg novel Falling Angel and follows private investigator Harry Angel (Rourke) who is hired by Louis Cyphre (De Niro) to track down a singer named Johnny Favorite.  Angel's investigation takes him to New Orleans, where he becomes embroiled in a series of brutal murders. A prime example of late eighties neo-noir, Angel Heart successfully manages to blend elements of detective fiction with dark horror.
Mississippi Burning (1988)
Mississippi Burning starred Gene Hackman and Willem Dafoe as two FBI agents investigating the disappearance of three civil rights workers in Mississippi amidst the hostility of the town's residents, local police and the Ku Klux Klan. When Parker was hired by the studio to direct, he clashed with the screenwriter and was allowed to make uncredited rewrites. Mississippi Burning received seven Oscar nominations, including Best Picture, and won for Best Cinematography.
The Commitments (1991)
This musical comedy drama was directed by Alan Parker from a screenplay written by Roddy Doyle, Dick Clement and Ian La Frenais. Set in the Northside of Dublin, the film tells the story of Jimmy Rabbitte (Robert Arkins), a young music fanatic who assembles a group of working-class youths to form a soul band named "The Commitments". Parker had signed on as the film's director after reading Doyle's original book. The actors were mostly inexperienced and were hired for their musical ability and resemblance to the characters in the novel. The Commitments won four BAFTA Awards and has subsequently gained cult status.
Evita (1999)
Tim Rice and Andrew Lloyd Webber's Evita'began life as a concept album released in 1976. Alan Parker approached them with the idea of making a film version, but the pair were focused on transferring it to the stage. In 1980 Robert Stigwood, producer of the stage musical, approached Parker to make a film version but by that time he had just completed Fame and did not want to go straight into another musical. The project then became mired in development hell as the rights were passed between the major studios and various directors and actors were considered. It wasn't until 1994 that Parker agreed to make the film from the script co-written with Oliver Stone. Starring Jonathan Pryce, Antonio Banderas and Madonna as Eva Peron, Evita was released in 1996 and went on to win the Academy Award for Best Original Song and the Golden Globe Award for Best Picture – Comedy or Musical, Best Original Song and Best Actress – Comedy or Musical.
Angela's Ashes (1999)
Returning to an Irish story, following The Commitments, Alan Parker co-wrote and directed the film adaptation of Frank McCourt's best-selling memoir of his childhood in Limerick, Ireland in the 1930s and 40s. Starring Emily Watson, Robert Carlyle and Joe Breen, Ciaran Owens and Michael Legge as the young, middle and older Frankie respectively, Angela's Ashes movingly depicts the desperate life of the McCourt family when they return to their native Ireland from the US.  Their financial difficulties and family problems are viewed through young Frankie's eyes who, despite the poverty and squalor, worships his father. It's only as he gets older that he realises how much he has let him and the family down.
ALAN PARKER APPROVED 4K RESTORATION RELEASED ON DIGITAL, DVD, BLU-RAY and 4K UHD ON OCTOBER 14TH 2019