Graham Overton, a film fan from Dunedin in New Zealand, has been playing poker for 15 years. His love of the game, combined with his passion for movies, has prompted him to consider his favourites set in, or inspired by, the casino.
Truth be told, a casino movie is hands down one movie you can always bet on. Pun intended.
Whether it is a talented poker player determined to get the best of their opponents or the underdog wanting to cash in, casino movies takes us on an irresistible, tension-filled adventure. We can't help but fall in love with these risk-taking films that keep us glued to our screens.
Casinos in themselves are an absolute sensation in NZ. The vast majority of players look for casinos online in New Zealand nowadays to play their favourite games such as Online Pokies. And talking of Pokies, I've found some of the best pokies online in Dunedin for you.
In this article we look at my favourite casino movies of all time. 
Casino (1995)
After the huge success of Goodfellas, Robert DeNiro and Joe Pesci decided to join up again in Casino. Now, you and I know that any movie that features these two veterans will have to be good, right?  Based on a true story, Casino narrates the dramatic rise and fall of how the mob built Las Vegas coupled with the story of a love triangle between two mobsters and a trophy wife.
Ocean's Eleven (2001)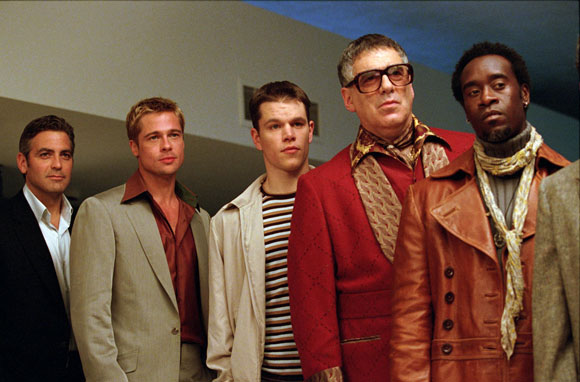 A remake of the 1960s Rat Pack movie of a similar name, Ocean's Eleven narrates the incredible story of eleven professional criminals who are determined to pull off the ultimate heist with $150 million in the vault. All that money is located in three Las Vegas casinos: Mirage, MGM Grand and Bellagio. This is a great casino movie that boasts the sparkling direction of Steven Soderbergh. 
The Cooler (2003)
Lonely single guy Bernie Lootz (William H. Macy) works at a Las Vegas casino. He is uninspired until he realises he has a special ability: he can leverage misfortune to jinx gamblers into losing. When his boss Shelly Kaplow (Alec Baldwin) learns of this talent, he is amused with the arrangement until Bernie falls in love with a waitress and that affects his job and his special talent. Shelly decides to take it upon himself to ruin their relationship.
Casino Royale (2006)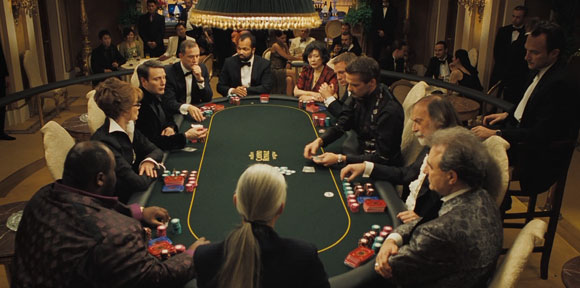 Talk of gambling in style, James Bond knows it best! When he learns that a Le Chiffre who funds a terrorist organisation plans to raise money in a high stakes poker game, the British Secret Service sends 007 to play against him with the sole aim of toppling the organisation – sort of. I'm particularly fond of Casino Royale for a couple of reasons: it's my favourite James Bond film and it was directed a Kiwi (thanks Martin Campbell). 
Croupier (1998)
Sometimes the best movie plots are inspired by real life events and true to this fact, Clive Owen's Jack Manfred comes to learn this fact when he works as a croupier at a casino. It then turns out for the aspiring writer that the life of a casino worker can make an excellent novel and movie. This British neo-noir from 1998 was named as one of Den of Geek's 25 underappreciated movies of 1998 alongside another of my casino favourites – Rounders. 
Article contributed by Graham Overton, a film and poker fan based in Dunedin, New Zealand.