Basketball's popularity in the United States has made it an ideal focal point for a number of American sports movies from inspirational competitive journeys to dramatic character study and knockabout comedy. Here we take a look at five of the best.
Basketball's fans love an inspirational story. Hence, we get films like Coach Carter about a teacher turning a bunch of ambitionless teens' lives around through a combination of academic fist-pounding and hardcore basketball practice.
Or there's Hoosiers and its win-against-all-odds tale of a cradle state's small town high school's route to state championship.
Or there's Glory Road – the true story that looks back at the groundbreaking societal step-forward when the first all-black college basketball starting line-up took to the court in the 1965-1966 season.
Inspiration can come from other avenues as well – Space Jam was all about special effects and Michael Jordan, Teen Wolf was a mix and match of genres with horror-comedy and high school drama being thrust together to tell a story of boy-gets-girl.
Meanwhile, The Pistol: The Birth of a Legend celebrated the short life of the legendary "Pistol" Pete Maravich (whose legacy is briefly championed in this article).
Like America's other popular sports, basketball has been mined for some truly fascinating films that have successfully transcended the sport to appeal to audiences all over the world.
White Men Can't Jump (Shelton, 1992)
A sparkling comedy-drama takes basketball as a stage on which two argumentative competitors can fight for court bragging rights. Wesley Snipes and Woody Harrelson are superb as the warring pair who become fast friends because of their love of the game. Both actors showcase an athleticism that makes it very easy to believe they can accomplish the skills they showcase, the basketball matches enjoying a raw spontaneity that gives them the thrill of live NBA action even if you've seen the film countless times.
Celtic Pride (DeCerchio, 1996)
This lightweight comedy written by Judd Apatow boasts the energy of a cast who are clearly having a blast. A pair of Boston Celtic fans – desperate for their team to triumph in the NBA Finals – kidnap the opposition's All-Star shooting guard in the hope it will sway the balance of power in the all-or-nothing Game 7. Instead of taking their chances by finding the best NBA betting lines here, the amateur villains (played by Dan Aykroyd and Daniel Stern) reason that they're doomed to a prison sentence anyway, so wouldn't it be better to live out their lives behind bars as the fans of a champion NBA outfit. It's all a bit of silly fun, but Celtic Pride is a pleasing and amusing story of friendship and fandom.
Hoosiers (Anspaugh, 1986)
Hoosiers has been praised for the performances of both Dennis Hopper and Gene Hackman. The 1986 film was one of Hopper's most critically acclaimed performances, while it added another powerhouse turn to the glittering C.V. of Hackman. A richly detailed drama that authentically captures its cradle state locale, high school anxieties, and fifties setting, the film possesses an emotional energy thanks to its characters' blood, sweat and tears jumping off the screen. A sports movie with a glowing heart, Angelo Pizzo's impassioned screenplay combines wonderfully with the film's aesthetic qualities to give us one of the truly great sports movies.
Hoop Dreams (James, 1994)
A feature documentary, Hoop Dreams focused on two 14-year-old basketball hopefuls, each hoping to make it to the NBA. A fascinating portrayal of how heritage and class can impact the lives of young people's dreams, Steve James' camera focuses less on William Gates and Arthur Agee's pursuit of winning basketball games and more on life's more intimate everyday battles. The end result combines 250 hours of footage shot over five years to give us, as film critic Roger Ebert says, one of the "best films about American life".
Teen Wolf (Daniel, 1985)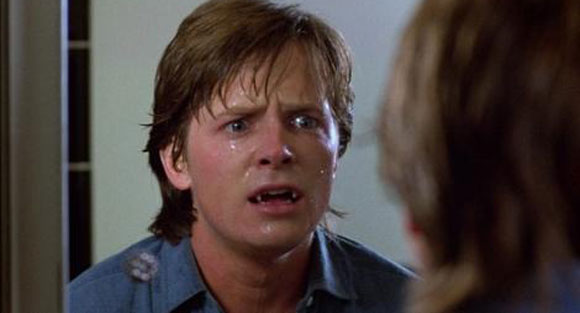 This is a must-see basketball movie because it's your one chance to see a werewolf hitting slam dunks. The film rose to prominence in the mid-1980s thanks to its lead – Michael J. Fox – becoming a box office star courtesy of Back to the Future's success. The film was actually shot prior to the time-travelling epic Fox is well-known for but Teen Wolf only got the chance to dazzle audiences after the studio wanted to cash-in on Fox's new found celebrity. Certainly its financial success is down to shrewd marketing – capturing lightning in a bottle – but it's a fun interpretation of the werewolf legend and delights with its high school cliches and sports movie optimism.