From a tale of unrequited love to pistols at dawn The Devil Is A Woman proves an admirable closing salvo for the Marlene Dietrich/Josef von Sternberg oeuvre.
Considerably more concise than The Scarlet Empress, this film is engaging, structured and possesses a magnetic central performance. Told in flashback it paints Dietrich as the ultimate temptress as her charms both obvious and otherwise have men committing cardinal sins. Both seductive, playful and manipulative without alienating her audience, Dietrich holds court as Concha Perez while the film charts her rise through society employing guile and gumption.
Written and directed with a tight rein on production Josef von Sternberg aids her performance by depicting a Spanish carnival of substance, varying locations and trademark lighting. From the opening frames this collaboration feels simplistic, measured and convincing. Caesar Romero and Edward Everett Horton play close friends who become rivals for her affections. It is the foundation these two actors provide which gives the circumstances that much needed spot of realism. From a tale of unrequited love to pistols at dawn The Devil Is A Woman proves an admirable closing salvo for this Dietrich collection.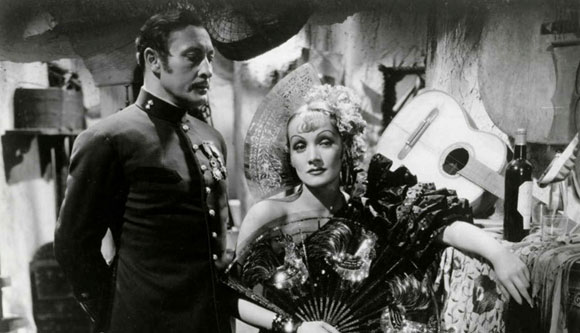 In this final example of their work together everything seems to be in place. She has become the icon which Sternberg knew her to be, while those essential qualities which brought out his best work are abundantly evident. Four years after their collaboration began it is apparent how Dietrich has been influenced by Sternberg and vice versa. To say there were muse-like qualities to their cinematic endeavours would not be stretching the truth, while there are some invaluable extras across the Indicator series Blu-ray collection which attest to this.
Ninety years since being committed to celluloid there is no denying that Dietrich still possesses an undeniable mystique. Every box set irrespective of era, actor or director has some padding and in this case that would be The Scarlet Empress, which is both vastly ambitious and simultaneously flawed. Sternberg created an indelible mark on film history with his own distinct combination of subject matter and leading lady. Proof if proof were needed that modern day movie makers still have things to learn from classic Hollywood.
Directed by: Josef von Sternberg
Written by: John dos Passos
Starring: Marlene Dietrich, Lionel Atwill, Cesar Romero
Released: 1935 / Genre: Romance
Country: USA / IMDB
More reviews: Latest | Archive
The Devil Is A Woman is out now as part of the "Marlene Dietrich & Josef von Sternberg at Paramount" Blu-ray collection.