Neal Damiano takes a look at his favourite Stephen King stories to have been blessed with the big screen treatment.
10. Pet Semetary
The dead awaken in Stephen King's best seller about an old Indian burial ground with powers of resurrection. After the graveyard brings the Creed's cat back to life the father hopes it will do the same for his recently deceased son. But when the child returns as an evil murderer, he must stop the boy's killing reign. Pet Semetary is truly terrifying because it poses the threat of a child as a cold blooded killer.
9. The Running Man
The Running Man is the most successful TV show in the future, where criminals fight for survival. Arnold Schwarzenegger stars as a military pilot wrongly accused of killing civilians, who finds himself the latest contestant. Will he defeat a series of adversaries and clear his name or just be another victim of the game. The Running Man is such an engaging film, we find ourselves rooting for him the whole way. As he battles each new gladiator, it brings him one step closer to the sleazy host played brilliantly by Richard Dawson.
8. Creepshow
George Romero and Stephen King pay homage to the old EC Comics with this entertaining anthology. Filled with five terrifying stories including a family patriarch coming back from the dead to seek revenge and have his cake. We find a farmer with bad luck turn into a huge plant after a meteor hits. Two lovers return from a watery grave to exact revenge. A monster named fluffy is released from a crate. And a reclusive old man is terrorised by cockroaches. Brilliant writing and amazing visuals with the set pieces.
7. Silver Bullet
Based on the King novel Cycle of the Werewolf this very intense thriller is set in a small town with a viscous problem. When the residents in the community become stalked by a werewolf, a wheelchair bound boy and his quirky uncle must stop the beast ravaging the whole town. I really liked Silver Bullet, it's filmed brilliantly with a very cohesive story. Corey Haim is amazing as the troubled paralyzsd boy, who knows everything that's going on. When the priest finally reveals his true nature in the garage it sends shivers down your spine.
6. Carrie
Brian De Palma's masterpiece brings King's novel to the screen with this classic horror film. Sissy Spacek stars as the eponymous Carrie, an introverted high school student who is relentlessly tormented by her classmates. But when she learns she has a special gift, Carrie unleashes complete wrath on her peers. I've said it before, Carrie is one of the most frightening horror films ever made.
5. Stand By Me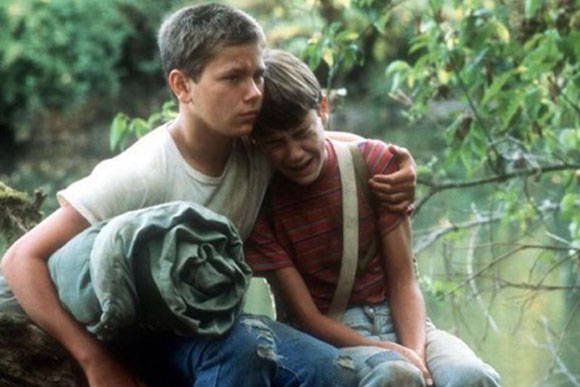 Rob Reiner's sleeper hit based on King's novel The Body follows four friends in 1959, Oregon who embark on a Labor Day camping trip to see a dead body one of them accidentally found. Along the way they discover things about themselves on the road to maturity. Stand By Me is a film you can relate to with themes and experiences that are timeless.
4. Christine
A 1958 Plymouth Fury with jealous and evil tendencies tries to take total control over its owner. Arnie Cunningham, a nerdy teenager is unaware of his new car's demonic qualities when he buys and restores it and names her Christine. Artie somehow gains confidence with his new shiny ride and starts to become an arrogant jerk. When he scores a hot girlfriend and is spending a lot of time with her, Christine grows violently possessive of its new owner. Keith Gordon nails this role perfectly, a character whose psychosis he wonderfully conveys on the way to madness. He's such an underrated actor. Christine is just a brilliant story.
3. Misery
Stephen King's best selling novel is a nail biting thriller. Paul Sheldon, a successful author is rescued after his car hits an embankment. Little does he know he is saved by his number one fan Annie Wilkes. When the rest of the world wonders where Paul disappeared to he's resting in the house of crazed Annie where she takes idol worship to new heights. Misery truly is a master in suspense, because you do not know what plans she has for her captive. The scene where she takes the sledgehammer to his feet is one of the most gasping moments in film. Fantastic performances from both James Caan and Kathy Bates.
2. Sometimes They Come Back
Jim Norman is an out of work teacher who takes a job back in his hometown. This move ignites memories of 20 years ago, where his brother was tragically murdered by a gang of delinquents. It turns out it's not just the memories that won't die as the greaser kids who met their fate in the accident return to exact a viscous revenge. The gang relentlessly slays psychological torture on the teacher. A truly well written story, that's just so damn creepy. An exceptional performance by Tim Matheson.
1. The Dead Zone
David Cronenberg directs a masterpiece suspense thriller of Stephen King's novel about a school teacher, who awakens from a five year coma to discover he has a special ability to see a person's future simply by coming in contact with them. When the police recruit him to help solve a string of murders he ponders if the abilities are a gift or a curse. The psychic visions he experiences are horrifying and he figures out a political masterplan that isn't for the people. What makes The Dead Zone so fascinating is the suspense build up. Cronenberg never gives you too much, it's a slow bleed to a shattering conclusion. Christopher Walken's performance is nothing short of brilliant.
Your turn: what are your favourite Stephen King stories to have been adapted for film?