There aren't many actors who can claim to possess a number of their best roles in a single movie but Alec Guinness is unlike most screen performers. Not only should he be remembered for playing every single member of the D'Ascoyne family in Kind Hearts & Coronets, his brilliance can be seen across 50 years in movies including playing the iconic Fagin in Oliver Twist and, of course, Obi-Wan Kenobi in star Wars.
Often when Kind Hearts & Coronets is mentioned the response might be "oh that's the one where he played all the different characters" and the film is indeed famous for that virtuoso performance by the legendary Alec Guinness as every single member of the D'Ascoyne family – Ascoyne D'Ascoyne, Lord Ascoyne D'Ascoyne, Henry D'Ascoyne, Reverend Lord Henry D'Ascoyne, Admiral Lord Horatio D'Ascoyne, General Lord Rufus D'Ascoyne, Lady Agatha D'Ascoyne and finally, the head of the family, the Duke of Chalfont.
That performance in Kind Hearts & Coronets is 70 years old this year and with the release of a 70th anniversary Collector's Edition we take a look at Alec Guinness's top ten roles in date order from 1948 to 1982.
Fagin in Oliver Twist (1948)
After co-starring as Herbert Pocket in David Lean's earlier Dickens adaptation, Great Expectations, Guinness rose to fame in the classic Oliver Twist. Aged 34, he hid under a straggly wig and heavy prosthetics (based closely on the text and original illustrations) to give a barnstorming performance as the weaselly Fagin. At first, Lean could not imagine Guinness in the role, but a screen test won him the part.
The D'Ascoynes in Kind Hearts & Coronets (1949)
Alec Guinness's most celebrated role was as the eight assorted members of the noble and wealthy D'Ascoyne clan (it's actually nine if you include the portrait of the first Duke which is also Guinness). Directed by Robert Hamer, Dennis Price starred as the impoverished heir Louis Mazzini who ingeniously murders his way through his distant relations to inherit the family title, but Guinness stole the show. Guinness was originally approached by producer Michael Balcon to play four of the roles but on reading the script he immediately went back to Balcon and suggested that he play all eight, and the rest is British movie history.
Sidney Stratton in The Man In The White Suit (1951)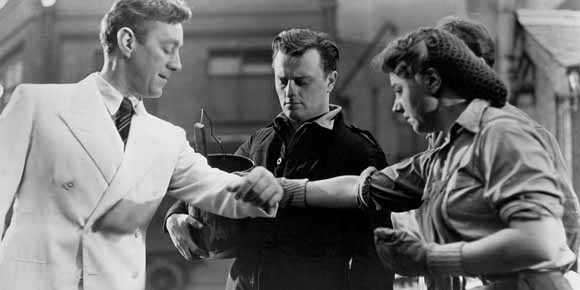 Another Ealing comedy, this time directed by Alexander Mackendrick, featured Guinness in an altogether more subtle and restrained starring role. He played a lowly dishwasher at a textile mill, whose brilliant new invention – a fabric that never needs washing and never wears out – enrages his bosses who realise that his wonder cloth spells doom for their livelihoods. In his bid to share his invention with the world, Stratton is chased through the streets like a public enemy. The film's gentle comedy masks a harsh attack on industrial corruption, if not the entire capitalist system.
Holland in The Lavender Hill Mob (1951)
Guinness received his first Oscar nomination for his role as an unprepossessing bank employee Henry Holland, who hatches the perfect plan to steal the gold bullion he is supposed to protect. Guinness makes Holland at once so dull he is believably beyond suspicion, and very entertaining to watch, his eyes frequently a-glint with wicked scheming. He expertly mixes comedy with suspense, whether enlisting his accomplices in the crime, or showing mounting impatience when endless red tape at a French dock keeps preventing the thieves from boarding a ferry they must catch.
Professor Marcus in The Ladykillers (1955)
Arguably the last great Ealing comedy found Guinness as the ringleader of a bunch of disorderly criminals who pass themselves off as musicians in order to lie low in a rented room in the house of Mrs Wilberforce. They are planning a sophisticated heist at the nearby station but inevitably things do not go according to plan. To create Professor Marcus, one of his most inspired and fondly remembered comedy roles, Guinness was made up with lank hair, a funereal pallor and shockingly awful teeth. A huge hit on its release, the film prompted the Daily Express to claim that "aside from Scotch whisky, Mr Alec Guinness is the best export to America we have got".
Colonel Nicholson in The Bridge On The River Kwai (1957)
Guinness won an Academy Award for his starring role in David Lean's peerless wartime drama as the insanely disciplined Colonel Nicholson. Set in a Japanese P.O.W. camp, The Bridge On The River Kwai went on to become the year's biggest box-office hit and one of the most memorable war movies of all time.
Jim Wormold in Our Man In Havana (1959)
Directed by Carol Reed (The Third Man) from the story by Graham Greene, Our Man in Havana was a Cold War satire, with Guinness as the vacuum-cleaner salesman in pre-Revolutionary Cuba turned mischief-making British spy. The tale's use of military blueprints foreshadowed the later Cuba missile crisis, while Guinness's role seemed to prefigure his acclaimed 80s turn as the spy Smiley for the BBC.
Prince Faisal in Lawrence Of Arabia (1962)
Although Guinness was playing a supporting role to Peter O'Toole, David Lean's grand desert epic gave the 48-year-old actor another opportunity for some chameleon-like acting, gaining an Oscar-nomination as the Arab leader Prince Faisal. The film itself scooped the Best Picture Oscar and was hailed by Pauline Kael as "one of the most tasteful and exciting of spectaculars".
Ben Obi-Wan Kenobi in Star Wars (1977)
Apparently Guinness did not enjoy the experience of working on the film, but George Lucas's game-changing space adventure showcased the ageing actor for a whole new generation (and made him a multi-millionaire). In 1999's The Phantom Menace, the role of the young Obi Wan was played by Ewan McGregor, who studied old Guinness movies to perfect the right vocal impression.
George Smiley in Tinker Tailor Soldier Spy (1979) & Smiley's People (1982)
The ultimate proof of Guinness's greatness as a screen actor was his ability to convey the invisible art of thinking. He displayed this gift to perfection in his two BAFTA-winning portrayals of George Smiley, John Le Carre's down-at-heel British spymaster. In the BBC's duo of acclaimed television series, Smiley ferrets out a mole in MI6 and attempts to outwit his Communist nemesis Karla once and for all.
Over to you: what are your favourite Alec Guinness performances?