If you've never set foot in a casino, your only exposure to high stakes gambling might be on the silver screen. Roulette wheels, slot machines, and card tables are a mainstay for casinos around the world and the bright neon lights have defined an era of exuberance and design.
But casino-related movies aren't just about characters gambling their money away or trying to "beat the house" (although that often plays a major part). The casino setting often acts as a catalyst for the characters' flaws, making for a more well-rounded movie.
In the list below, we'll be looking at 10 of the best casino-related movies.
Casino Royale (2006)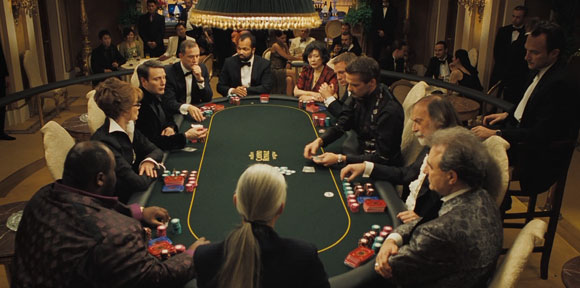 Director: Martin Campbell
Starring: Daniel Craig, Eva Green, Mads Mikkelsen, Judi Dench
Not to be confused for the 1967 spoof film starring David Niven and Peter Sellers, the 2006 version of Casino Royale is one of the most famous casino movies. It was based on Sir Ian Fleming's first James Bond novel. The movie acted as a "reboot" of the series and Daniel Craig was chosen as the new Bond who's assigned to bankrupt a terrorist financier named Le Chiffre in a poker game.
(Fun fact: Besides the 1967 movie, there was another adaptation named Casino Royale released in 1954 as part of the American series "Climax!".)
The Sting (1973)
Director: George Roy Hill
Starring: Paul Newman, Robert Redford, Robert Shaw, Robert Earl Jones
The Sting was the second and final collaboration between Robert Redford and Paul Newman (Redford claimed he wanted to make a third with Newman before he died). The film sees the pair as professional conmen trying to swindle a mob boss. Although The Sting was made in 1973, it was set in the 30s and, in keeping with the era, the film was split into "acts" using title cards, and designs of the time.
While The Sting isn't set in a casino, it does feature poker as a major plot device and what would a casino be without some high stakes card game action?
(Fun fact: The anachronistic soundtrack from topped the Billboard chart for five weeks in 1974.)
The Hangover (2009)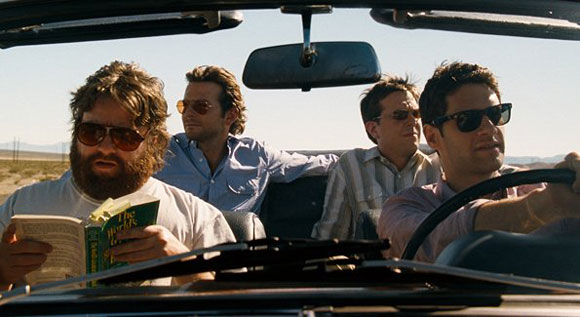 Director: Todd Phillips
Starring: Bradley Cooper, Ed Helms, Zach Galifianakis, Ken Jeong
The Hangover is the kind of film made for a phrase like "you know that movie with the tiger and Mike Tyson?" Todd Phillips directed the R-rated comedy starring Bradley Cooper, Ed Helms, and Zach Galifianakis as a group of friends on a bachelor party weekend retracing their steps from what happened the night before with the groom complete AWOL.
Apart from the fact, the movie is set in Vegas, there are a few nods to casinos including Galifianakis's character, Alan, using his card counting skills to win big at Blackjack.
(Fun fact: Mike Tyson initially refused to star in the film but changed his mind when he found out Todd Phillips directed one of his favourite films, Old School.)
Casino (1995)
Director: Martin Scorsese
Starring: Robert De Niro, Joe Pesci, Sharon Stone, James Woods
Take a wild guess what this movie is about. The 1995 box office smash, Casino, starred Robert De Niro as Sam Rothstein, a handicapper used by the Italian Mafia to front a selection of new casinos called the Tangiers. The mob sent in an enforcer, played by Joe Pesci, but his name was later added to the Black Book and chaos ensued. Sharon Stone played De Niro's on-screen wife, Ginger McKenna.
The film was based on the life of a real handicapper, Frank "Lefty" Rosenthal, who worked for the Mob and later escaped after an assassination attempt on his life. The film received positive reviews although many thought the violence was gratuitous and it was too similar to Goodfellas.
(Fun fact: although the film was based around the fictional Tangiers casino, it was set in a real-life Vegas casino called The Riviera)
Ocean's 11/Eleven (1960 and 2001)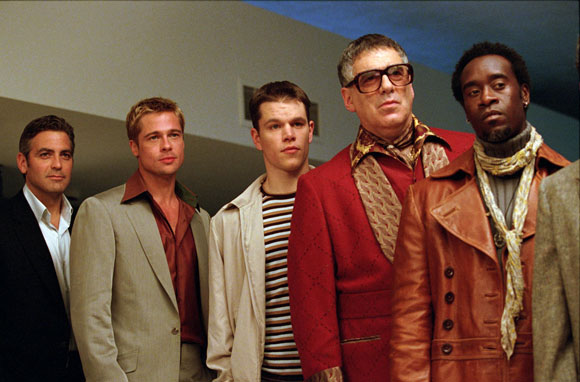 Director: Lewis Milestone (1960), Steven Soderbergh (2001)
Starring: Frank Sinatra, Dean Martin, Sammy Davis, Jr., Angie Dickinson (1960); George Clooney, Brad Pitt, Matt Damon, Julia Roberts (2001)
A casino double whammy, this one. 1960's Ocean's 11 starred the Rat Pack who orchestrated a series of Vegas casino robberies, one of which was the Riviera used in Casino. A reformed mobster gets involved after one robbery results in the death of one of the members of the heist and starts to investigate.
The 2001 remake was renamed slightly and starred an equally star-studded cast featuring George Clooney, Brad Pitt, and Matt Damon. Now set in the modern day, Ocean's Eleven "upped the ante" with high tech gadgets and even higher stakes.
(Fun fact: Renowned graphic designer Saul Bass did the title screens for both Ocean's 11 and Casino.)
21 (2008)
Director: Robert Luketic
Starring: Jim Sturgess, Kate Bosworth, Laurence Fishburne, Kevin Spacey
How good are you at blackjack? Probably not as good as a gang of MIT students with the tech and know-how. 21 was loosely based on a book about a group of MIT card counters although how factual the story was depends on who you talk to and what you read. Jim Sturgess plays the lead character, Ben Campbell who uses his skills to drum up enough cash to attend Harvard. But between a love interest, the thrill of winning, and a security boss (played by Laurence Fishburne), not all goes to plan.
(Fun fact: A member of the real MIT Blackjack Team made a cameo in the movie – Jeff Ma.)
Dodgeball: A True Underdog Story (2004)
Director: Rawson Marshall Thurber
Starring: Vince Vaughn, Ben Stiller, Christine Taylor, Rip Torn
Okay, so this isn't strictly a casino movie but it involves one. Sort of. The 2004 movie is about a gym owner who organises a dodgeball team to compete at a dodgeball tournament in Las Vegas to save his gym from being taken over. Vince Vaughn plays the struggling owner and Ben Stiller is the villainous health chain boss aiming to buy his gym.
The casino link is the fact Dodgeball was set in the Monte Carlo Resort and Casino. And some casino betting did take place when Vince Vaughn's character placed a bet on a long shot and won a very handsome cash prize.
(Fun fact: Disgraced former Tour de France betting winner Lance Armstrong made a cameo.)
Rounders (1998)
Director: John Dahl
Starring: Matt Damon, Edward Norton, John Turturro, Famke Janssen
Another casino-related movie starring Matt Damon. This time Damon is playing cards rather than robbing the casinos in a film about high-stakes poker. Alongside Edward Norton, the pair play poker to pay off a large debt. Enter a dangerous pimp, a Russian mobster named KGB, and a poker game hosted by New York State Troopers. What could possibly go wrong?
While the movie didn't do so well at the box office, Rounders became a cult hit after the poker boom of the early 00s.
(Fun fact: Edward Norton ad-libbed a lot of his lines and refused to smoke as his character was initially written, as he was "serious about his health".)
Rain Man (1988)
Director: Barry Levinson
Starring: Dustin Hoffman, Tom Cruise, Valeria Golino
Rain Man was the film that introduced the public to card counting decades after lecturer and mathematician Ed Thorp wrote a book on the skill. It stars Tom Cruise as Charlie, a young car-hustler. He discovers his estranged father has left his multimillion-dollar estate to his other son, Raymond (played by Dustin Hoffman), and is only left with his dad's cars and a rose bush collection. The second problem is he didn't even know he had a brother, so of course, he goes to find him and the film sees the pair getting to know each other (and themselves) a lot better. Raymond is an "autistic savant" which lead to a lot of misconceptions around what autism was.
The famous scene from the film is where the casino link comes in. Charlie takes Raymond to a casino where he uses card counting to win before being banned from the casino (also leading to the misconception that card counting is illegal).
(Fun fact: Jack Nicholson and Robert De Niro were both offered the part of Raymond but turned it down.)
Hard Eight (1996)
Director: Paul Thomas Anderson
Starring: Philip Baker Hall, John C. Reilly, Gwyneth Paltrow, Samuel L. Jackson
The final movie in the list is Hard Eight, a film about a professional gambler called Sydney (Philip Baker Hall) who teaches John (John C. Reilly) how to play. But John falls for a cocktail waitress Clementine (Gwyneth Paltrow) and Jimmy (Samuel L. Jackson) ruffles feathers as the internal security guy and things go awry from there.
The film was named after a dice roll in craps, where you get "two fours", known as a "hard eight". Craps is featured heavily in the film and sees Philip Seymour Hoffman star as an obnoxious craps player.
(Fun fact: Paul Thomas Anderson feared the title would make the film sound like a pornographic movie and wanted to call it Sydney.)