Gene Hackman made a lot of great films. Many of them were thrillers; political thrillers, revenge thrillers, mystery thrillers, survival thrillers, police procedural thrillers. Here's his 10 best.
Fact 1: Gene Hackman is a great actor. Fact 2: he starred in a lot of exciting, edge-of-your seat thrillers. Fact 3: despite a series of appearances in thrillers throughout his career, his brilliance as a screen star never saw him get typecast; sometimes he was the good guy, sometimes he was the bad guy, and sometimes you weren't quite sure what side he was on. Here's 10 great thrillers the actor appeared in during a stellar career.
Honourable Mentions
Under Fire (Spottiswoode, 1983)
Inspired both by the events leading to Somoza's fall from power and the 1979 death of ABC reporter Bill Stewart by National Guard forces, Under Fire intelligently questions the ethics of journalism while similarly spotlighting a fine line between real and imagined truth. Hackman only has a small role here but the film is still well worth seeing.
Under Suspicion (Hopkins, 2000)
This stylish thriller plays out like a stage play with Hackman's affluent lawyer becoming the prime suspect in a rape and murder investigation. Morgan Freeman is the detective doing the interrogating as a short, informal interview becomes a gruelling clash of wills that exposes the suspect's every secret. The film features the police interview throughout, flashing back to events as they are revealed.
10. Bat 21 (Markle, 1988)
Loosely based on the true story of a U.S. air navigator shot down behind enemy lines during the Vietnam War, Hackman is USAF Lieutenant colonel Hambleton who finds himself trying to survive on the ground with his only contact being via radio to Danny Glover's Captain Birddog Clark, flying in the skies above in his Cessna O-2 Skymaster.
9. Extreme Measures (Apted, 1996)
Hackman sheds medical ethics in order to fuel a God Complex as the villain of Michael Apted's fast-paced thriller Extreme Measures. Here he's developing cures for the incurable, giving paralysis the boot; but at what cost. Hugh Grant's Emergency Room doctor sets out to expose the truth.
8. Night Moves (Penn, 1975)
Hackman is private investigator Harry Moseby in Arthur Penn's considered and poignant neo noir. Atmospheric and absorbing, Night Moves remains an unusual piece of slow burning detective fiction that satisfactorily surprises.
7. Absolute Power (Eastwood, 1997)
Hackman is the womanising President of the United States in Absolute Power which sees a thief witness the death of a young woman at the hands of the Commander In Chief. Hackman plays second fiddle to the film's star, Clint Eastwood, but this cat and mouse thriller, based on the David Baldacci novel, is a fun ride featuring the ever-brilliant Laura Linney.
6. The Firm (Pollack, 1993) & Runaway Jury (Fleder, 2003)
Based on the novels of John Grisham, this pair of legal thrillers are awash with red herrings, delicious plot twists and surprising endings. Both concerned with greed, each film sees Hackman as part of a power hungry elite protecting its own self interest at all cost.
Certainly, he's most interesting in The Firm as the mentor to Tom Cruise's idealistic lawyer. However, in the more implausible (but equally entertaining) Runaway Jury – featuring a story of jury manipulation, corporate greed and justice for the "little guy" – his mere presence adds a hearty dose of realism as underhanded jury consultant Rankin Fitch.
5. Narrow Margin (Hyams, 1990)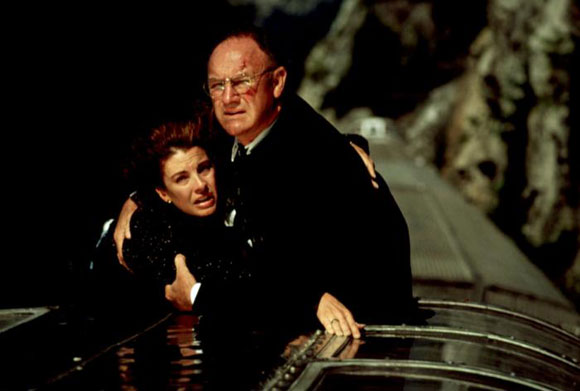 A tightly constructed on-the-run thriller paced like an out of control rollercoaster, Narrow Margin sees Hackman as the good-hearted, strong-willed Los Angeles district attorney who finds the odds stacked against him while trying to keep a murder witness alive long enough to testify in court. A thoroughly entertainment action-adventure.
4. No Way Out (Donaldson, 1987)
A remake of 1948's The Big Clock, which was based on Kenneth Fearing's 1946 novel of the same name, No Way Out is a relentless paced edge of your seat thriller. Hackman is Secretary of Defence David Brice who becomes the centre of an international conspiracy after accidentally killing his lover during an argument. He outshines Kevin Costner's "wronged man" who needs to clear his name despite seemingly insurmountable odds being against him.
3. Mississippi Burning (Parker, 1988)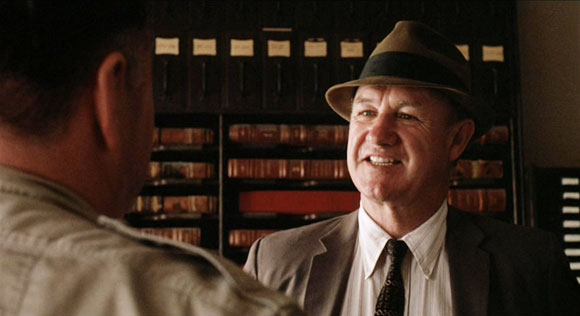 Hackman plays FBI agent Rupert Anderson in this powerful, hard-hitting drama from director Alan Parker. Along with fellow agent Ward (Willem Dafoe), he is tasked with investigating the disappearance of a group of civil rights activists who go missing in Mississippi. Set in 1964, the fact the film is based on a real life case gives it a resonance that emotionally ties us to investigation, while Parker does a stellar job of capturing the mood of the civil rights era and the truly terrifying power of the institutionalised Ku Klux Klan.
2. The Conversation (Coppola, 1974) & Enemy Of The State (Scott, 1998)
Two unrelated films recognised as spiritually connected. The Conversation and Enemy of the State, aside from both starring Gene Hackman, enjoy similar tensions derived from the spy business and, in context to their own times, modern technology's potential to infiltrate privacy. Hackman's character in the 1998 thriller from director Tony Scott can be viewed as the older version of the San Francisco surveillance expert he played in Francis Ford Coppola's 1974 slow-burning mystery.
1. The French Connection (Friedkin, 1971)
Gene Hackman's best thriller is also his best film. Two hardened, rule-breaking cops (Hackman and Roy Scheider) are on the trail of an elusive drug smuggling ring and the expected shipment of heroin worth millions of dollars.  In William Friedkin's film, Hackman's iconic Popeye Doyle loves an argument and fist-fight as much as an arrest. The no-nonsense detective bites harder than most of the bad guys he comes to face as his determination to smash the criminal gang turns to obsession.
Over to you: what are your favourite thrillers starring Gene Hackman?