Do you ever wonder if going to a casino would be like it is in movies and TV? Most of the time it will not be, unless you want to lose all your money. But that does not mean you can't take inspiration from the top five casino films and enjoy a little lesson in how to dress, what it is like, and the rules of gambling.
The Ocean's Series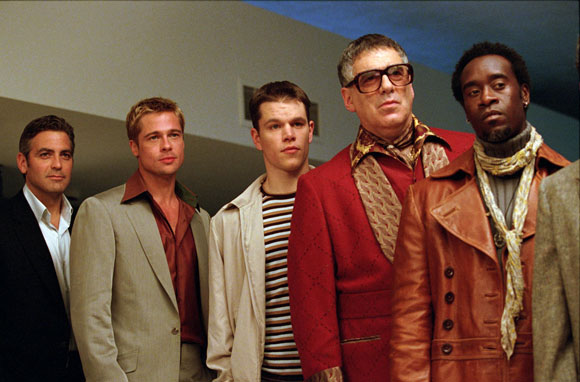 Recreated from the time of the Rat Pack, Ocean's Eleven and the entire series often shows casino scenes that make you want to go to Las Vegas. The dress code in Las Vegas is "wear" anything as long as you have a shirt and shoes. For those who want to be considered a serious player or even a whale, then the dress code will go up the ante. In Ocean's Eleven, if you want to be taken seriously, you wear a suit, complete with loafers, dress pants, dress shirt, and dress coat. The tie is optional! In Ocean's Eleven, the casino scenes often show many people around the table watching the players, drinks being served, and house rules making an impact. Counting cards is a big-no-no in Las Vegas. The floors are all monitored with security cameras, player's faces are watched, and if massive wins happen, the plays are reviewed just like in Ocean's Eleven when the security team made sure to keep track of Danny Ocean and his accomplices.
Honeymoon In Vegas
Sometimes losing money to a top person in Vegas happens, as in Honeymoon in Vegas. Jack plays poker, sitting around the table, dressed in a blue suit with a white shirt and a tie. He is definitely a novice player trying to impress Betsy; only he discovers things are not going to go well. He loses a huge stake to the winner at the table. Unable to cover that bet, the winner requires Betsy to spend the weekend with him. During the poker scene, the table is set up as it would be during any poker game in Vegas, with players providing the ante, the cards being dealt, and players winning and losing.
Casino Royale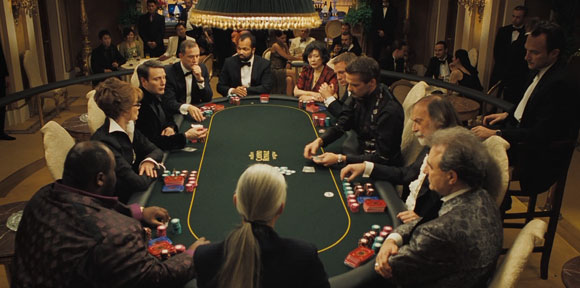 Here is a gambling scene that makes you want to be a whale and enter the "special" guest room, where any number of players can stake massive amounts, lose them, and still be considered a hero. During Casino Royale's poker scenes, our hero sits at the table with other players who want to win the money for their nefarious gains. A dealer is present, drinks can be served, and there is a major break time during the gameplay. The room has its own bar; players must ante, increase the wagers, and call the round, all while bluffing or getting the right cards. Our hero misreads a bluff, loses the money, but hey, he is suave in his tux.
21
As the name implies, this is a movie about Blackjack. MIT students and a teacher head to Las Vegas. They have devised a way to cheat at blackjack. It is a fact-based story, where the six students would count the cards and gain millions from the Las Vegas Casinos. Each dressed in their own style but followed the blackjack rules and etiquette at the tables, making sure to stand, hit, and double down when it was necessary.
Rounders
A young gambler gave up his life at the big stakes poker tables or did he. In this film, we find out what it means to continue to gamble and win but lose friends. In Rounders, a gambler goes back to the tables to help his friend gain winnings to pay off a loan shark. He also must contend with his law school classes and deal with a relationship that is not ready to handle his gambling. Like any good poker movie, the man is always well dressed, focusing on the table and the cards, without distractions like drinking.