For the sake of contemporary audiences and due to the market's saturation with legends of Hollywood that are long gone, today we will be focusing on up an coming actors, and those who are not yet considered seniors in the trade.
…Marlon Brando, James Dean and Al Pacino had their time; we are now letting the youngsters take over.
For a start, we need to dissemble the phenomenon of the brooding man. What is it in these pondering characters that lures women in? The female sex is evidently more inclined towards the mysterious and seemingly dangerous type for a solid reason. Studies have shown that ladies whose partners are dark and pensive end up having more offspring. Naturally, men yearn to become akin this type, and there are some serious candidates in Tinseltown.
Secondly, we will give an honourable mention to five seductively sulky movie icons, in no specific order:
Clive Owen
Jude Law
Robert Pattinson
James Franco
Cillian Murphy
The Contemplative Quintet
As if getting into the top 10 was not hard enough, we had to narrow the most handsome of them all down into a one-digit amount. According to their overall popularity with women and the most consistent level of broodiness, the following five were ranked the most irresistible film stars that even men are envious of.
5. Daniel Craig
The James Bond actor is perhaps the textbook example of the brooding boy sensation. World-wide known for his silent and patient approach, be it to edgy real money casino games which have become the essential ingredient of the James Bond franchise or the more beautiful sex to arguably the same extent, Craig is what many girls' dreams are made of. The blue-eyed dreamy lad has had his share of tough-looking roles throughout his career, so make sure to have a look at The Girl with the Dragon Tattoo (2011) when the occasion arises.
4. Adam Driver
Born and raised in San Diego, California, the dapper guy rose to prominence just recently with his role of Kylo Ren in the latest Star Wars episode. He had indeed been present in indie releases such as Jim Jarmusch's Paterson or the Best Adapted Screenplay Oscar winner BlacKkKlansman directed by Spike Lee. However, it is only now in 2019 that we are really taking a proper look at this dark-haired Adonis. With his espresso eyes, prominent cheekbones and a jaw line that cuts like a knife, Driver indeed adamantly drives the ladies nuts.
3. Bill Skarsgård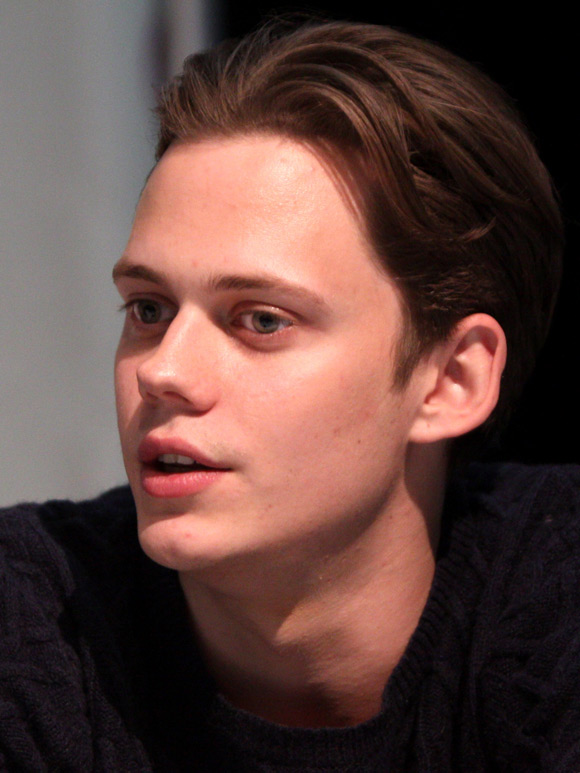 The youngest of the famous Skarsgård brothers, Bill first shook the vampire world in the blood-thirsty TV show Hemlock Grove, after which a plethora of role offers started coming his way. We do not mind that one bit. Stephen Kind recognised his potential and recommended him for the role of the Kid on Hulu's Castle Rock series. We could also catch a short-lived glimpse of his humorous Zeitgeist in Deadpool 2. Right now the youthful Swedish god is working on the sequel to the remake of the classic horror film IT, to be released in autumn this year.
2. Kit Harington
Winter is coming and so is Jon Snow. Alongside the recently announced comeback of the Game of Thrones, Kit Harington has been partnering with big names in high fashion such as Tom Ford and Hugo Boss. All with the aim of promoting a personalised sense of fashion and thereby maintaining the attitude of a meditative marvel, Daniel Craig's fellow countryman has engraved his name into the tile of the notoriously grumpy blokes. Both men and women have been losing their breaths for Harington, and he seems to be just getting started. We will see more of him.
1. Jamie Dornan
If you were cunning and eagle-eyed, you had placed a bet on Dornan getting to number one on our list. You do not see the fella smile often, do you? Jamie Dornan built the success of his vocation with his hard work and a gloomy look on his face. The protagonist of the Fifty Shades of Grey franchise, Dornan has shown off a bit more than just a frowning face. We had the imponderable joy of watching him battle alongside another heartthrob on this list, Cillian Murphy, in the 2016 war masterpiece Anthropoid. Drake Doremus is working on a yet untitled project with none other than Dornan, and knowing what we do about Doremus's opus, we can expect a poignant love story coming out of this collaboration.