Charlie Bubbles has arrived on limited edition Blu-ray courtesy of Powerhouse Films' Indicator Series.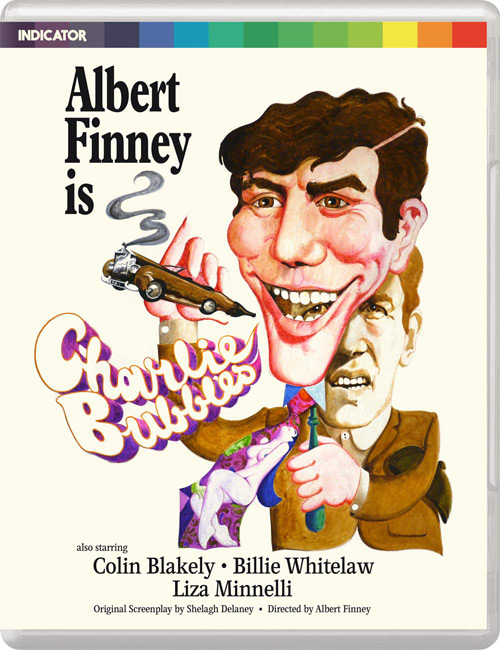 After achieving international renown as one of the finest actors of his generation in films such as Saturday Night and Sunday Morning (1960) and Tom Jones (1963), Albert Finney turned director for this surreal comic twist on the 'kitchen sink' dramas in which he'd made his name.
Finney plays Charlie Bubbles, a successful writer suffering a mid-life crisis, who attempts to re-connect with his northern working-class roots and estranged family. Based on a screenplay by Shelagh Delaney (A Taste of Honey), the script clearly references both her and Finney's personal experience of their shared working class origins (both were Salford natives), and the consequences of achieving great success.
INDICATOR LIMITED EDITION SPECIAL FEATURES:
• High Definition remaster
• Original mono audio
• Audio commentary with film historians Thirza Wakefield and Melanie Williams
• A Very Personal Film (2018, 3 mins): a new interview with producer Michael Medwin
• Down to Earth (2018, 9 mins): director of photography Peter Suschitzky recalls working with actor-director Albert Finney
• Off the Cuff (2018, 9 mins): first assistant director Terence A Clegg discusses his time working on the film
• Finney and Football (2018, 17 mins): actor Timothy Garland remembers his role as Charlie Bubbles' son
• Motorway Café Society (2018, 9 mins): a new interview with actor Susan Engel
• Entirely Harmonised (2018, 15 mins): composer Misha Donat reflects upon his distinctive score for the film
• To Shape the Country (2018, 5 mins): a short appreciation by film critic Danny Leigh
• Another World (2018, 22 mins): John Harding, author of Sweetly Sings Delaney: A Study of Shelagh Delaney's Work 1958–68, discusses the author and playwright's career and her work with Finney
• CCTV Test Footage (1966, 3 mins, mute): previously unseen camera tests supervised by Stephen Frears, Finney's personal assistant on the film
• Original theatrical trailer
• Image gallery: promotional photography and publicity material
• New and improved English subtitles for the deaf and hard-of-hearing
• Limited edition 36-page booklet with a new essay by Thirza Wakefield, Charlotte Delaney on her mother and the film, archival recollections by Albert Finney and Liza Minnelli, an overview of contemporary critical responses, and film credits
• World premiere on Blu-ray
• Limited Edition of 3,000 copies