Although it is sometimes necessary for the authorities to infiltrate criminal organisations in order to gather sufficient evidence against them, this is not always an easy task. Mark Fraser looks at 10 films in which wearing a friendly disguise in the enemy's territory is fraught with some nail biting moments.
WARNING: This list contains spoilers.
10. Betrayed (Costa-Gavras AKA Konstantinos Gavras, 1988)
When FBI agent Cathy Weaver (Debra Winger), under the moniker of Katie Philips, goes to America's rural heartland to investigate the murder of a Jewish radio host in Chicago, she makes one big mistake – she falls in love with divorced family man Gary Simmonds (Tom Berenger), who turns out to be the leader of a white extremist group. This unlikely relationship concludes when she kills him as he is trying to re-enact a moment from The Manchurian Candidate.
9. Stone (Sandy Harbutt, 1974)
Undercover cop Stone (Ken Shorter) infiltrates a bikie gang in the Australian state of New South Wales to try and find out who's popping off its members. He eventually becomes so comfortable with his new-found friends, though, that he overlooks one very important fact – bikies don't take too kindly to traitors and rats.
8. Point Break (Kathryn Bigelow, 1991)
After the FBI starts suspecting that a group of surfers is behind a series of bank heists, agent Johnny Utah (Keanu Reeves) poses as a Californian beach bum to see if he can pick up any leads. He eventually befriends Zen surfer Bodhi (Patrick Swayze), who turns out to be the leader of the gang the authorities are looking for. In the end Utah cracks the case and, after following Bodhi across the world to Australia, magnanimously lets his foe die at sea.
7. To Live And Die In LA (William Friedkin, 1985)
Two roguish US Secret Service agents (William Petersen and John Pankow) will do anything to nab a top counterfeiter (Willem Defoe) – including posing as "cash" buying customers. Their plan starts going awry, however, when – while trying to raise up-front money for their venture – they unwittingly stumble into an FBI diamonds sting and inadvertently have one of its men (Michael Chong) killed. While this somewhat unconvincing clandestine operation eventually achieves its primary goal, success comes at a price.
6. Eastern Promises (David Cronenberg, 2007)
It is not until well into Eastern Promises that it's revealed Russian mobster Nikolai Luzhin (Viggo Mortensen) is working, in cahoots with the British Government, for the Federal Security Service of the Russian Federation – a detail which emerges after his criminal boss Semyon (Armin Mueller-Stahl) sneakily sets him up to be assassinated by some Chechen hoods (Tamer Hassan and David Papava) in order to divert their attention from the intended target, that being his loose cannon son Kirill (Vincent Cassel). Following this it is only a matter of time before Luzhin, with the assistance of London midwife Anna (Naomi Watts) and an orphaned baby, succeeds in getting Semyon arrested for statutory rape – a development which effectively puts him in charge of the crime house.
5. BlacKkKlansman (Spike Lee, 2018)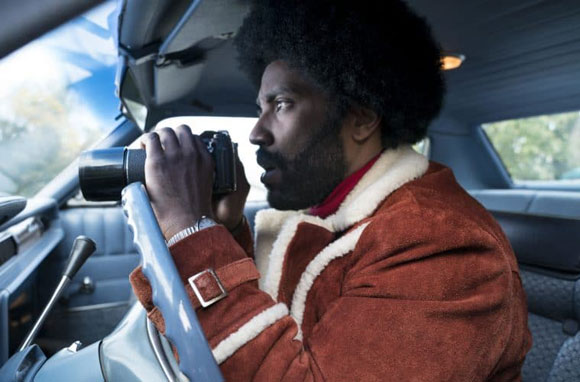 Sometime in the early 1970s Ron Stallworth (John David Washington) becomes the first African-American member of the Colorado Springs Police Department and, subsequently, its first Negro detective. As an undercover agent he arranges, over the phone, to meet Walter Breachway (Ryan Eggold), the head of the local Ku Klux Klan branch. The colour of his skin, however, makes this impossible, so the cops send plainclothes policeman Philip "Flip" Zimmerman (Adam Driver) in his place. Despite some hairy moments when it looks like the gig could be up, the pair of detectives eventually manage to pull a swifty on KKK Grand Wizard David Duke (Topher Grace). Another ham-fisted polemic about racism from director/co-writer Spike Lee, who based it on a book by Stallworth.
4. Reservoir Dogs (Quentin Tarantino, 1992)
When undercover cop Freddie (Tim Roth), posing as Mr Orange, gets shot in the stomach during the aftermath of a disastrous diamond store robbery, he slowly bleeds to death while real criminal Larry (Harvey Keitel), whose heist moniker is Mr White, does what he can to try and save him – that is until he finds out the dying man is a plant. Despite having an insider on the job, the Los Angeles Police Department is a little flat footed when it comes to reaching the gang's rendezvous point, giving most of the remaining cast the chance to kill each other off before the boys in blue arrive. While one of the key themes of this movie is betrayal, it also shows there is honour amongst some thieves.
3. The Departed (Martin Scorsese, 2006)
An alternative title for this rather violent movie could have been A Tale of Two Moles as it simultaneously involves Boston policeman Colin Sullivan (Matt Damon) spying on his department for gangster boss Frank Costello (Jack Nicholson) while plain clothes cop Billy Costigan (Leonardo DiCaprio) infiltrates Costello's mob on behalf of Mr Plod. Although the authorities ultimately come out on top, it turns out both moles are expendable.
2. New World (Park Hoon-jung, 2013)
In this stunningly-shot South Korean mini-epic, the death of a large scale corporate crime syndicate chairman (Lee Geung-young) throws open the door to three possible successors. One, Jung Chung (Hwang Jung-min), has a loyal right hand man – sales director Lee Ja-sung (Lee Jung-jae) – who also happens to be an undercover policeman. Through some complicated and edge-of-your-seat plot logistics, Lee eventually climbs his way up the ladder in a journey fraught with a number of near misses as his identity comes perilously close to being exposed. Like Luzhin in the above-mentioned Eastern Promises, he eventually does reach the top of the criminal food chain.
1. Donnie Brasco (Mike Newell, 1997)
Notions pertaining to friendship, loyalty, personal conflict and betrayal all come under the microscope in this rather low key (not to mention poignant) gangster film in which an FBI agent (Johnny Depp) infiltrates a New York crime family – a soul crushing career move that almost ruins his marriage and directly leads to the death of an aging mobster (Al Pacino) who spends most of the movie treating him like a son. As with BlacKkKlansman, Donnie Brasco is based on a true story. Unlike the Lee film, though, it doesn't have a political axe to grind, instead focusing on a relationship between two men which, under a different set of circumstances, would never have ended so tragically.
Written and compiled by Mark Fraser
Over to you: what are your top 10 undercover crime films?
Discover more writing on film by Mark Fraser
"Salvador" Is More Revolt Than Revolution | "The Deer Hunter" Remains An Adult Fairy Tale | "The Train" Still One Hell Of A Ride | "Barry McKenzie Holds His Own" Maintains Its Irreverent Grip | Umberto Lenzi's "Eaten Alive" Is A Hard Act To Swallow | William Friedkin's "Sorcerer" Is A Curiously Mistreated Masterpiece | "To Catch A Thief" Shows Hitchcock Dabbling In Blandness