As Dolby Atmos brings a new and exciting home cinema experience into homes, Top 10 Films checks out Focal's Sib Evo Atmos 5.1.2 speaker system with Yamaha's Atmos and DTS:X-compatible RX-V685 AV receiver.
Most of us will know of Dolby Digital and DTS sound formats. They have been the standard for films for well over a decade with 5.1 systems capable of reproducing these channel-based soundstages in homes. But now the new kid on the block – Dolby Atmos – which was introduced in theatres in 2012, is beginning to grow its presence in the consumer market as viable speak systems emerge with an ability to produce Atmos's enveloping sound in the living room.
Originally developed to utilise more speakers than traditional Dolby Digital systems – including speakers in the roof – home cinema enthusiasts have been put off by both the price of such systems and the logistical nightmare of wiring up speakers all over the living room. Now, with products like Focal's Sib Evo Dolby Atmos 5.1.2, Dolby Atmos can be enjoyed at home with the same number of surround sound speakers as previous Dolby Digital and DTS systems. We check out Focal's mid-market speaker package, powered through the Yamaha RX-V685 7.2 AV Receiver.
Focal Sib Evo – Overview
The Focal Sib Evo 5.1.2 system allows you to enjoy the full benefits of Dolby Atmos in a home cinema environment. While several roof and rear speakers are space-prohibitive for most "living room" cinemas, Focal have taken the minimum Atmos requirements of 5.1.2 to create a speaker package that delivers the immersive qualities of this brilliant sound format.
Composed of two loudspeakers, the 5.1.2 pack is equipped with an additional speaker driver to support Dolby Atmos® technology. Designed to reproduce both horizontal and vertical waves, this "enabled loudspeaker" is part of a new generation of technology that seeks, by using an extra speaker driver on top of the loudspeaker, the reflexion of sound waves off the ceiling towards the listener.
A stylish set of speakers, the system is capable of delivering Dolby Atmos to rooms of between 100ft2 and 540ft2, blending harmoniously with your interior to offer an aesthetically pleasing system with the power to transform your home-viewing movie and TV experience.
Yamaha RX-V685 7.2-Channel AV Receiver – Overview
Capable of delivering both Dolbt Atmos and rival format DTS:X, the Yamaha RX-V685 7.2 channel AV Receiver boasts 4K HDR/Dolby Vision, more HDMI inputs than you'll ever need (probably), and a variety of wireless streaming options (including Bluetooth), including Amazon's Alexa. Priced at around £450, the RX-V685 is a top tier mid-range receiver that'll powerfully deliver Dolby Atmos's 5-speaker and 7-speaker configurations. For most that means it's a ideal receiver at a comparatively affordable price. It's worth noting that the receiver isn't suitable for Atmos's larger configurations (such as 9.1.4).
For a good home cinema set-up with Dolby Atmos, this receiver is ideal. It's even more attractive when you consider it features Wi-Fi®, Bluetooth®, AirPlay®, Spotify Connect and MusicCast multi-room, Pandora®, Spotify, SiriusXM Internet Radio, TIDAL, Deezer, Napster and more, HDMI® with HDCP 2.2 (5 in/2 out), 4K Ultra HD, HDR10, Dolby Vision™, Hybrid Log-Gamma and BT.2020. You can also use voice-control using your Alexa device like Echo or Echo Dot.
Providing complete compatibility with the latest HDMI standards, this AV receiver delivers transmission of 4K video at 60 frames/second pass-through. It also supports HDR (high dynamic range) video including Dolby Vision and Hybrid Log-Gamma. This provides incredible contrast, smooth tone and rich, bright colors—giving you full, high-definition enjoyment with an exceptionally realistic and natural picture quality.
Since the RX-V685 has two HDMI outputs, simultaneous connection to a TV and video projector is possible. Or you can add an additional TV in a common area like a kitchen or patio to watch the same content in two different rooms. HDMI Out 2 will carry an HDMI audio signal to the second TV to provide sound.
The RX-V685 also boasts R.S.C., otherwise known as Reflected Sound Control for sound optimisation. This technology analyses room acoustics and measures various speaker characteristics, then calibrates audio parameters to achieve optimum sound. It employs Reflected Sound Control to correct early reflections for studio-quality sound. It also provides DSP Effect Normalisation, which varies the CINEMA DSP parameters according to the reflected sounds.
What Is Dolby Atmos?
Dolby Atmos is the exciting new kid on the block when it comes to theatre sound, both in cinemas and at home. Developed to offer a more captivating, multidimensional sound that fills your room with a richness and depth previously unheard of, Dolby Atmos moves sound around you in a three-dimensional space to offer a soundstage that brings movies and TV to life in a new and immersive way.
Introduced by Dolby Laboratories in June 2012, the technology was to coincide with the release of the animated film Brave. Fittingly, the Dolby Theatre in Los Angeles was the first to be kitted out with Dolby Atmos technology, where Brave was premiered. Within a year, 300 cinemas were capable of playing Dolby Atmos sound and this year there are now over 4,000 installations worldwide.
It entered the home cinema market in 2016 with electronic devices including some smartphones capable of recording and mixing Dolby Atmos. In 2017, R.E.M's album Automatic for the People was remixed in Dolby Atmos for the album's 25th anniversary. It was the first major music release to utilise the technology.
The technology expands upon the 5.1 and 7.1 surround sound set-ups most people will be familiar with by adding surround channels coming from overhead. Numerous speakers can be placed around a room to create an all-enveloping soundstage with some high-end cinemas utilising hundreds of speakers at all heights and even behind the screen to create a dome of sound.
Home cinema manufacturers including Yamaha have been developing audiovisual systems capable to delivering the full Dolby Atmos experience through a variety of premium home cinema receivers and preamplifiers to mid-range home-theater-in-a-box (HTiB) packages. The crucial difference being how Dolby's new technology takes audio as "objects" instead of "channels".
Previously, sound designers were constrained to specific channels (the routing of sound to particular speakers), but now sound can be specified to a particular space within a virtual 3D audio environment. During playback, the Dolby Atmos system renders the audio objects in real-time such that each sound is coming from its designated spot designated by the spatial set-up of the particularly physical arrangement. This contrasts with traditional multichannel technology that essentially burns all the source audio tracks to a fixed number of channels.
Dolby Atmos technology allows up to 128 audio tracks plus associated spatial audio description metadata. Each audio track can be assigned to an audio channel, the traditional format for distribution, or to an audio "object." Dolby Atmos by default, has a 10-channel 7.1.2 bed for ambience stems or centre dialogue, leaving 118 tracks for objects.
Ambient, static sounds which don't require pin-point specific placement can use a traditional channel configuration but on top of that Dolby Atmos can layer audio objects to be located on the soundstage, based on their respective spatial metadata, to create dynamic, more immersive sound experience. Of the 128 audio channels, 10 of which will be used for the base layer, leaving 118 for the audio objects.
A properly configured Dolby Atmos system allows sound mixers to precisely 'place' sounds and voices at exact points in the soundfield and not have to rely on fixed channels. The Atmos system benefits from each speaker having its own discrete feed, enabling new front-, surround- and ceiling-mounted height channels. For those that don't want to install speakers in the ceiling, consumer systems for home cinemas have made use of speakers with directional sound where height is created by bouncing sound off the ceiling to create the sense of height to the soundstage.
Dolby Atmos – Key Benefits In A Nutshell
Dolby Atmos for the home theatre delivers an immersive cinema sound experience to create powerful, moving audio that flows around you. Basically, it delivers complete three-dimensional surround sound, effects fired from all sides, including above, and sound mixing that is more true to life.
Moving Audio That Flows Around You
Says Dolby Laboratories: "You'll feel like you're inside the action as the sounds of people, music, and things come alive with breathtaking realism and move all around you in three-dimensional space."
Reproduces All the Audio Objects in the Original Cinema Mix
Says Dolby Laboratories: "Reproduces up to 128 simultaneous audio objects in a mix for rich, realistic, and breathtaking sound."
Compatible Playback
Says Dolby Laboratories: "Dolby Atmos discs and online content are fully compatible for playback on conventional stereo and on 5.1- and 7.1-channel systems, giving you the same outstanding experience you've always enjoyed."
A Growing Library of Content
Says Dolby Laboratories: "As movie directors increasingly choose Dolby Atmos for their soundtracks, you'll find a growing library of movies and other content on Blu-ray Disc™ and online from premium services."
How Do The Focal Evo Dolby Atmos Speaker System and Yamaha RX-V685 Perform?
When you look at the market previously, Dolby Atmos in the home has been limited to expensive add-ons such as upfiring speakers or less expensive but not entirely effective soundbars. French audio specialists Focal have developed a surround sound speaker package that replaces your previous set up with a relatively affordable route into Dolby Atmos. Importantly, it looks good, won't flood your living room with an abundance of speaker units, and sounds wonderful.
For our test of the Focal Evo Dolby Atmos package, we powered the speakers via Yamaha's R-V685, the renowned manufacturer's 2018 update on the RX-V683. It costs a bit more but offers a number of new options that make it a worthwhile choice.
This 7.2 channel AV receiver is, importantly, capable of Dolby Atmos and rival format DTS: X (similar to the rivalry between Dolby Digital and DTS previously). It also boasts 4K HDR/Dolby Vision, wireless streaming options, and the ability to connect multiple devices via a number of HDMI inputs.
We were impressed by a number of features on the RX-V685 including its impressive delivery of Dolby Atmos, scene memory pre-sets, Amazon Alexa compatibility, and the fact it's Dolby Vision-ready.
What's good about Focal's Evo Dolby Atmos Speaker System?
The Sib Evo speaker package comprises two Sib Evo Dolby Atmos loudspeakers (front left and right and height measuring 295mm x 195mm x 190mm), three Sib Evo Satellites (one for the centre channel and two for the surround duties measuring 252mm x 162mm x 162mm) and a Cub Evo subwoofer.
Focal know how to make their speakers look good. The high gloss black finish gives these compact speakers a sleek look; the dished grille and curved cabinet making them an aesthetically pleasing addition to a living room cinema without untoward intrusion. The French audio specialist has combined soft dome treble units with Polyflex woofers to give the two-way satellite speakers power and clarity in equal measure.
The cosmetic allure of the satellites with their attractive gloss black finish befits a contemporary living space. This is complemented by the premium grain finish of the matte ported sub (which contributes to the soundstage with a downward-firing woofer).
To get the best out of the Sib Evo's upward-firing drivers the system is not suited to an acoustically treated home cinema ceiling
The Sib Evo's upward-firing front right and left speakers are designed with a typical living space in mind. That means, this speaker system is not suitable for dedicated home cinemas with acoustically-treated ceilings. Focal's Dolby Atmos package relies on a traditional room ceiling to bounce sound off to present the format's enveloping soundstage. When positioning your speakers, you can wall-mount them, place them on matching floors stands or positioned on suitable furniture.
We noticed that speaker positioning, room size and viewer seating position were important to overall impact of Focal's speaker package. Because of the angle of the upward-firing drivers, we found that the best seating position was between 2.5 and 3.5 metres from the speakers themselves. That means, if positioned in line with your TV on either side, you need to be no more than 3.5 metres from the screen. What this means is that the speaker system's best performance is to be found in smaller living spaces.
Bringing the speakers forward – not always an option for people depending on space – so that you are 3 metres from the screen but 1.5 metres from the front left and right upward-firing drivers, did offer a better sense of audio height in some cases when testing.
The Sib Evo's in practice
Focal's speakers aren't obtrusive and many will be pleased by their design. But looking good and sounding good are two very distinct things. Yet, despite their small stature, this speaker package delivers a hearty punch.
We tested the system with a number of films but our first was Blade Runner 2049. It was an impressive experience. We got a sense of height at moments throughout the film while the front soundstage was pleasingly separated across the format's object-positioning. Atmospheric sound enveloped us and the bass unit was impressive in our room (which we'd call an average-sized living room of about 3.5 metres by 5.5 metres).
Mad Max: Fury Road was another we tested. It's a film which boasts an aggressive soundtrack that we knew would test the system's capabilities. We were particularly impressive with the surround effects of the soundstage, the sense of behind-to-front atmospherics providing a wonderfully immersive experience that adds to the film's enjoyment.
The limitations of the system become downfalls only if considered outside of their ideal space. Get your ideal seating position and the sense of height is pleasingly delivered by Focal's speaker package while the subwoofer plays a seamless part in proceedings without overpowering the sound mix or feeling like it's struggling to keep up. It's also discreet enough to live harmoniously next to neighbours who might no share your enthusiasm for movies on "full blast".
Similarly, away from the crash, bang, wallop of the subwoofer and the system's delivery of low-end notes and atmospherics, there's a distinct warmth to the overall sound field that boasts clarity in the finer details. The pitter-patter of rain, the creaking of doors, the rustle of leaves; the system (with its 127mm mid-range drivers and 19mm soft dome tweeters) provides these with the same sense of precision you'll see in your ultra HD images.
Overall, the Sib Evo Dolby Atmos speakers excel
We were mightily impressed with Focal's Sib Evo Dolby Atmos speaker package. We were impressed with the price (given that you're getting a powerful and impressive Dolby Atmos system at under £1000 means a big thumbs up), stylish design, build quality and performance. Aside from the fiddly wire connections, it's a system that offers the wow factor of Dolby Atmos's brilliant format for home cinema environments that aren't solely used for popcorn-munching movie-viewing. In other words, for the best at home movie sound, Focal's Sib Evo speakers offer a way to achieve that without distressing the make-up of your living room. In fact, they'll add a pleasing sense of style.
What's good about Yamaha's RX-V685 7.2-Channel AV Receiver?
A superb all-round AV receiver – the Yamaha RX-V685 will give movie aficionados a distinctive, powerful audio experience while more than satisfying the needs of music fans. For the price, you get a lot for your money meaning it's a great value item and will earn it's keep by being part of your home sound system set-up for many years.
Yamaha's 2018 update on the RX-V683 costs a bit more but offers a number of new options that make it a worthwhile choice. Capable of Dolby Atmos and rival format DTS: X, it also boasts 4K HDR/Dolby Vision, wireless streaming options, and the ability to connect multiple devices via a number of HDMI inputs.
We were impressed by a number of features on the RX-V685 including its impressive delivery of Dolby Atmos, scene memory pre-sets, Amazon Alexa compatibility, and the fact it's Dolby Vision-ready. We also loved the brushed metal look of its smart, rectangular frame, the feel of the well-designed remote control, and the large display screen that's big enough to be seen from some distance away.
For those that want connections, the RX-V685 has it all. Two HDMI outs and five HDMI inputs are complemented by seven alternative audio options including two optical, two coaxial, and three RCAs. In addition to AM/FM inputs, you also get a component video and RCA video options. The receiver further boasts two zone pre-outs and a subwoofer pre-out. The speaker wire hookups add up to nine speakers.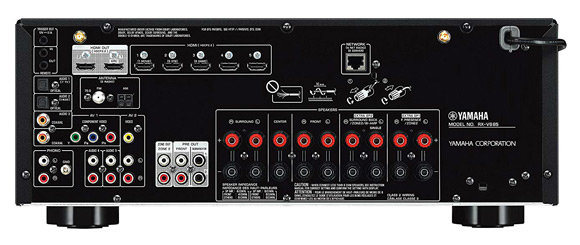 While great for the novice, set-up via the auto functionality and room equaliser is also a quick and easy route to audio excellence even for the well-informed consumer.
And once you're ready to go, the RX-V685 instantly shows its true colours. The power (capable of 90 watts per channel) is incredible for a AV receiver at this price bracket. We watched a number of action films with the unit and were thrilled by the spatial qualities of the system, the clarity it finds in every channel (dependant on the source of course), and the immersive nature of the three-dimensional audio stage.
Through the RX-V685 you can also pass-through 4K and lower-resolution signals. This will be decoded by the on-board video processor of your connected TV. This is handy to note as the receiver can upscale lower-resolution signals so for those with less capable systems or older TVs you'll get a clearer, more dynamic, sharper image. This might not be necessary for most these days but it's nice to know you have it.
Similarly, the AV receiver supports older audio formats that aficionados will be keen to exploit, especially if you play vinyl. For purists, you get a phono input while digital lovers have access to lossy and lossless formats including ALAC (up to 96 kHz / 24-bit), FLAC (up to 192 kHz / 24-bit), and WAV / AIFF (up to 192 kHz / 32-bit). There's also DSD (up to 11.2 MHz) as well as more recognisable consumer standards such as MP3, WMA, and MPEG-4 AAC (up to 48 kHz / 16-bit).
The Yamaha RX-V685 brings high-end specifications to consumers who don't want to spend on high-end prices. At around £500, the AV receiver packs a distinctive punch that'll please both movie and music fans. It's array of connections and diverse features brings further value to this excellent piece of kit.
Our Overall Rating For the SIB EVO DOLBY ATMOS SPEAKERS
Our Overall Rating For the YAMAHA RX-V685
Words by Rory Fish, Dan Stephens & Amilia Totten